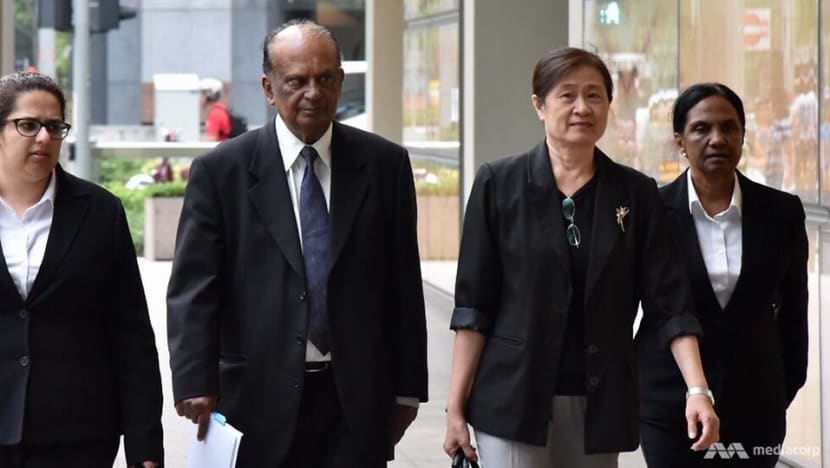 SINGAPORE: The first tranche of the Aljunied-Hougang Town Council (AHTC) trial ended on Tuesday (Oct 30) after 17 days, during which the court saw some strong allegations, heated exchange and spirited defence.
The trial, which began on Oct 5, is centred on the town council and those who led it. Workers' Party (WP) Members of Parliament Sylvia Lim, Low Thia Khiang and Pritam Singh, along with AHTC town councillors Kenneth Foo and Chua Zhi Hon, have been accused of breaching their fiduciary duties in the appointment of  FM Solutions and Services (FMSS) as managing agent.
This appointment led to AHTC making more than S$33 million in "improper" payments to FMSS, which was helmed by "conflicted" parties who had held roles in both the town council and the management agent, it was alleged.
The "conflicted" parties are Ms How Weng Fan, who has worked with Mr Low for more than two decades, and her late husband Danny Loh.
The eight defendants are being sued by AHTC and Pasir Ris-Punggol Town Council (PRPTC), on the back of audit reports by KPMG and PricewaterhouseCoopers.
On Tuesday, six defence witnesses took the stand, including ex-employees of AHTC and FMSS. Most of them gave evidence only briefly, with some of them not asked a single question.
Defence lawyer Leslie Netto, who represents Ms How, Mr Loh and FMSS, wrapped up his case on Tuesday after his witnesses were cross-examined in quick succession. This is the last of the hearing until March, when parties are expected to make their oral closing submissions.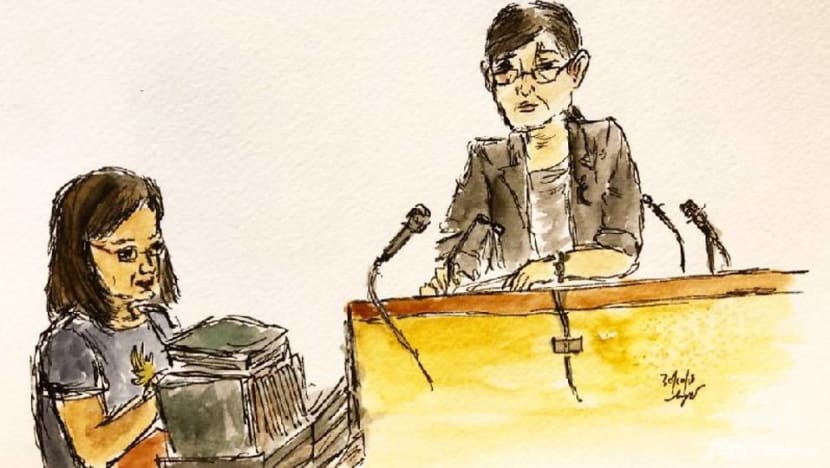 PHONE CALL WAS RECORDED BY MS HOW'S OFFICE SYSTEM
Mr David Chan, the lead lawyer for AHTC, addressed the first witness Ms How on a point made a day earlier by PRPTC lawyer Davinder Singh.
Mr Singh - who was unable to be in court on Tuesday - had on Monday read out portions of a phone call between Ms How and a partner at audit firm KPMG in 2016.
In the recorded call, Ms How said Ms Lim was a "hopeless" chairman and shared that she had asked Mr Low to replace Ms Lim.
She also said: "All PAP need to do is come and ask me for my views for MPs la. I think they will die straightaway la."
Mr Chan on Tuesday asked Ms How if she had facilitated the recording.
Ms How answered that the phone call was recorded automatically by a system in her office.
When asked if she had told the KPMG partner that the conversation was being recorded, Ms How said: "I don't think so."
She was re-examined briefly by Senior Counsel Chelva Retnam Rajah, lead lawyer for the WP MPs and AHTC councillors. She was then released from the stand, to be replaced by the next witness, FMSS shareholder and former deputy general manager of the town council, Mr Yeo Soon Fei.
ENTIRE PAYMENT PROCESS FACILITATED BY "THE VERY PEOPLE PAYMENT WAS BEING MADE TO"
In cross-examining Mr Yeo, Mr Chan stressed that the entire payment process was facilitated by "the very people the payment was being made to". 
Mr Yeo had been identified in the KPMG report as a "conflicted person" – which according to the report refers to people who had direct ownership interests in FMSS or its service provider FMSI and concurrently held management positions in the town council.
Mr Chan suggested to Mr Yeo that only those in FMSS - Mr Yeo, Ms How and Mr Danny Loh - were involved in the payment process, which includes works orders, tax invoices and payment vouchers.
In response, Mr Yeo argued that at the end of the day, it was the town council that was the paymaster. "If they don't approve, we don't get the payment," he said.
Mr Chan also pointed out that a stamp Mr Yeo had used on tax invoices - which stated that he certified works had been done - merely meant that Mr Yeo was confirming the accuracy of the figures. "So you're not really certifying works received, you're just tallying figures," Mr Chan put to Mr Yeo. After some clarification, Mr Yeo acknowledged this point.
When asked if he had ensured that the works were satisfactorily completed before signing off, Mr Yeo said that the MPs were the ones who made the checks, noting that they were "the best people to oversee (them)".
"If we don't perform, the MPs will come after us," he said.
"The MPs, they saw us working from day to night from 2011 to 2015 ... and I got high blood because of that, it's very stressful," he said. "We scratch our head to ensure that we cannot let the town council down."
Mr Chan also explored the issue of payment processes briefly in the cross-examination of the next two witnesses Mr Ronley Ng and Mr Tan Han Hoe, both of whom had roles in FMSS or AHTC.
Mr Ng confirmed that he was not involved in the payment process other than to compile the relevant documents and present them to the town council chairman. Mr Tan said that his role was to check through the documents submitted to the finance department for payment.  
Two other witnesses who were previously with Hougang Town Council, Ms Serene Loi and Ms Chong Huey Jiuan, took the stand only to be told by the lawyers that they had no questions for them.
WHAT HAPPENS NEXT?
Fourteen witnesses took the stand throughout the trial, which spanned more than three weeks and ended three days ahead of schedule. 
It began with the defence cross-examining the plaintiffs' two witnesses KPMG and PwC. The auditors had pointed to poor controls in the town council, flawed governance and millions of allegedly improper payments made by the town council to FMSS.
After this, WP MPs Low Thia Khiang, Sylvia Lim and Pritam Singh were grilled on the stand, largely by Pasir Ris-Punggol Town Council (PRPTC) lead lawyer, Senior Counsel Davinder Singh.
At the heart of the MPs' defence is their claim that they acted in good faith and in the best interests of their residents, as they had to work swiftly against deadlines to find a managing agent and ensure continuity of services to residents.
After the MPs, AHTC town councillors Mr Foo and Mr Chua took the stand, followed by several other defence witnesses ranging from finance managers at AHTC and former employees at FMSS.
Both the plaintiffs and defence will have to submit their written closing submissions around mid-January next year. The date for their oral closing submissions is scheduled for March.
Justice Kannan Ramesh will subsequently rule if the defendants are found liable. If they are, the question of damages will be addressed.