Air China says engine failure may have caused fire that prompted emergency landing in Singapore
Air China flight CA403 landed at Singapore's Changi Airport on Sunday afternoon after smoke was reported on board.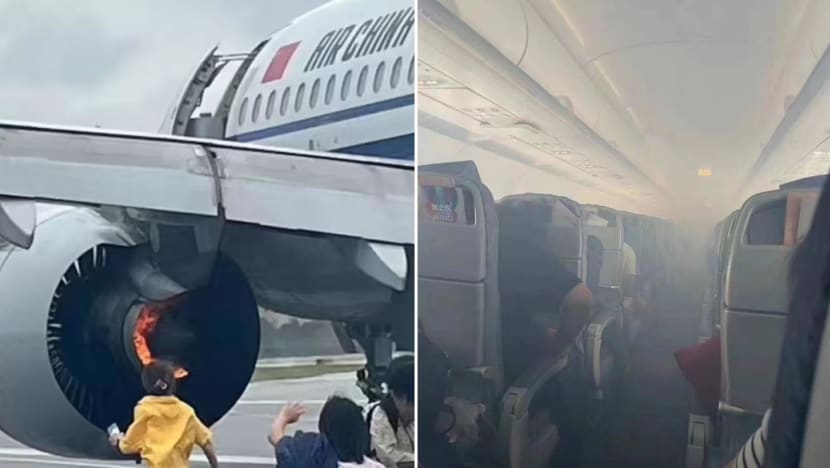 SINGAPORE: An engine mechanical failure on Air China flight CA403 may have caused the fire that triggered an emergency landing at Singapore's Changi Airport on Sunday (Sep 10).
The airline said this was based on a preliminary assessment, adding that investigations are underway.
In a Weibo post on Monday, Air China also said crew members handled the incident according to procedures, and that passengers were cooperative during the evacuation.
Flight CA403 was travelling from Chengdu to Singapore when smoke was reported in the forward cargo hold and lavatory at about 4pm. 
The plane, with 146 passengers and nine crew members, made an emergency landing at Changi Airport at about 4.15pm.
Video of the incident showed passengers sliding down an emergency exit as flames were seen on the left engine. 
Nine passengers sustained minor injuries related to smoke inhalation and abrasions during the evacuation process, according to the Civil Aviation Authority of Singapore (CAAS).
A runway was closed for about three hours due to the incident, and the affected Air China plane was towed away at about 6pm.
In response to CNA's queries, CAAS said on Sep 13 that the Singapore Transport Safety Investigation Bureau is investigating the incident, with the participation of the Civil Aviation Administration of China, the French Bureau of Enquiry and Analysis for Civil Aviation Safety and the US National Transportation Safety Board.
"As investigations are ongoing, we are unable to share further details," said the authority in response to questions about the evacuation of passengers.