All residents at Pasir Ris HDB block to undergo COVID-19 testing after 4 cases identified there
SINGAPORE: All 243 residents at Block 559 Pasir Ris St 51 will be tested for COVID-19, the second time in a week that people living in a housing block have been told to get tested.
This comes after four COVID-19 cases were detected in two different households living in the block, said the Ministry of Health (MOH) and Ministry of National Development (MND) in a joint release on Sunday (May 23).
The ministries added that the mandatory testing is a precautionary measure. In a Facebook post, Member of Parliament (MP) Desmond Tan, who is an MP of Pasir Ris-Punggol GRC, added that the move is also to ensure the safety and wellbeing of residents.
Testing will be conducted at a regional screening centre at former Coral Primary School on May 23 and May 24, from 9am to noon, and 1pm to 4pm, the release said.
MOH said in an update late on Sunday night that 188 people at Block 559 have been tested, with 155 of them testing negative and 33 more test results pending. 
"So far, no one has tested positive for COVID-19," MOH said.
In response to queries by CNA, MOH said it carries out precautionary testing of residents in HDB blocks if investigators assess a possibility on-going transmission.
"There is no one single trigger. Risk assessment is based on a number of factors, such as the total number of cases within the block, the potential risk of transmission by these individuals, and likely modes of transmission," MOH said.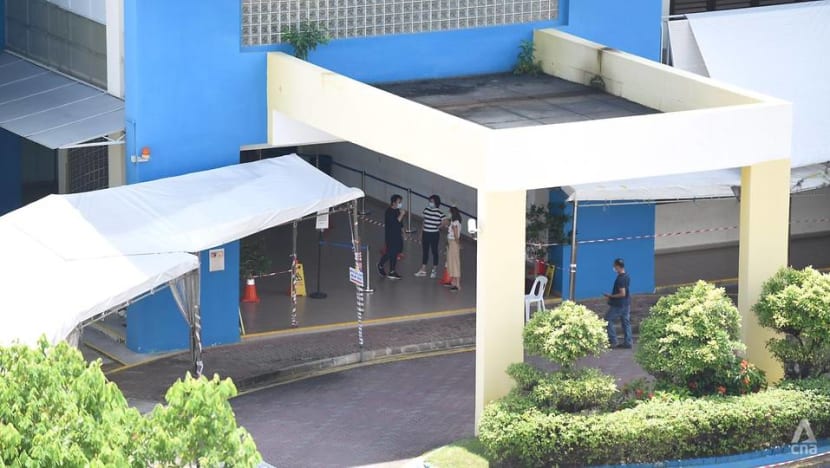 Mr Tan added that residents in surrounding blocks do not need to be tested, unless they had visited households in Block 559 from May 2.
Mr Tan's said he and his grassroots team had started informing residents about the swabbing operations on Saturday evening. This was after MOH informed them in the afternoon about the need to swab residents, he told CNA.
He added that residents he met were "very calm".
"Some are concerned about their neighbours (and whether they are being) taken care of – but otherwise they're all very calm and understand that this is a precaution," he told CNA.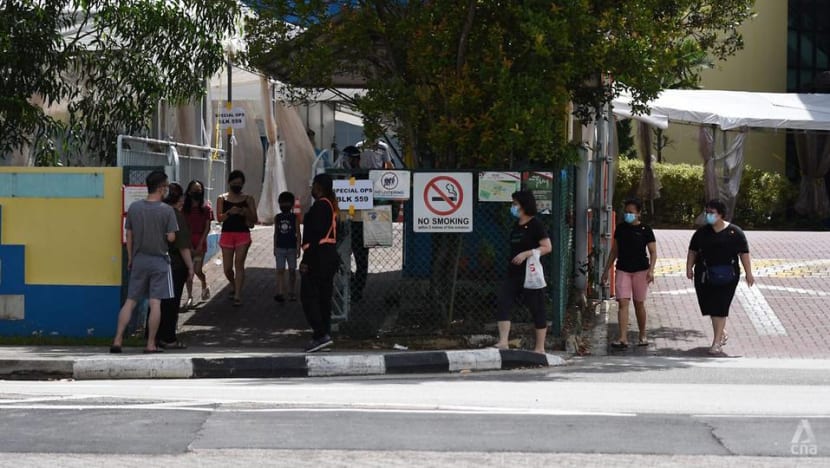 TEST LOCATION CHOSEN FOR ITS CLOSE PROXIMITY, FACILITIES
The regional screening centre at the former Coral Primary School was chosen as the test location for the residents due to its "close proximity and well-established facilities", said Mr Tan in a Facebook post on Sunday.
Addressing "queries and feedback" from residents and the public, Mr Tan said the block has eight households living on the ground level and "does not have adequate space in the void deck for the swab test operation". There is also a childcare centre one block away which will continue to operate on Monday.
The regional screening centre is located 200m away from Block 559, added Mr Tan.
A dedicated lane for Block 559 residents was set up to segregate them from other groups of people.
"From my interaction with the residents, they were happy with the arrangement," said Mr Tan.
He also said that those who visited the block from May 2 to May 18 can volunteer to get swabbed by walking in at the regional screening centre.
MASS TESTING AT HOUGANG BLOCK
MOH late on Sunday also provided more details about the mass testing that took place earlier this week for residents of Block 506 Hougang Ave 8.
A total of 405 residents and visitors of the block were tested over Friday and Saturday, with only two people found to be positive for COVID-19.
MOH identified 11 COVID-19 cases from at least four different households in the block. 
Testing of residents in an HDB block was similarly carried out in June last year, when contact tracers noticed that members in two households in the same block in Tampines tested positive for COVID-19 and flagged this for closer monitoring. 
Six residents in one household and two residents in another household had tested positive.
RESIDENTS NOT UNDER QUARANTINE
The authorities added that the residents of these two blocks are being tested as a precaution, and residents are not under quarantine.
"They are allowed to leave their homes and continue with activities allowed under the prevailing Phase 2 (Heightened Alert) measures."
The delivery of goods and services to these blocks can still carry on with appropriate safe management measures and mask-wearing.
"We strongly urge service providers to continue to extend their services to the residents and support our fellow Singaporeans," MOH and MND said.
Download our app or subscribe to our Telegram channel for the latest updates on the coronavirus outbreak: https://cna.asia/telegram