First made-in-Singapore drug that targets cancer cells approved for US clinical trials
The antibody-drug conjugate, known as EBC-129, is able to kill cancer cells while sparing normal, healthy cells.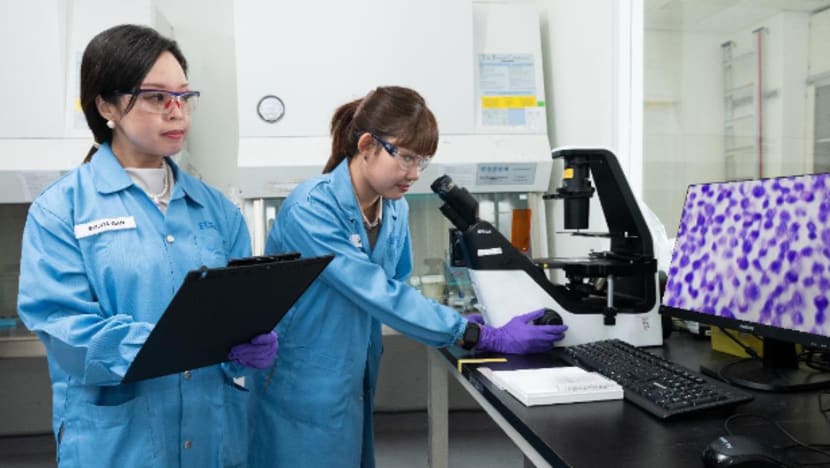 SINGAPORE: An antibody-drug conjugate (ADC) called EBC-129 will be the first made-in-Singapore ADC to be approved to enter clinical trials by the United States Food and Drug Administration (FDA).
ADCs are able to selectively target cancer cells across a range of solid tumours, killing them while sparing normal, healthy cells.
This is unlike conventional treatments such as chemotherapy, which is non-specific in its targeting of cancer cells, and damages healthy cells in its process.
The breakthrough could address a need of cancer patients who have exhausted standard therapies.
"This is a new and exciting class of biopharmaceutical that is highly potent and designed as a targeted therapy for treating cancers," said Dr Andre Choo, deputy executive director of the Agency for Science, Technology and Research's (A*STAR) Bioprocessing Technology Institute (BTI).
HOW DOES EBC-129 WORK?
"The EBC-129 is composed of an antibody linked to a drug compound," Dr Choo told CNA's Singapore Tonight on Wednesday (Jan 4).
The antibody will recognise specific markers present in cancer cells, bind to them, and deliver a toxic payload to kill them.
"It's like a magic bullet," said Dr Choo, referring to a term used to describe effective medical treatment or remedy with advanced or highly specific properties.
"So in short, if it is a cancer cell, the ADC will find it and kill it."
As the ADC delivers the highly potent drug exclusively to cancer cells to destroy them, the process does not harm normal cells.
As a result, patients are expected to experience fewer side effects compared to conventional treatment.
The specific biomarker that EBC-129 targets is not only found in common cancers such as lung, gastric, and stomach cancers, it is also present in rarer cancers like bile duct and pancreatic cancers, said Dr Choo.
This means the EBC-129 can potentially be used to treat a wide range of cancers.
AWAITING LOCAL TRIAL
EBC-129 is now pending approval from the Health Sciences Authority (HSA) and relevant ethics boards for the trial to open to patients in Singapore.
This can be expected in late February or early March, said Dr Veronica Diermayr, an asset development leader at the Experimental Drug Development Centre (EDDC).
Dr Diermayr said the initial phase of the trial will determine the safety and tolerability of EBC-129 in cancer patients with metastatic solid tumours that cannot be cured surgically.  
The clinical trial will subsequently evaluate EBC-129's anti-cancer activity in different tumour types, the EDDC said.
The effectiveness of the ADC is expected to be identified about half a year into the trial, said Dr Diermayr.
"Success is described by tumour shrinkage, and the patients will hopefully have some respite from their disease and stay healthier longer," she said.
The US FDA has already approved EBC-129's first-in-human trial in patients with solid tumours. The EDDC said approvals will be obtained from ethics boards for trial sites in the US, which will include major cancer centres.
"The US FDA's approval for the initiation of trials for EBC-129 is a validation of our platform and the maturity of the drug development ecosystem in Singapore to collaboratively enhance the impact of research and drug discovery for potential patient outcomes," said Dr Koh Boon Tong, executive director of BTI, in a press release.
EBC-129 is a multi-institutional collaborative effort between BTI, EDDC, the National Cancer Centre Singapore (NCCS) and the Institute of Molecular and Cell Biology (IMCB).
The EDDC said this is a milestone for Singapore's drug discovery efforts as ADCs are complex to design and develop, and EBC-129 has been successfully brought from initial discovery to the onset of clinical development.   
You may also be interested in: