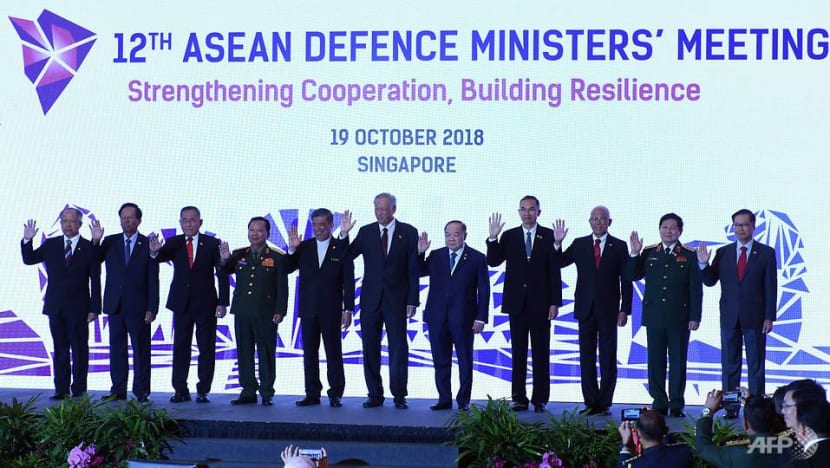 SINGAPORE: ASEAN defence ministers inked the world's first multilateral air guidelines on Friday (Oct 19), in a move aimed at managing unexpected encounters between military aircraft especially over contested areas like the South China Sea.

The ministers also strengthened regional counter-terrorism cooperation and established a network against chemical, biological and radiological threats.

The defence chiefs were gathered at the ASEAN Defence Ministers' Meeting (ADMM) held at the Shangri-La Hotel in Singapore.

At the signing of a joint declaration, Singapore's Defence Minister Ng Eng Hen said the Guidelines on Air Military Encounters will help "reduce the risk of miscalculations and de-escalate tensions during unplanned encounters among our militaries".

These air guidelines follow the adoption of a similar set of naval protocols, called the Code for Unplanned Encounters at Sea, at last year's ADMM-Plus, which includes Australia, China, India, Japan, New Zealand, South Korea, Russia and the US.

At the ASEAN Ministerial Meeting in August, ASEAN and China also agreed on a single draft document that will form the basis of negotiations for a code of conduct in the South China Sea.

The adoption of the multilateral air guidelines is a "significant achievement which demonstrates our leadership to enhance peace and security in our region", Dr Ng added, noting that he will bring up these guidelines during the ADMM-Plus meeting on Saturday.

It remains to be seen how effective the non-binding and voluntary air guidelines will be. Even with the naval code, US and China warships were recently involved in a near-miss encounter in the South China Sea.
But without the guidelines, Dr Ng said there would be an increased "risk of mishaps".
"Without them, does one expect the encounters would get worse? I think the answer is yes," he said during a joint press conference after the signing. "In a way they're like seat belts, not completely protective but at least they provide some protection."

Dr Ng noted the significance of the agreement "because the encounters (in the air) are, in terms of time and space, much more compressed compared to sea".
AIR GUIDELINES

The air guidelines apply to unintentional encounters between military aircraft over high seas, ensuring safe separation to avoid creating a safety hazard.

According to the guidelines, "military aircraft should refrain from interfering with the activities of other states".

"However, military aircraft always enjoy the rights and freedom of navigation, overflight and other internationally lawful uses related to those freedoms in high seas," it added.

When military aircraft intentionally approach other military planes for the purpose of identification, interrogation, verification or escort, pilots should also operate with professional airmanship and avoid reckless manoeuvres.

In addition, pilots should avoid aerobatics and simulated attacks in the vicinity of other military aircraft, and discharging signal rockets, weapons or other objects in the direction of other military aircraft, except in cases of distress.

"Military aircrew should refrain from the use of uncivil language or unfriendly physical gestures," the guidelines stated.

COUNTER-TERRORISM COOPERATION

The ASEAN ministers also agreed to adopt Indonesia's "Our Eyes" initiative to improve strategic information-sharing on counter-terrorism.

A new network of experts to defend against chemical, biological and radiological threats will be established in order to share best practices and make quick contact during crises.

"The ministers also welcomed Singapore's 3R – Resilience, Response, Recovery – counter-terrorism framework to guide our efforts," Dr Ng said.

The announcements come after the ADMM Retreat in February, when Singapore – which is chairing the ADMM – told members it wanted to pursue these initiatives.

"The successful initiation of these programmes underscores the centrality of ASEAN, as collectively we have set direction and built the momentum to ensure stability in our region," Dr Ng added.

This is the second time that Singapore is chairing the ADMM since it started in 2006.