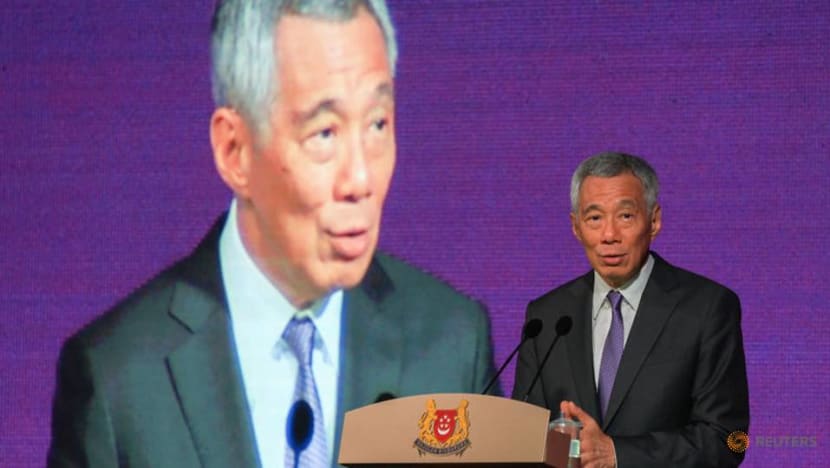 SINGAPORE: The Association of Southeast Asian Nations (ASEAN) has remained a bright spot even as the multilateral trading system, which has underpinned global growth and stability, is under stress, Prime Minister Lee Hsien Loong said on Wednesday (Nov 14).
Speaking at a working lunch he hosted for ASEAN leaders and guests, Mr Lee highlighted two divergent trends shaping the world.
Countries are becoming more interdependent and interconnected due to digital technologies and transboundary challenges such as climate change and cybersecurity, he said.
"Yet, at the same time, we may become more divided and insular because of growing nativism and protectionism," he said. He pointed to the World Trade Organisation (WTO) recently downgrading its outlook for world merchandise trade growth.
In the face of these trends, ASEAN has remained a bright spot, he said. "It is one of the most politically stable and economically vibrant regional groupings in the world," he said.
Mr Lee also spoke about how ASEAN is redoubling its economic integration efforts.
The ASEAN Economic Community established in 2015 has lowered entry barriers and reduced transaction costs, he said.
He also noted that negotiations on the Regional Comprehensive Economic Partnership (RCEP), a 16-country trade pact is "close to the finishing line".
In response to the digital revolution, Mr Lee said the 10-member grouping  has established ASEAN Smart Cities Network, which aims to improve the lives of ASEAN citizens through technology and the implementation of the ASEAN Single Window, to allow the electronic exchange of customs data, in order to facilitate trade.
The digital economy in ASEAN is projected to grow to reach US$200 billion (S$276 billion) by 2025, Mr Lee said. IMF's latest forecast is also positive - it shows that Asia will grow by 5.6 per cent in 2018, more than the global growth of 3.7 per cent.
"However, to sustain our economic dynamism, we need to remain open and connected, and safeguard the multilateral trading system as the basis of global commerce," Mr Lee said.
Reforms to keep the system relevant such as updating the World Trade Organisation system to address current economic realities, such as e-commerce and the rise of emerging economies are also necessary, he added.