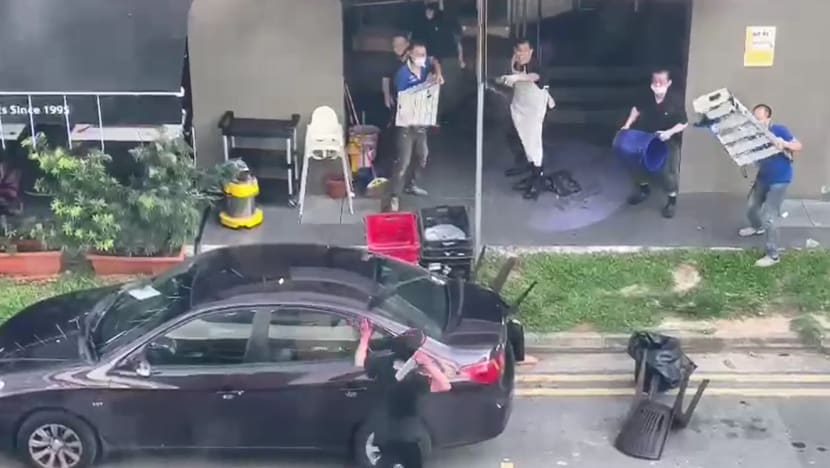 SINGAPORE: A 46-year-old man was arrested for attempted murder on Thursday evening (Apr 14) after he allegedly attacked a woman in the Beach Road area, leaving her bleeding profusely from slash wounds.
Police said they responded to the case at about 5.30pm.
Preliminary investigations revealed that the man purportedly slit his own wrists with a chopper before authorities arrived. The woman was found at the scene with slash wounds.
Police said in an update on Thursday night that the victim is a 41-year-old woman believed to be the man's wife. 
They added that officers located the armed man in the area and deployed a Taser to subdue him before making an arrest. 
Both the man and woman were conscious when taken to hospital. The chopper was seized and investigations are ongoing, said the police.
"The police are aware of videos circulating online on the incident, and would like to urge members of the public to refrain from circulating the videos and speculating on the case," they added.
The Singapore Civil Defence Force (SCDF) said it received a call for assistance at 75 Beach Road at about 5.30pm, adding that two people were taken to Tan Tock Seng Hospital.
Footage of the incident showed a man dressed in black apparently slashing the woman several times as she lay on the road behind a parked car. Building signage identified the location as next to Zhong Hua Steamboat and Hotel Calmo Bugis.
Members of the public, some of whom appeared to be staff members from a nearby eatery, were seen attempting to stop the man by throwing objects such as chairs and dustbins.
The man's hands were covered in blood and he held onto the weapon as he briefly attempted to engage with those who tried to intervene, before attempting to flee. The woman, who later managed to sit up, was seen with blood on her head, arms and legs.
A CNA reporter saw at least 10 police cars at Liang Seah Street at about 6pm as well as several ambulances. The hotpot restaurant was also cordoned off.
The man will be charged in court on Saturday. If found guilty of attempted murder, he faces life imprisonment, imprisonment of up to 20 years and a fine, or both.