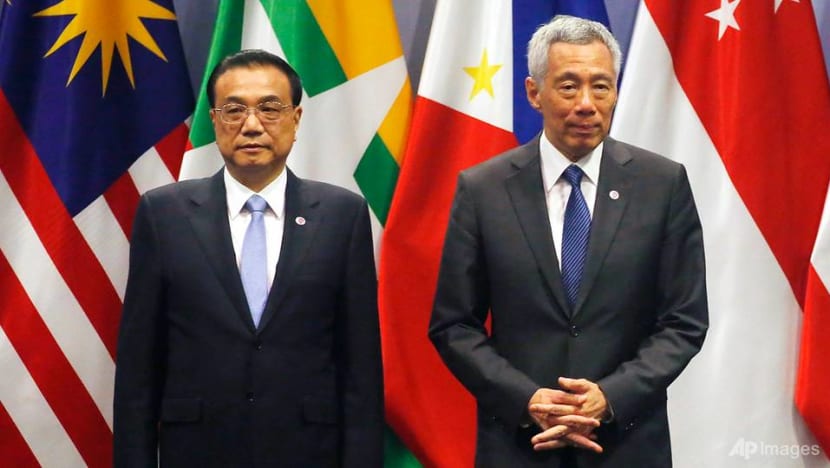 SINGAPORE: Singapore and China have welcomed a series of bilateral cooperation agreements, the two countries said in a wide-ranging joint statement on Wednesday (Nov 14), as Chinese Premier Li Keqiang continues his official visit to Singapore.
Mr Li, who has held talks with Singapore Prime Minister Lee Hsien Loong, also met with President Halimah Yacob at the Istana on Wednesday. 
His visit coincides with this year's ASEAN-China summit, which also marks the 15th anniversary of the establishment of the ASEAN-China Strategic Partnership.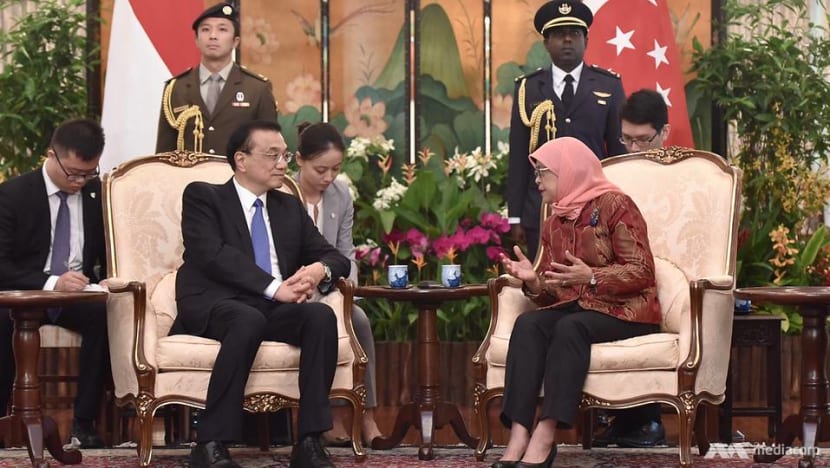 China noted that ASEAN-China relations have made good progress and appreciated Singapore's contributions as the coordinator for ASEAN-China dialogue relations. 
Both sides also reaffirmed their shared commitment to maintaining and promoting peace and security in the Southeast Asian region, and also agreed on the importance of free trade and making economic globalisation more open. 
Apart from agreeing to work closely to conclude the Regional Comprehensive Economic Partnership (RCEP) swiftly, Singapore and China also signed a multitude of economic agreements, such as the ASEAN-China Free Trade Area (CSFTA) Upgrade Protocol, which aims to give businesses easier access to the Chinese market.
Singapore and China also signed Memorandums of Understanding (MoUs) to further various cross-border projects, such as the China-Singapore Suzhou Industrial Park, Sino-Singapore Tianjin Eco-city and China-Singapore (Chongqing) Demonstration Initiative on Strategic Connectivity.
In hand with the trade agreements were also initiatives to strengthen cooperation in various other areas, such as education, where both sides agreed to start discussions for a bilateral agreement to facilitate internships between university students from both countries.
The joint statement also noted that advancements were made in the areas of legal and judicial cooperation, with Singapore and China agreeing to enhance law enforcement cooperation, including combating transnational crimes, corruption, money laundering, cybercrime and narcotics, in addition to strengthening cross-border financial supervision to address financial risks.

In defence matters, Singapore and China agreed to expand cooperation between the Singapore Armed Forces (SAF) and People's Liberation Army (PLA), with both sides agreeing to the conduct of a bilateral army exercise in 2019. 
Both sides also reaffirmed their commitment to strengthening ASEAN-China defence cooperation and continuing to conduct the ASEAN-China Maritime Exercise.
Singapore also congratulated China on its achievements over the past 40 years of reform and opening up, and wished the Chinese people progress in China's development goals and continued peace, prosperity and stability. 
China appreciated Singapore's contributions to China's reform and opening up, and expressed support for Singapore's continued growth, development, and prosperity.
In addition to discussing the future direction of bilateral relations with Singapore, Mr Li, who is on an official visit from Nov 12 to 16, also invited Mr Lee to visit China for the 2nd Belt and Road Forum for International Cooperation in 2019. 
Mr Lee has accepted the invitation.