SINGAPORE: A 30-year-old man was arrested on Friday (Mar 13) night after a fire broke out at Block 105 Towner Road.

The Singapore Police Force (SPF) said they were alerted to the fire at 11.10pm.

Providing further information on Saturday morning in a news release, police said the man had set fire to a few bags of clothes using petrol or diesel in front of Kallang Neighbourhood Police Post, an unmanned redesigned police post. 
He had also smashed the glass door of the police post. 
The man was detained by police officers at the scene and no one was injured in the incident, police said.
The man had scribbled the letters "ISIS" on the pillars near the police post, according to police.
"Preliminary investigations indicated that he acted alone and it was not terrorism related, but the act of a disgruntled person unhappy with perceived social inequality," they added.
A resident of Block 103 told CNA that he heard a commotion outside the neighbourhood police post at about 11.10pm.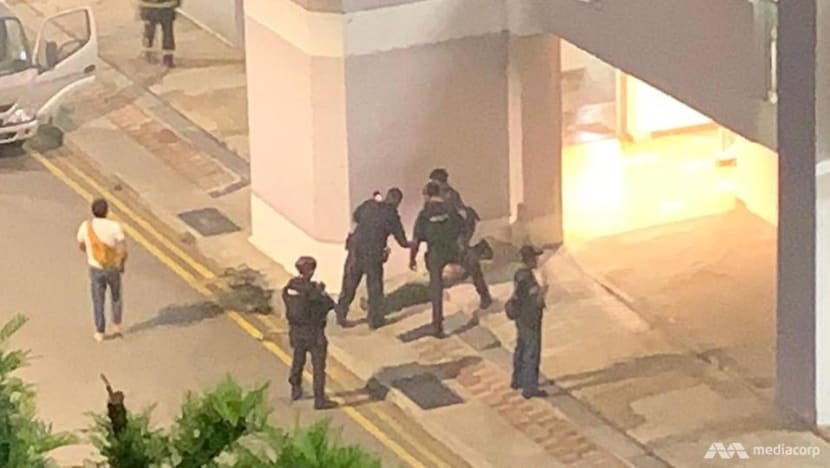 The eyewitness, who wanted to be identified as W Koh, said an "incendiary canister" was suspected to have been thrown into the fire. He reported hearing four "mild explosions in the midst of the fire".  

Mr Koh said he also saw graffiti on several pillars and on the walls at the scene.

There was a silver van parked nearby, said Mr Koh, adding that the man could be heard shouting expletives. 

After putting out the blaze, firefighters appeared to search the remains for other incendiary devices, he said.  

The Singapore Civil Defence Force said the blaze was extinguished using a hose reel, two compressed air foam backpacks and one extinguisher.

The man will be remanded for further investigations and the police will seek a court order to send him for psychiatric assessment, SPF said. 

He will be charged in court on Saturday. The offence of mischief by fire carries a punishment with imprisonment of up to seven years, and a fine.
This story came from a reader tip-off. If you would like to send in photos or videos of something newsworthy, WhatsApp our Mediacorp news hotline at +65 8218 8281 or message us on Facebook.
Source: CNA/zl/dl(hs/ms/hm)