Patients warded in Changi General Hospital could have their vital signs checked remotely in the future
The device could save up to 12 man-hours daily, allowing nurses to focus on other aspects of a patient's well-being.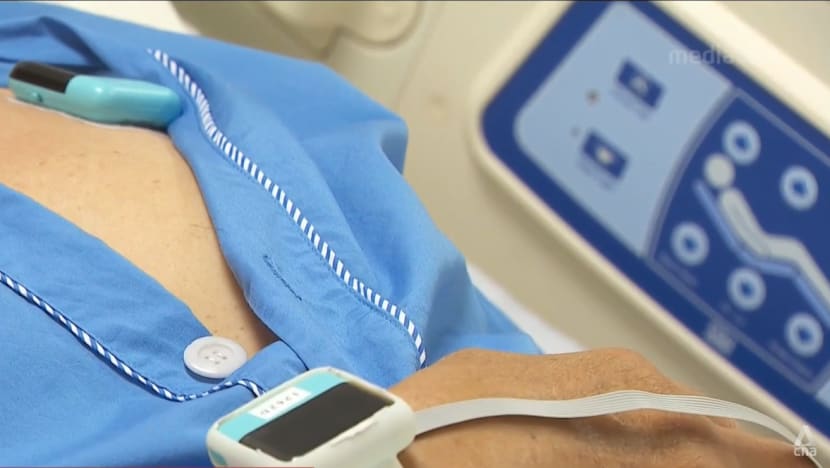 SINGAPORE: Patients hospitalised in Changi General Hospital (CGH) may no longer need to have their sleep interrupted to get their vital signs checked.
The hospital is testing out new wearable medical sensors that allow remote monitoring of patients' vital signs, even while they are asleep.
CGH expects to deploy the sensors in one ward next year, with plans to expand their use in other general wards by 2027.
The technology involves attaching a chest patch and a finger oximeter onto patients to collect information on their conditions.
The data is then sent to a central system, which can be accessed by nurses, without them having to leave their workstation.
If there are trends in vital signs, like a change in pulse rates or oxygen levels in the blood, early medical intervention can be given.
"We are tapping on artificial intelligence to develop an algorithm to predict deterioration. So this will allow prediction of deterioration before it occurs (and) help the clinical team to apply measures before deterioration," Dr Aza Taha, consultant in the Department of Respiratory and Critical Care Medicine at CGH, told CNA.
He said that the device gives important information while waiting for the results of other tests, like blood tests and X-rays.
The device is currently being validated clinically with trial studies being done on a group of patients.
SPENDING TIME WITH PATIENTS
The smart system also aims to improve productivity, as it cuts the time spent on taking vital signs at a patient's bedside.
Dr Taha said that the device helps in other aspects as well.
"It also allows for (the) prevention of infection transmission in healthcare facilities and saving of personal protection equipment like masks, and better utilisation of the manpower as well," he said.
The device could save up to 12 man-hours daily, allowing nurses to focus on other aspects of a patient's well-being. It lets healthcare workers spend their time with patients more meaningfully, instead of just checking their vital signs and moving on to the next patient, said Dr Taha.
"It allows (them to) actually spend more time with the patient and to take care of their needs when they are being taken care of in the hospital," he said.
Dr Taha also hopes the device can be used outside of the hospital setting, after a patient has been discharged.
This could help with patients who are well when discharged, but later return to the hospital because their condition deteriorated, he said.
"I really hope that we could be able to continue to care for our patients in the community, where their well-being is also taken care of, and if there's any possibility of deterioration, we can find out early so we can provide measures to prevent further deterioration," he said.
CGH's efforts are in line with the Government's message to incorporate technology into healthcare.
Senior Minister of State for Health Janil Puthucheary said last month at the Singapore General Hospital's annual Scientific Meeting that if used well, technology enables healthcare professionals to devote more attention to the patients who need it, while ensuring accessibility to healthcare services for all.
At the conference titled "Call To Action: Future Proof Healthcare", Dr Puthucheary added that such professionals need to enhance their health technology skills and seize opportunities to transform healthcare.