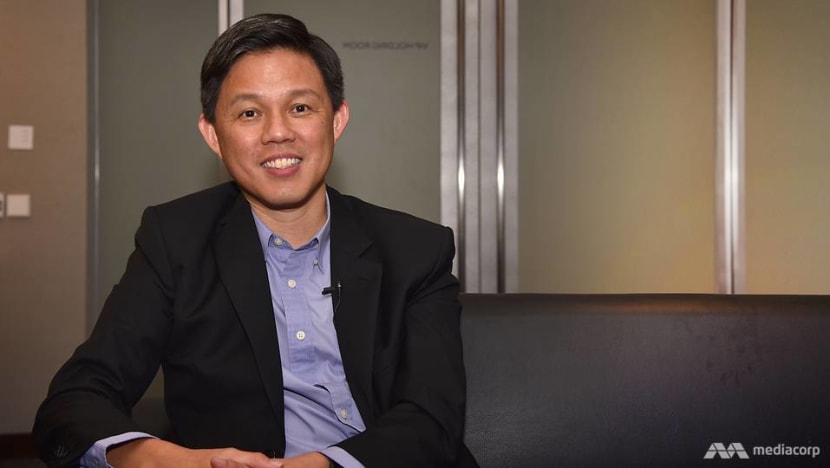 SINGAPORE: The Government will not shy away from making tweaks and adjustments to policies if needed to support Singapore's energy sector, given the changes in the global energy landscape, said Trade and Industry Minister Chan Chun Sing in an interview with Channel NewsAsia.

"We will continually tweak our policies to encourage more innovation, to encourage more competition so we can have more affordable and more varied options for our consumers," he said.

"Because we are prepared to test out new rules and regulations to enable innovation to take place, our rules and regulations are not just regressive or defensive in trying to prevent bad things from happening," he added.

This way, Singapore will be able to present itself as an attractive platform for energy professionals and leading energy firms worldwide to test bed their ideas, which will in turn generate opportunities for Singapore companies and workers too.

"We will attract many more researchers to come to Singapore, to work with Singaporeans to develop new ideas, not just for ourselves but also so that we are able to provide services to the rest of the world. Singapore companies will be able to have greater collaboration with overseas partners to test out and develop their ideas for greater range of products and services for Singapore and beyond."

Mr Chan went on to say that another advantage that Singapore has is its size, being "neither too big nor too small". He said that if Singapore is too small, developers cannot be sure enough if their ideas have the ability to scale; if the country is too big, it makes it hard for developers to test their ideas on a huge market and get a quick result.

Mr Chan's remarks come ahead of the 11th Singapore International Energy Week – an annual platform for energy professionals and policymakers to share best practices and discuss global energy issues - which will be held from Oct 29 to Nov 2.

Apart from the willingness of authorities to exercise flexibility in regulating the industry to help it develop, Mr Chan said Singapore needs to watch key changes in the global energy landscape carefully and assess how they affect a small country like Singapore.

USE OF DATA IN THE ENERGY SECTOR

One area he pointed to was the use of data to better manage the country's energy consumption and electricity grid – which he said is an area Singapore and other ASEAN countries can work on as well.

"There's always a potential for them to link up their grids to provide some degree of redundancy to help one another in times of need so that's one area of work but more interestingly, is how to use data to better enable different cities to optimise their demand and supply patterns.

"That is an area where Singapore can help to share some of our ideas with other emerging cities in the world, not just in ASEAN. Because we are a microcosm of the kind of challenges that many other people face in their own respective cities so that is something that is interesting and can be shared," he said.

SINGAPORE MONITORING ENERGY STORAGE SYSTEMS CLOSELY

Another area was the use of Energy Storage Systems to enhance the overall stability and resilience of Singapore's power system.

"Energy storage systems can also sometimes provide a complementary source of power especially during high peak demand. For example, some countries, when the electricity is cheap and when the demand is low, they pump the water from the reservoir from a level to a higher level and they store it in the form of gravity. During the peak demand, they discharge the water back and then they run the turbines and then it creates energy," said Mr Chan.

He added that there are many other ideas pertaining to such systems in the market and that Singapore is monitoring them closely to see how they can be adopted to improve the country's power system.

All in, Mr Chan said Singapore's key priorities in energy strategy and policy initiatives still lie in ensuring that the country's systems are reliable, and that there is sufficient redundancy at the national level and even more redundancy for the nation's critical installations.

Redundancy, in engineering terms, refers to the duplication of critical components or functions of a system to improve reliability. This is often through the use of a backup or failsafe.

To achieve this, Mr Chan said Singapore needs to continue to invest ahead of time to build up energy and generation capacity.

He added that Singapore is in a "good position" at this point in time because its forefathers have invested in the generation capacity and transmission grid ahead of time.

"So going forward we are looking at a framework to see how we can attract more competitive producers ahead of time to build that capacity and how we can make sure that we continue to maintain our network at a very high quality standard at affordable prices," he said.

"We are in the process of renewing our entire island electricity backbone networks by having a deep tunnel to make sure that we build for the next 100 years. A power grid that will allow our economy to continue to grow and continue to sustain the needs of our population," he added.

OPEN ELECTRICITY MARKET TAKE UP RATE TO "GRADUALLY PICK UP"

And part of the effort to develop Singapore's energy sector is the liberalisation of the electricity market, which will spur competitive pricing and innovation, said Mr Chan.

From November, electricity consumers in Singapore will start to have the option of choosing their preferred electricity price plans from as many as 12 providers.

With the nationwide roll-out of the Open Electricity Market (OEM), consumers will no longer have to buy electricity from SP Group at a regulated tariff that is reviewed quarterly.

Mr Chan said: "A very common question that people ask is: Why is it that in SP we find a general price that's of this level? And the answer is simply because SP has to cater to the entire market and they can't do all this little small packaging, whereas now retailers are able to do the packaging and be more customised."

Mr Chan said he is confident that the take-up rate for the Open Electricity Market market will gradually pick up as more people are aware of the choices they can have, citing the success of the pilot scheme in Jurong in April which gave authorities the confidence to extend the market liberalisation islandwide.

"The take-up rate in Jurong has crossed 30 per cent and not many other places have reached this in six months or even in a few years," he said.

He said the Jurong pilot scheme also gave rise to concerns that prompted the authorities to address and rectify.

"Actually, we had many more price plans than what we eventually offered. And that was one of the first lessons learned from the Jurong trial. The lesson is that most Singaporeans would prefer maybe two to three options rather than too many, because if it's too many then it will confuse them," he explained.

When asked if there are too many retailers and whether a consolidation in the market could be on the cards, Mr Chan said it would be "too premature to jump to a conclusion" at this point.