Watch: Chan Chun Sing addresses concerns about River Valley High death in ministerial statement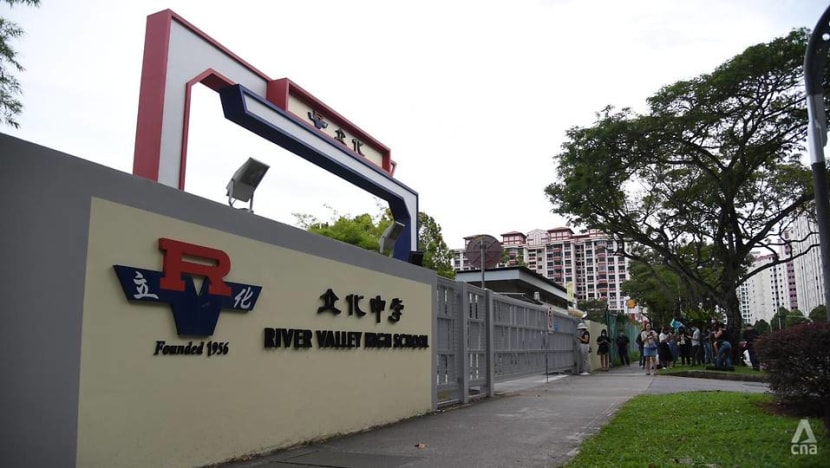 On Jul 19, a Secondary 4 student at River Valley High was arrested over the death of a Secondary 1 boy. 
The 13-year-old victim was found lying motionless, with multiple wounds, in a school toilet. He was pronounced dead at the scene by paramedics. An axe was also seized by the police.
Preliminary investigations showed that the accused and the victim did not know each other.
The 16-year-old has been charged with murder and is in remand for psychiatric assessment.
On Tuesday, Mr Chan provided a summary of what happened in the school on Jul 19, saying that the 16-year-old was seen holding an axe outside a toilet towards the end of lunch break.
The boy had asked two different groups of students to call the police. He also complied with a teacher's request to put down the axe, and was escorted to a meeting room before the police arrived and took him into custody.  
The next day, a Caring Action in Response to Emergencies (CARE) Post was set up in the school to provide psychological support to students and staff who needed immediate help. 
About 540 students and staff members have since sought psychological support from the CARE post at the school, said Mr Chan. 
MOE will continue to support the school's community, including the affected families, and monitor the well-being of students in all schools, he said.
New measures will also be rolled out to better care for the well-being of students in schools, said Mr Chan. 
This includes giving all teachers "enhanced professional development" on mental health literacy as a baseline and deploying more teacher-counsellors in the next few years.
Schools will also dedicate more time and attention to checking in on students' well-being, he said.
In his statement, Mr Chan also said that MOE will continue to update security measures in schools in a "targeted" manner, without losing the sense of "homeliness" of the school environment.
MOE does not want schools to be turned into "fortresses", creating unease and stress among staff and students, he said.
Mr Chan said he discussed the issue of school security with school leaders, adding that they were "unanimous" in their responses.
"School is like a second home to our children and all of us. It is a safe place where values are cultivated; life-long relationships are built, and a shared identity is forged," he stated.
"It is a warm and supportive environment that allows students with different learning needs and aspirations to discover their passions and develop their strengths. And above all, it is a trusted space."
Where to get help:
Samaritans of Singapore Hotline: 1800 221 4444
Institute of Mental Health's Helpline: 6389 2222
Singapore Association of Mental Health Helpline: 1800 283 7019
You can also find a list of international helplines here. If someone you know is at immediate risk, call 24-hour emergency medical services.