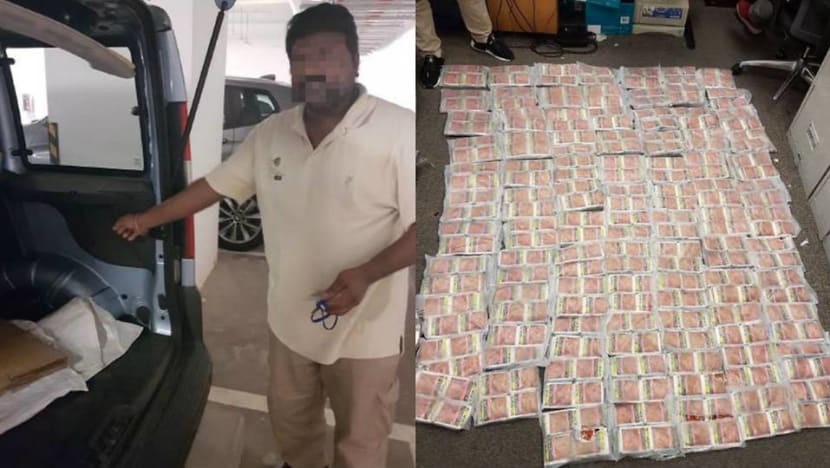 SINGAPORE: A 41-year-old man was sentenced to five weeks' jail and fined S$250 for importing 4,560 sachets of chewing tobacco into Singapore. 

The tobacco, which is prohibited in Singapore, had a street value of between S$4,560 and S$9,120, said the Health Sciences Authority (HSA) on Thursday (Nov 15).
On Aug 12 last year, Kartigesy Seledory's vehicle was checked by Immigration and Checkpoints Authority (ICA) officers when it entered Singapore via Tuas Checkpoint. 
The officers found 2,460 sachets of Hans Chaap khaini tobacco - a type of chewing tobacco - hidden in the rear door panel and in the rear speaker panels of the vehicle.  
Further investigations found that Kartigesy had smuggled in another 2,100 sachets two days earlier, said HSA in the media release.

Kartigesy claimed he was promised S$250 by an acquaintance in Malaysia for each time he managed to smuggle the products into Singapore. 
"Khaini tobacco is a form of chewing tobacco that is intended to be used by placement in the mouth. It consists of moist, dark brown tobacco leaf, mixed with slaked lime or spices and has a distinctive smell," HSA said.

The import and sale of so-called emerging tobacco products such as shisha, smokeless tobacco and chewing tobacco are banned in Singapore. Anyone convicted of importing or selling these products faces a jail term of up to six months, a fine of up to S$10,000, or both. The penalties are double for repeat offenders. 
Kartigesy is the fourth person in Singapore to be convicted and jailed for importing chewing tobacco.