SINGAPORE: The domino effect of Malaysia's impending chicken export ban has sent members of the public rushing for a taste of some of Singapore's more iconic dishes.
Long queues were observed at hawker stalls that CNA visited on Tuesday (May 31), a day before the export ban kicks in.
Lines were seen at several popular outlets at Maxwell Food Centre and Chinatown Complex such as Tian Tian Chicken Rice Store and Hawker Chan.
Business was also brisk at Chiew Kee Noodle House along Upper Cross Street.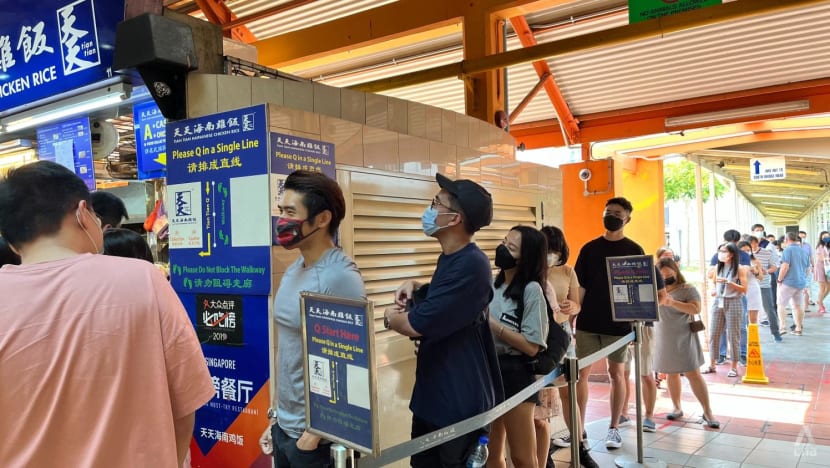 PRICE HIKES BITE
However, not all eateries saw a last minute uptick in business.
One of two stall owners at 335 Hong Kong Roasted Meat said business has not been good. 
"In fact, it was better yesterday!" a woman who wanted to be identified as Madam Sung told CNA, gesturing to leftover food items at the storefront on the second floor of Chinatown Complex.
Previously, Mdm Sung's chickens were sold at S$12. After prices were raised to S$15 on Saturday, fewer people have patronised her stall.
"S$15 is not expensive, some stores sell them at S$20," she said. 
"We understand our customers and we want to help them. That's why we increased our prices by only S$3. But they are not coming back."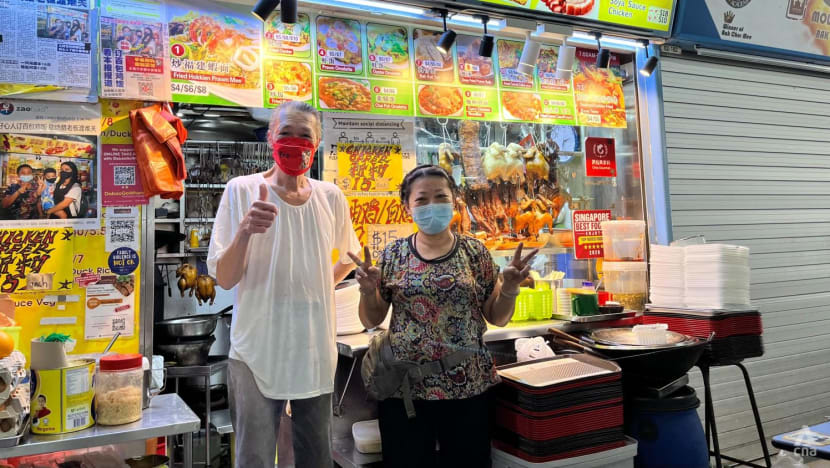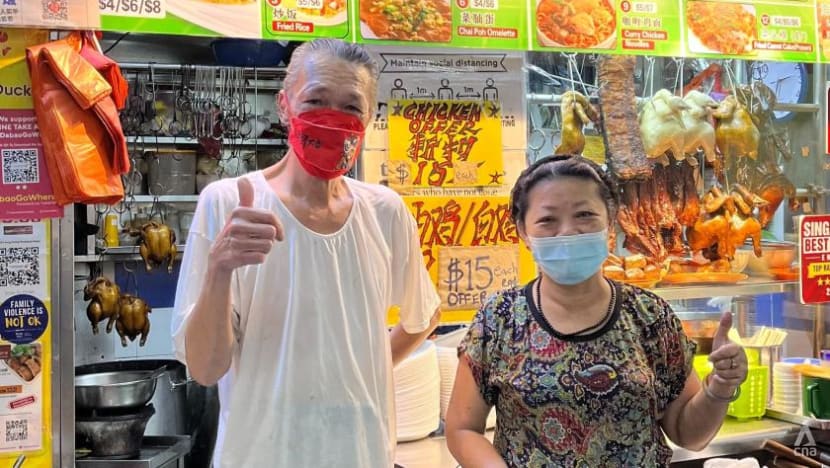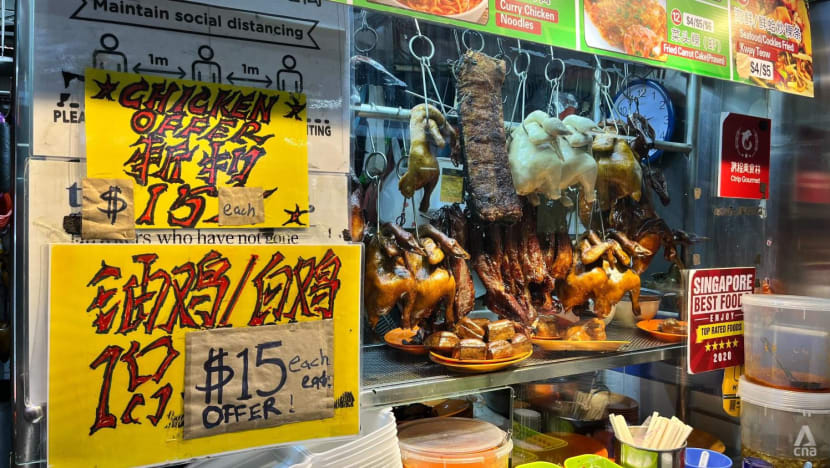 Mdm Sung said that her supplier - who imported chickens from Malaysia - had informed her that they would raise prices, so her stall had to do the same.
"If we raise the prices of our chicken, people will stop eating. It will be like today," she noted, pointing to the empty tables in front of her stall.
If faced with a lack of chicken, she would also consider selling other dishes.
When asked if she would consider switching to frozen chicken, Mdm Sung told CNA she does not think she has a choice.
"We serve soy sauce chicken here, so I was thinking maybe the herbs we boil the chicken with will mask the smell of the freezer. So maybe customers won't be able to tell the difference," she said, adding that they would have to experiment further.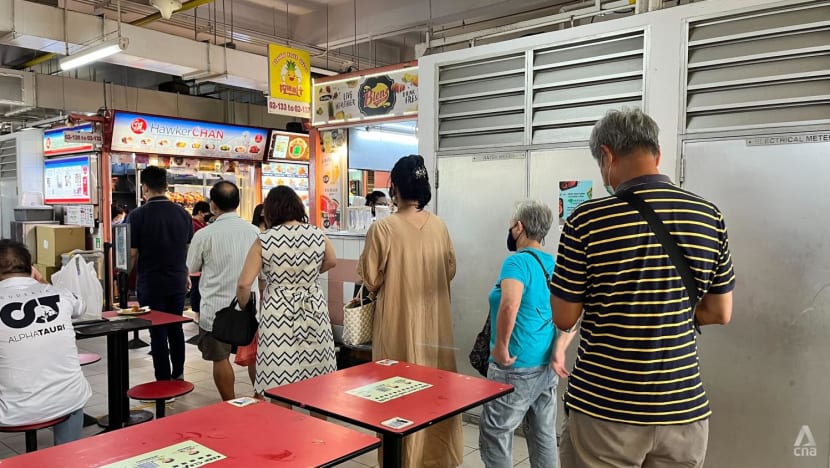 With customers crying foul over soaring prices and eateries worrying about the quality of their food, authorities have assured the public that Singapore has an adequate supply of chickens.
Here's a look at what happened:
MAY 23: A CHICKEN-AND-EGG SITUATION
Amid a supply shortage, Malaysian consumers have complained of rising chicken prices, with some retailers resorting to rationing their sales.
Farmers have cited high overhead costs against a government-set price ceiling forcing them to halt operations. The rising cost of chicken feed was attributed to a global shortage caused by Russia's invasion of Ukraine and uncertain weather patterns.
According to statistics, Malaysia's export of live birds grew from 40.19 million birds in 2007 to 59.08 million in 2020.
Following a Cabinet meeting on the rising prices of essential goods and chicken supply issues, Malaysia's Prime Minister Ismail Sabri Yaakob announced on May 23 that the country would curb the export of chickens from Jun 1.
This meant that the export of up to 3.6 million chickens a month would be halted.
On the same day, the Singapore Food Agency (SFA) said it was working to minimise impact on supply. 
About 34 per cent of Singapore's chicken imports in 2021 came from Malaysia. Almost all the imports were live chickens that were slaughtered and chilled in Singapore.
The agency also urged consumers to be open to alternatives, such as consuming frozen instead of chilled chicken.
MAY 24: COUNT YOUR CHICKEN (PRICES)
One day after Malaysia's announcement, some wet market stallholders in Singapore said they might have to close temporarily, adding that the export ban could result in a further increase in chicken prices, driving customers away. 
When CNA checked on several stalls that week, chicken sellers said they were facing a 20 to 70 per cent shortage. They noted that some customers had been buying more to stock up.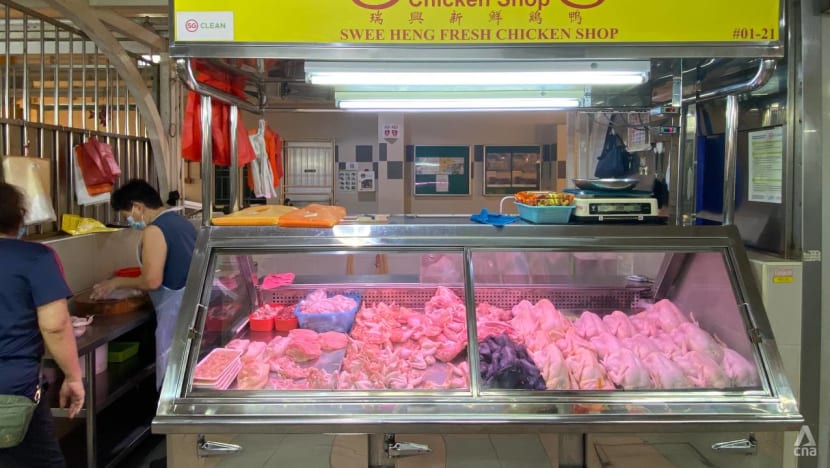 Chicken prices have already increased over the past month. According to data from the Singapore Department of Statistics, the average price for a whole chilled chicken was S$7.21 per kg in April this year, up from S$6.60 per kg in March. 
The price of chilled chicken wings also rose from S$8.75 per kg in March to S$9.45 per kg in April. 
Chicken importers in Singapore expressed concerns about pivoting to alternative sources of chilled and frozen chicken, saying that the gap in supply from Malaysia could lead to price increases for chilled chicken in the short term.
Several eateries that specialise in chicken dishes said they would be heavily impacted by Malaysia's export ban.
Some were worried about the quality of their food as well, citing the difference in taste and texture between frozen and fresh chicken.
MAY 26: NO NEED TO HOARD
Minister of State for Sustainability and the Environment Desmond Tan on May 26 sought to reassure the public ahead of Malaysia's chicken export ban.
Mr Tan said there was no need to hoard or over purchase frozen chicken as Singapore has an adequate supply.
FairPrice, Singapore's largest supermarket chain, said it has a stockpile of four months of frozen chicken and another two months of supply coming in "very soon". 
"We'd like to encourage our customers to consider frozen chicken and other alternative protein options," said deputy group chief executive officer of FairPrice Group Elaine Heng.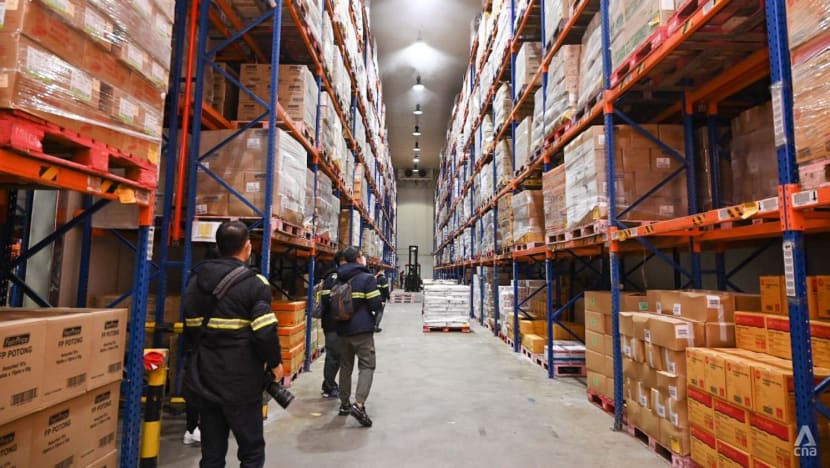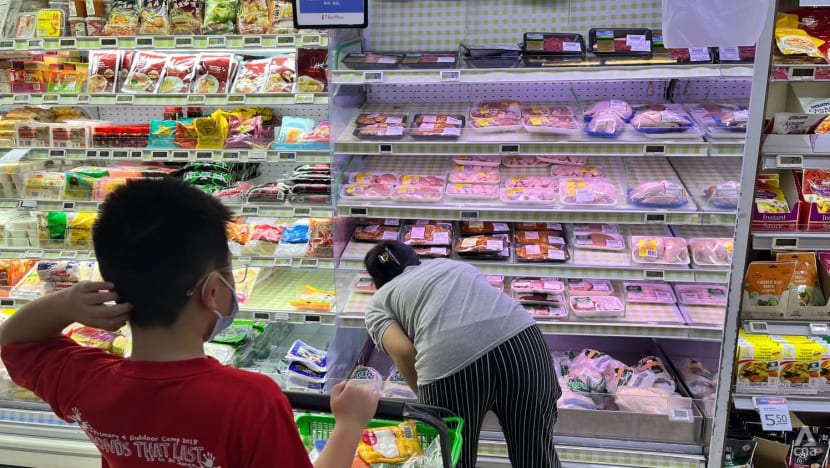 Some sellers told CNA that they had received reduced quantities from their suppliers.
Mohamad Zaidi said he had ordered 150 chickens for his stall at Tekka Centre on May 26 but received only 100.
The export ban - which currently does not have a timeline - has also worries about job security.
"No chicken how to sell?" asked Mr Chua Boon Leng, another vendor at Tekka Centre, who has been running his poultry business for more than 40 years.
He had ordered 100 chickens but received just 30 for two days in a row. Mr Chua said he would have to close his stall if the ban persists.