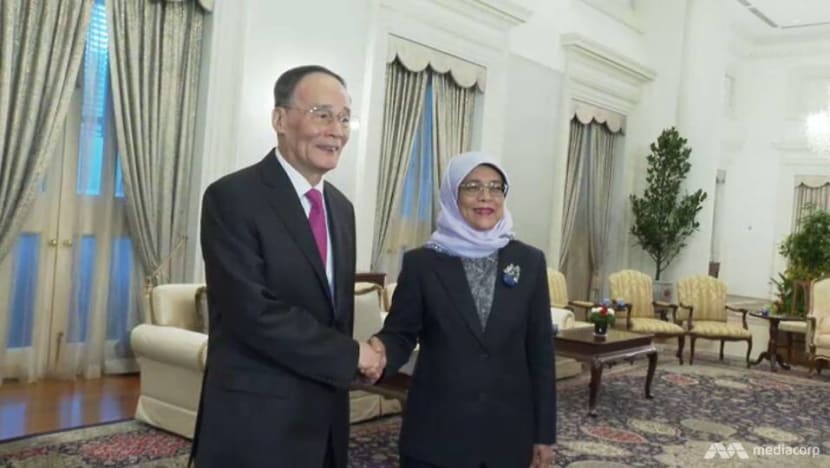 SINGAPORE: China's vice-president Wang Qishan and Singapore President Halimah Yacob on Monday (Nov 5) reaffirmed the close and long-standing relations between the two countries. 
Mr Wang, who is in Singapore on a three-day official visit, called on Mdm Halimah at the Istana. 
"President Halimah and Vice President Wang reaffirmed the close and long-standing relations between Singapore and China, underpinned by multi-faceted and substantive bilateral cooperation across diverse areas," said the Ministry of Foreign Affairs (MFA) in a press statement. 

"They reviewed the good progress made by our three government-to-government projects and discussed new areas of cooperation."
Mdm Halimah and Mr Wang also discussed key regional and international developments, including ASEAN-China cooperation and Sino-US relations, MFA added. 
On Tuesday, Mr Wang will be the keynote speaker at Bloomberg's inaugural New Economy Forum. 
The two-day forum brings together a community of 400 preeminent leaders, with the aim of seeking "private sector-led solutions to challenges created by a world economy in transition", according to a media release by the event organiser.
It will feature prominent speakers such as former US secretary of state Henry A Kissinger, managing director of the International Monetary Fund Christine Lagarde and Mr Anwar Ibrahim, de facto leader of Malaysia's Parti Keadilan Rakyat.