7 things to consider when choosing a preschool, from location to licence tenure
In the wake of alleged abuse cases at two Kinderland childcare centres, safety issues have emerged as a talking point. What should parents look out for when choosing a preschool? Experts and some mothers offer a few tips.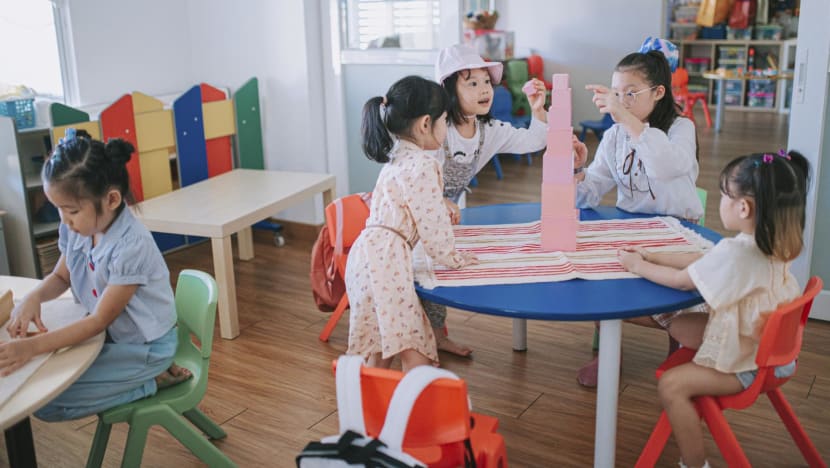 SINGAPORE: The preschool sector has come under the spotlight recently after alleged cases of child abuse at two centres operated by Kinderland.
The incidents prompted scrutiny of measures to ensure the safety of children, as well as questions from concerned parents about choosing a suitable preschool.
While there is no foolproof way, there are some things parents can take note of during their search for childcare facilities.
CNA speaks to parents and early childhood education experts to find out.
LOCATION
The first order of business should be to look for a preschool close to home or the workplace, with parents saying that convenience is key.
Ms Jeane Teo, 32, chose a preschool that is within a 10-minute walk from her home due to her work schedule.
"As both my husband and I work late, our helper has to help us pick up the kids before we reach home. So, we have to choose one that is closer to our house," she said.
"We did send our kid to a school further away, but logistically, it is harder to manage."
Madam Faridah Salim, 36, said a shorter commute allows her son to get more rest and it will be less of a rush sending them to school in the morning. 
The mother of five also noted that going to a preschool nearby makes it more convenient to pick up the kids if they fall sick in school or if it is raining. 
If you're looking for a preschool near your home or workplace, you can conduct a search using your postal code on the website of the Early Childhood Development Agency (ECDA).
LICENCE TENURE
A preschool's licence tenure, which can range from six months to 36 months, may provide an indication of how well a facility is run.
A six-month tenure, for instance, indicates that the preschool has not met certain crucial licensing requirements. These may include isolated incidents or areas that ECDA has identified for further improvement.
A 12-month licence indicates "acceptable" standards of care, while a 24-month licence signals that a preschool has "exceeded" ECDA's licensing requirements. 
The agency added that it conducts regular unannounced visits to ensure that childcare centres meet the required standards of care in areas such as the physical environment, safety, hygiene, staff training and curriculum. 
SPARK ACCREDITATION 
Another indicator of a preschool's quality is the SPARK accreditation, although it is not mandatory like licensing.
Awarded by ECDA, the SPARK certification is aimed at providing recognition and support for preschool leaders in their efforts to improve teaching and learning.
"SPARK spells out a national quality improvement framework for preschools and encourages preschools to conduct self-appraisals using its 'Quality Rating Scale' (QRS)," said Associate Professor Sirene Lim, head of the Early Childcare Programme at the Singapore University of Social Sciences (SUSS).
"The QRS focuses on what's known as process quality indicators such as quality of interactions between teachers and children, quality of leaders' management of staff and staff well-being and professional development, teachers' planning and decision making," added Assoc Prof Lim, who is also vice dean of SUSS S R Nathan School of Human Development.
A SPARK certification is valid for six years.
Parents can check out the list of SPARK-certified centres here.
VISIT THE SCHOOL, ASK QUESTIONS
Before choosing a preschool, a visit to the centres you've shortlisted is necessary, said the parents CNA spoke to, as school tours give a glimpse of the facilities and the resources available to the children.
A mother of a three-year-old said it is important to speak extensively with the principal and teachers.
She suggested questions covering matters such as the culture of the school, the safety protocols, disciplinary policies, how teachers handle students who are struggling to keep up, as well as communication methods with parents.
"Talking and asking questions is the best way to find out," said the mother, who wanted to be known only as Mrs P Tan.
"Usually I try to listen for the language teachers use when talking about their school and the children during open house sessions. This translates into how much goes into setting up the space in the school and you can see how much care will go to the children," she added.
Ms Shikha Chaudhary shared her experience of choosing between two preschools, saying visiting the centres allowed her to feel the "vibe" of the place and pick one that was more suitable for her daughter.
"When a kid was taken to (the) toilet … one (preschool) was polite and gentle, and the other was strict and assertive. We are all for assertiveness but when looking for a preschool for our 1.5-year-old baby, we naturally got pulled to the gentle approach as that matched our vibe and how we want our kid to be treated at that age," she added.
Assoc Prof Lim similarly suggested talking to principals to get a sense of their philosophy towards education for young children and their reasons for choosing this line of work.
She offers another tip - look at the bulletin boards and other kinds of documentation of children's learning to see if the environment is well-organised while encouraging children to be independent and have decision-making opportunities.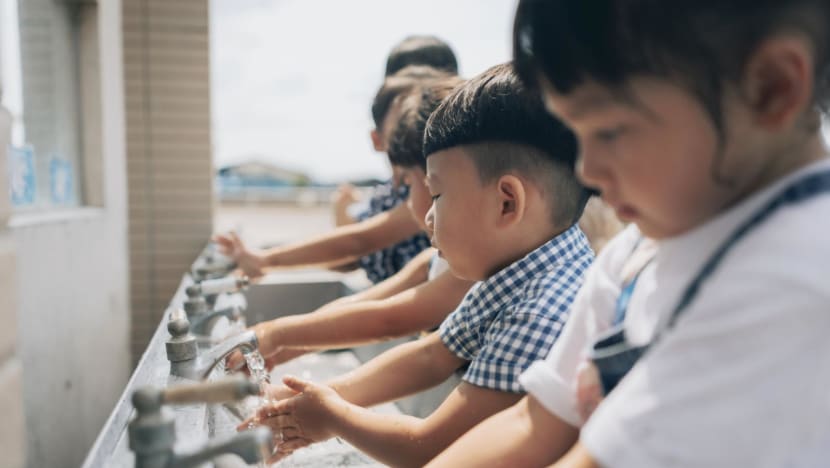 HYGIENE
One area parents may want to pay attention to is health and hygiene.
A mother who wanted to be known as Mrs Azyyati encouraged parents to ask preschools how often they disinfect classrooms, how they manage the outbreak of illnesses or diseases and how many toilets there are.
The 33-year-old said her two-year-old son contracted hand, foot and mouth disease twice in a span of two months while studying at his initial preschool. 
"The school didn't seem to be able to contain the spread of the virus (as) there were ongoing (HFMD) cases for quite a long period of time," she added, saying the incidents prompted her to look for another school.
ECDA said preschools are required to notify parents if students have contracted infectious diseases, to enable parents to make an informed decision on whether to continue to send their child to school.
CURRICULUM 
The type of learning experience that the preschool provides would need to suit a child's temperament, says Assoc Prof Lim.
"For instance, if the preschool's curricular and pedagogical approach ... relies a lot on academic learning and seatwork, this kind of programme might suit children who actually enjoy sitting at a desk, already have some foundation in academic learning such as reading and writing," she explained.
"If the preschool provides a lot of objects for playful learning, conversations and movement-based exploration, then this might suit children who like to be physically active and are very curious about their immediate environment and enjoy working with others."
For Ms Teo, for instance, she also considered if the preschools had other programmes beyond academic learning.
"Aside from in-class learning, I also look for curriculums such as play-based curriculum where it corporates art, music, stories, dance, cooking, nature exploration and inquiry-based learning," she added. 
SCHOOL CULTURE
Ultimately, parents' view of a preschool may be shaped by what they can glean about the culture of a childcare centre.
"I think if I were to put my grandchild into a childcare centre, I would first determine how the people in the centre make me feel," said Dr Christine Chen, president of the Association for Early Childhood Educators (Singapore) or AECES.
She cited the example of a childcare centre where she was greeted courteously by a staff member. "I sensed the culture of concern, care and kindness in this centre where humans are being respected and trusting relationships can flourish," she added.
Assoc Prof Lim encourages parents to pay attention to the preschool's overall "climate", saying it should be a calm and respectful environment where adults are responsive to one another and towards children's ideas and feelings.
"When working with large groups of young children, preschools should feel like a 'village' coming together to care for and educate children," she added.
"The atmosphere should be one where children and adults co-exist and are engaged in playful, joyful experiences, with productive noise and not absolute silence."