From clerk to MMA world title contender: Singapore's Amir Khan fights to reach the top of his sport
ONE's rising star recalls how he survived National Service and discussed ambitions to represent Singapore at the Olympic Games.
SINGAPORE: When he was in national service (NS), Amir Khan harboured dreams of becoming a mixed martial arts (MMA) world champion. He did not see NS as a hurdle to his ambition.
"It was me serving my country. I knew I had to do it, no excuses. I just made the best out of it," said Khan, who spoke to Channel NewsAsia in an interview last month.
For close to two years from May 2015, he served as a clerk with the Singapore Civil Defence Force (SCDF). Khan was assigned the post after his basic rescue training because he has Tourette syndrome. The regular office hours he kept gave him the opportunity and time to train, but only in the evenings.
"I trained only once a day at the gym but it taught me to get my priorities right. Put what's important first - do my NS in the day, and train in the evenings," he added.
With a ripped physique and bulging muscles, Khan was by his own admission fitter than some of his NS commanders. But what the two years of service taught him was respect and humility.
"Even though I was tougher than my own commander, I had to respect him," said Khan. "I built a relationship with my commanders so that they allowed me to train and stuff. The whole experience made me grow as a person, and apply these same skills I learnt," he added.
Now, more than a year since completing his national service, Khan has been given the chance for the ONE championship MMA world lightweight title.
Khan is now the fighter with the largest number of finishes in ONE, but the accolade does not mean much to him. 
"The record is an added bonus. But it's not something to be proud of. I want to be world (lightweight) champion, and until then, I have not achieved my goal," he added. Khan will not have to wait much longer to have a shot at that.
ONE's chief executive officer Chatri Sityodtong announced on Monday (Oct 1) that the 23-year-old will face Philippines' Eduard Folayang for the belt at its Conquest of Champions event at the Mall of Asia Arena in Manila on Nov 23.

Khan's stint with ONE and Evolve gym has allowed the Muay Thai specialist to blossom into one of the top MMA prospects in the world. He has 11 wins to his name and three losses - two of which were very early in his career. 
Most recently, he beat the Philippines' Honorio Banario in Shanghai. Before the fight, Khan predicted he would win within two rounds - but Banario conceded within the first.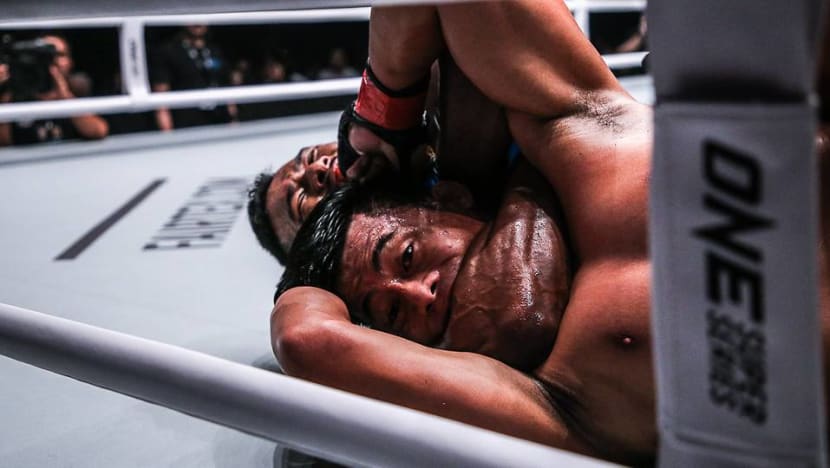 "It was done effortlessly," said Khan with a straight face, almost as if he was talking about brushing his teeth.
He grappled Banario to the ground in the first round of the bout, held him in a rear naked choke, leaving his more experienced opponent tapping out in submission.
"I timed the move, and took the opportunity, without wanting to waste energy," he said. "Yes, (I expected to beat him. If not, what's the point of fighting," Khan added matter of factly.
Khan was an active child growing up and knew from young that he wanted to be a professional sportsman. Khan, who has been competing with ONE for four years, picked MMA because it allowed him to be different. 

Beyond MMA, Khan has also set his sights on one day representing Singapore at international major competitions such as the Asian Games or the Olympics.
Khan, who is a well-rounded fighter with skills across Olympic sports such as wrestling and jiu-jitsu, told Channel NewsAsia that representing Singapore is something he is considering "down the road", following in the footsteps of ONE's May Ooi, who represented Singapore in jiu-jitsu at the recent 2018 Asian Games. 
Ooi competed in the under-62kg category but she lost to the United Arab Emirates' Alshamsi Hessa in the round of 32. 
"I saw May (Ooi) compete and transition (easily) - if I get the same opportunity, I'll grab it. I'm still young, and that's something to think about a few years down," he said. 
Khan also named Singapore's swimming Olympic champion Joseph Schooling as an athlete he looks up to and aspires to reach similar heights. 
"The endorsement deals that he has, the opportunities that he gets - he's done it and because of him, we believe we can do it too," said Khan. 
In terms of career progression, Khan said that he has no plans to compete under different MMA companies such as the US-based Ultimate Fighting Championship or China's kickboxing promotion league Kunlun Fight. 
"I don't look at other organisations, I want to stick with ONE. Evolve is a well-run gym, we have the top coaches, I have everything I need under one roof, so I don't have to go anywhere else," he said.  
Within ONE itself, however, Khan wants to correct the "wrong perceptions" some of the other fighters have of Singapore and its people. 
"They view Singapore as a rich city, where people don't know what it's like to struggle. They think excelling in MMA is all about channelling that aggression into the ring. But I want to prove that it's not like that at all," said Khan, who was raised in a middle-income family.  
"It's not all about street fighting. We Singaporeans also struggle, albeit in a different way. I have an apartment that I have to pay rent for and I'm living all on my own," said Khan. 
He stressed that one of his biggest motivations to win the lightweight title is to prove these doubters wrong. 
"Singaporeans are tough, in our own way. I am passionate about the sport and it's not all about being angry when I fight," he said. 
And how does he plan on becoming the first Singaporean to win a world MMA title? 
"I am all about effort and commitment," said Khan.