Measures that brought motorcycle COE prices down will not work in the car market, analysts say
A higher bid deposit or shorter validity period for temporary COEs will not be effective in cooling car premiums, analysts told CNA.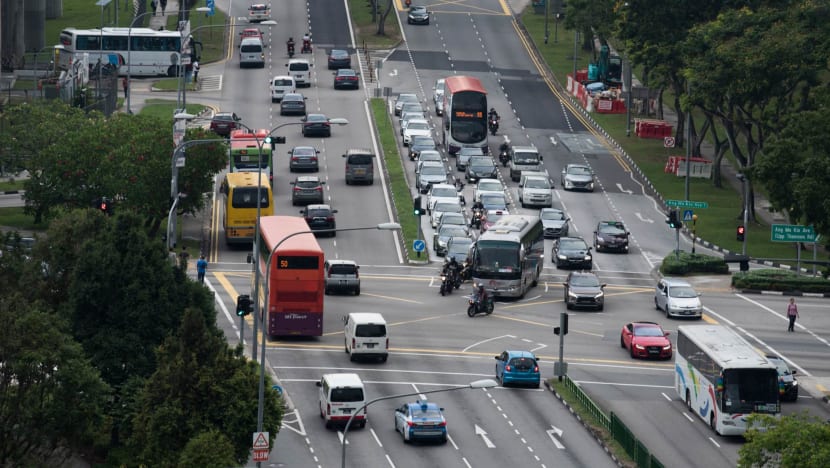 SINGAPORE: Premiums for motorcycle Certificates of Entitlement (COEs) plunged nearly 60 per cent in the bidding exercise that ended on Thursday (May 4), the first tender involving new measures for that category.
That raised questions among netizens about whether a similar approach would help to bring COE prices for cars down.
But observers told CNA that there are differences between the two markets, and the measures will not have the same effect on car COEs.
In April, the Land Transport Authority (LTA) said it would increase the bid deposit for motorcycles to S$1,500 (US$1,132) from S$800. At the same time, the validity period for motorcycle temporary COEs was cut to one month from three months.
Motorcycle COEs closed at $5,002 on Thursday, down from S$12,179 in the previous round.
Transport economist Walter Theseira said the new measures worked to discourage speculation because motorcycle dealers tend to hold on to a stock of temporary COEs. They profit when COE premiums rise because they can sell the motorcycle for a higher price even though the certificate was purchased at a cheaper rate.
The dealers will also register vehicles in their business' name before selling them to consumers as a "new second-hand" product.
This is not a strategy used in the car market because buyers are sensitive to the "transfer count" or the number of previous owners, said Dr Theseira, who is an associate professor at the Singapore University of Social Sciences.
Buyers are unlikely to be willing to pay the same price for a car that has one previous owner, even if it is the dealer's company.
Additionally, cars depreciate much more than motorcycles.
"It is very risky for car dealers to hold COEs speculatively or to use them to register vehicles in their own name, when very expensive depreciation starts the moment registration is completed," he said.
GENUINE BUYERS
Motorcycle dealers who have a large stock of COEs have an incentive to try to control the market price. But under the new rules, dealers can no longer hold on to old certificates for three months and benefit from the difference in COE premiums.
If dealers put in bids to push the COE higher, the deposit for each bid is now higher and that amount goes to waste if the COE expires.
For the car market, however, dealers usually put in a bid only when they have confirmed a buyer.
"The dealer only executes the bid when there is a buyer who has already committed to the purchase and has transferred the COE bid deposit, and in many cases, also a deposit for the car itself," said Assoc Prof Theseira.
He added that the bid is made in the name of the buyer, so dealers will not put in a bid without a deposit and sales contract.
A higher bid deposit for cars would increase the amount of cash needed upfront, he said.
"However, I don't expect that to have much effect on the market, as if you are ready to pay S$200,000-S$300,000 for a car, is there much difference whether you have to pay, say, S$10,000 upfront as a COE bid deposit, or even S$20,000 or S$30,000?"
Mr David, a manager at SgMotoringHub, said small parallel importers may need to ask their buyers for larger deposits if the bid deposit is increased.
"Big companies, they have deep pockets. S$10,000 increase to S$20,000 or even S$30,000, to them, it's not much impact," he said.
But since there is a genuine buyer behind every bid, a higher bid deposit is unlikely to reduce demand.
FLEXIBILITY IN LOGISTICS
Shortening the validity period of the temporary COEs helps to limit speculation for motorcycles because dealers cannot hold on to their stock of certificates for longer than a month, but there is no such practice in the car market, observers said.
Dealers who bid for COEs have already sold the car, they said.
"For car dealers, the (temporary COE) mechanism for Cat A and B is primarily to allow flexibility for business models that involve the sale of cars that are not physically in Singapore yet," said Assoc Prof Theseira, referring to the categories meant for smaller cars (Cat A) and larger and more powerful cars (Cat B). 
Dealers hold varying inventory, with some models only imported when an order is signed. Others may sell new models before the inventory arrives.
"Reducing flexibility means car dealers probably have to commit more capital to inventory costs, which acts to increase, not reduce, car prices," he added.
Assoc Prof Theseira said buyers may want to get a temporary COE earlier if they expect premiums to rise in the coming months, but that is still a different scenario from motorcycle dealers who benefit if they are holding onto dozens of COEs and the prices rise.
Temporary COEs for Category A and B cars are valid for six months.
"For new cars, dealers bid quite early, some of them, when the car is still producing, they already bid," said Mr Arthur Wong, director of ACM Automobiles. They will not be able to do so if the validity period is reduced, he said.
In fact, if each tender only has bidders who have cars ready to hand over to customers, it could be "detrimental" for prices, Mr Wong said.
SgMotoringHub's Mr David also said premiums could go higher in this scenario.
"Let's say you already have ready cars, you will definitely bid the maximum to make sure that you secure the COE," he said.
But Assoc Prof Theseira offered an alternative view.
"The popular belief that dealers want COE prices to be higher for some reason is completely incorrect – after the sales contract is signed, the motor car dealer wants to secure the COE at the lowest price possible for the customer," he said.
"As dealers sell cars on package prices including the COE, once the sales contract is signed, they have every incentive to bid as low as possible while still securing their COE, because a dollar saved on the COE is a dollar more profit margin for them."