Singapore's COVID-19 cases rise past 40,000 with 347 new infections; one more death reported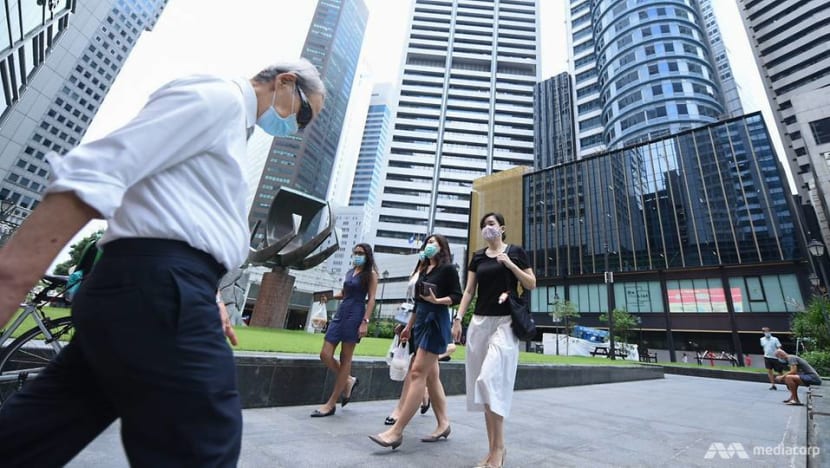 SINGAPORE: Singapore reported 347 new COVID-19 cases as of noon on Saturday (Jun 13), and recorded one more death, said the Ministry of Health (MOH). 
This takes the total number of coronavirus infections in Singapore to 40,197, with the number of fatalities at 26. 

A 73-year-old man, known as Case 161, died on Friday due to COVID-19 complications, said the ministry. 
The man, a Singaporean, was linked to the cluster involving a private dinner function at SAFRA Jurong.
He stayed at Bishan Street 13 and had a history of hypertension, hyperlipidaemia and chronic kidney disease, said MOH. 
NCID has reached out to his family and is extending assistance to them. 

15-YEAR-OLD STUDENT AMONG NEW COMMUNITY CASES
Five of the Saturday's new cases were in the community - two Singaporeans or permanent residents and three work permit holders, said the Ministry of Health (MOH) in its daily preliminary update.
Both Singaporean cases were detected during proactive screening, the ministry said. 
One of the cases, a 15-year-old female student, was tested as part of testing of school students above the age of 12 diagnosed with acute respiratory infection (ARI) at first presentation to a doctor, said MOH. 
"Her serological test result has come back positive, which is indicative of a past infection," said the health ministry. 
"The epidemiological evidence suggested that she was likely to have been infected during the circuit breaker period, and not after school re-opening." 

The Ministry of Education (MOE) said on Sunday that the teenager is a Secondary 4 student from St Anthony's Canossian Secondary School.
She was spotted to be unwell by her form teacher on Wednesday during the daily visual and temperature screening exercise.
The 15-year-old was isolated and sent home, and has not been back to school since. She later tested positive for COVID-19.
As a precaution, 47 students and 12 staff members who had been in close contact with the student was put on a leave of absence by MOE or a home quarantine order by MOH.
"They are currently well. All 47 students have been tested for COVID-19, and all are negative," MOE said.
"The school premises have also been thoroughly cleaned and disinfected." 
Lessons in school for Secondary 1, 2, 4 and 5 students will continue as per normal from Monday, based on the weekly rotation schedule previously announced, the education ministry said.

The other case is a 67-year-old Singaporean woman who works at SCM Tuas Lodge. She was tested as part of the screening for those working in dormitories.

Amongst the three work pass and work permit holders, one was a contact of previously confirmed cases, and had already been quarantined at a government quarantine facility earlier. 
The 29-year-old Bangladeshi was swabbed during quarantine to verify his status, said MOH. 
Another one, a 38-year old man from Bangladesh, was tested as part of efforts to screen workers in essential services. 
The remaining case, a 28-year-old man of Indian nationality, is linked to the cluster at Alaunia Lodge, said the ministry. 

A new cluster at 50 Tech Park Crescent was established after 15 new cases were linked to 28 previously reported cases.

Six new locations were also added to a list of places visited by confirmed COVID-19 cases during their infectious period.

These are the Geylang Serai Market, the Poiz Centre at Upper Serangoon Road, the Sheng Siong supermarket at New World Centre, 18 Marsiling Lane, the Sheng Siong supermarket at 301 Geylang Road, and Boon Lay Shopping Centre.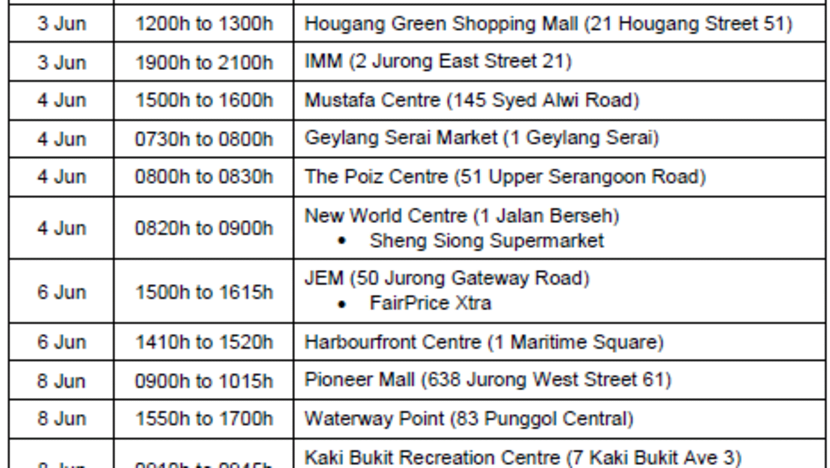 Individuals identified as close contacts of confirmed cases would already have been notified by MOH. Those who have been at these locations should monitor their health closely for 14 days from date of visit, and see a doctor promptly if they develop respiratory symptoms.

The list - which excludes residences, workplaces, healthcare facilities and public transport - will be updated on a rolling 14-days basis.
In Saturday's release, MOH said that another 768 cases have been discharged from hospitals or community isolation facilities, bringing Singapore's total recoveries to 28,808.

There are currently 228 confirmed cases still in hospital, most of whom are stable or improving. One patient is in critical condition in the intensive care unit.
There are 11,135 cases in isolation and cared for at community care facilities. These cases are those with mild symptoms or are clinically well, but still testing positive for the virus.
MOH on Thursday said a man who died earlier this week from heart disease had COVID-19. 
The man is the tenth person who had COVID-19 and died but was not added to the official toll because the death was not caused by the coronavirus.

Singapore-based company Tychan on Wednesday announced that it will start human clinical trials next week for a treatment that could slow down the progression of COVID-19 in patients. 
The treatment will help patients recover faster and provide temporary protection against the coronavirus, it said.
Separately, antiviral drug remdesivir has been granted conditional approval by the Health Sciences Authority to be administered to COVID-19 patients in Singapore who are severely ill. 
The drug, which was first created to treat Ebola, has been used as part of clinical trials in Singapore for COVID-19 patients.
Doctors can now use remdesivir to treat adult COVID-19 patients who require supplemental oxygen or require more intensive breathing support, such as the use of ventilators or life support machines.
Patients who have oxygen saturation levels of 94 per cent or less can also be given the antiviral drug.
Download our app or subscribe to our Telegram channel for the latest updates on the COVID-19 outbreak: https://cna.asia/telegram