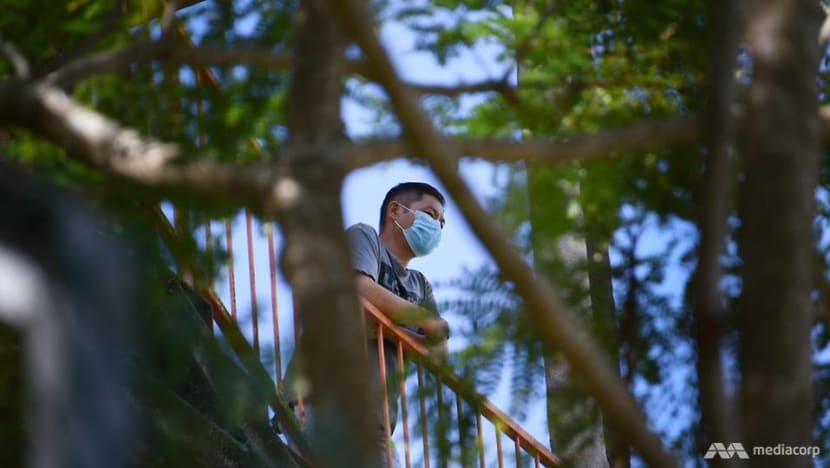 SINGAPORE: Singapore reported 528 new COVID-19 cases as of noon on Tuesday (Apr 28), bringing the national total to 14,951. 
The vast majority of the new cases are work permit holders residing in foreign worker dormitories, the Ministry of Health (MOH) said in its preliminary update. 

In a later update, MOH said there were 10 cases in the community, of which seven were Singapore citizens or permanent residents; there were also two work pass holders and one visit pass holder who were infected.

A total of 511 new cases were foreign workers living in dormitories, while seven workers living outside dormitories caught the coronavirus.
A nurse at Changi General Hospital (CGH) was also among the new cases. Case 14693 is a 24-year-old Singaporean man who has no recent travel history to affected regions.
His symptoms started on Monday and he tested positive on the same day. He had not gone to work since the onset of symptoms.
The man is currently warded at CGH.
The average number of daily new cases in the community has decreased to 17 in the past week from 28 in the previous week.
For unlinked cases, the average has decreased to 10 cases a day in the past week from 18 the week before.

Fewer work permit holders residing outside dormitories are catching the coronavirus, with the average falling to 20 a day this past week from 25 the week before.
MOH added that 33 more COVID-19 patients have been discharged from hospitals or community isolation facilities. In all, 1,128 have fully recovered from the infection.
There are currently 1,689 confirmed cases who are still in hospital, of whom most are stable or improving; 21 are in critical condition in the intensive care unit.
A total of 12,120 cases are isolated and cared for at community facilities. These are those who have mild symptoms, or are clinically well but still test positive for COVID-19.
The number of patients who have died from complications due to COVID-19 remains at 14.

FOUR NEW CLUSTERS

Of the new cases reported on Tuesday, 83 per cent are linked to known clusters, while the rest are pending contact tracing.
Between Apr 21 and Apr 27, the ministry has also uncovered links for 1,203 previously unlinked cases.

Four new clusters were identified by the ministry on Tuesday.

Two of the newly confirmed cases are linked to 66 previous cases to form a new cluster at 33 Sungei Kadut Loop.
A new cluster at 23H Sungei Kadut Street 1 has been linked to 19 of the earlier confirmed cases.
One of the newly confirmed cases is linked to 15 previous cases to form a new cluster at 10 Tagore Drive.
A new cluster has been identified at 51H Tuas South Ave 1, linking 16 previous cases.

Minister for National Development Lawrence Wong said on Monday that scaling up the capacity to test for COVID-19 will be a "key enabler" for Singapore to move beyond the "circuit breaker" period.

He added that authorities are starting to more regularly test workers in the essential sectors and frontline officers who come into close contact with confirmed cases.
Health Minister Gan Kim Yong on Monday noted that the continued presence of unlinked cases means there is still underlying COVID-19 transmission in the community that has not been detected. 
"Even as we remove the circuit breaker measures, we need to do it progressively. We need to do so in a safe way to prevent the resurgence of new cases and new clusters, which will be another problem again," said Mr Gan. 

Download our app or subscribe to our Telegram channel for the latest updates on the coronavirus outbreak: https://cna.asia/telegram