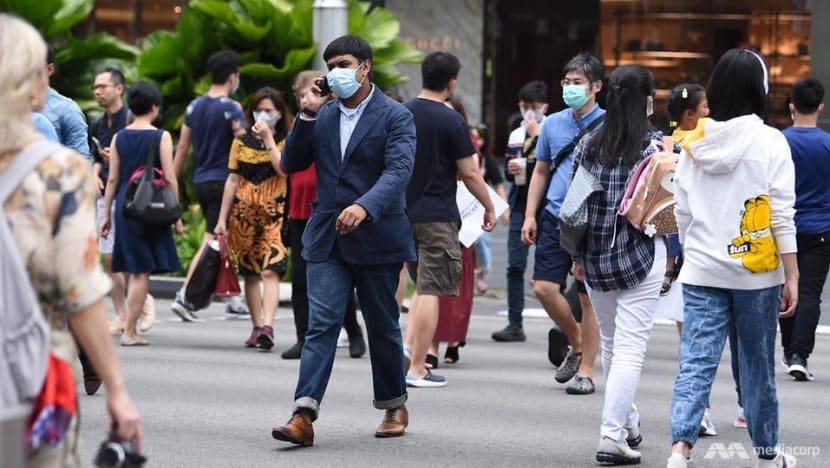 SINGAPORE: Singapore reported 77 new COVID-19 cases as of noon on Thursday (Aug 27), including two in the community and five imported infections, said the Ministry of Health (MOH).
This brings the total number of cases in the country to 56,572.
COMMUNITY CASES
Both community cases were Singaporeans who were detected under MOH's enhanced community testing to test all individuals aged 13 and above who are diagnosed with acute respiratory infection at first presentation to a doctor.
One of them was a 31-year-old woman who visited SLR Revolution at Excelsior Shopping Centre, where she may have had contact with a previous COVID-19 case who had gone to work at the store during his infectious period, said MOH.
The woman had visited the camera shop on Aug 17. She reported the onset of symptoms on Aug 22 was confirmed to be infected with COVID-19 on Aug 26.
"The risk of infection for visitors is assessed to be low. However as a precautionary measure, MOH will be contacting all individuals who had visited the shop between Aug 15 and Aug 18, and facilitating COVID-19 testing for them," the ministry said.
Those who are unwell when contacted will be conveyed to the hospital for further medical assessment, MOH said.
The ministry also advised all visitors to the shop at Excelsior Shopping Centre on the affected dates to monitor their health and seek medical attention promptly should they develop acute respiratory infection symptoms.
The other community infection was a 13-year-old boy, who is currently unlinked to previous cases. He presented with onset of symptoms on Aug 20 and was confirmed to have COVID-19 case on Aug 26.
All the identified close contacts of this case have been isolated and placed on quarantine, and will be tested at the start and end of their quarantine period, said MOH.
Our Tampines Hub and two stores within Elias Mall were on Thursday also added to MOH's list of public places visited by COVID-19 cases in the community during their infectious period.

COVID-19 cases visited Our Tampines Hub on Aug 22, and 623 F&B and Sheng Siong Supermarket at Elias Mall on Aug 19.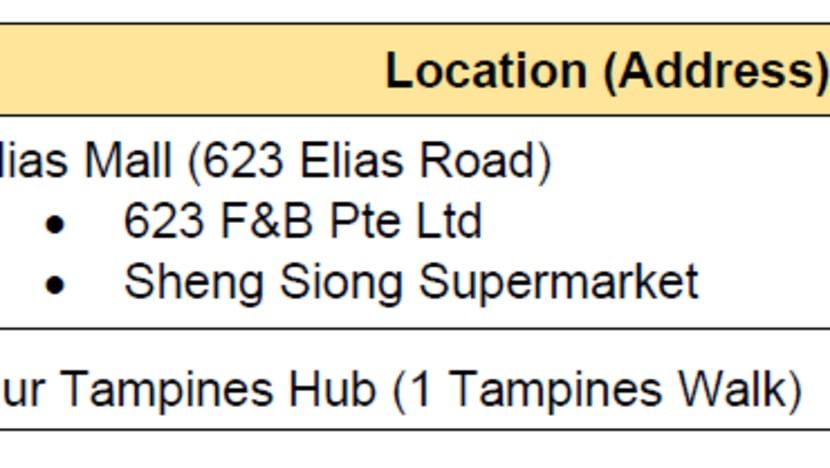 Overall, the number of new cases in the community has increased, from an average of one case per day in the week before, to an average of two cases per day in the past week, said the ministry.
The number of unlinked cases in the community has remained stable at an average of one case per day in the past two weeks, it added.
IMPORTED CASES
One of the five imported COVID-19 cases was a 54-year-old seafarer who worked on a vessel that has been linked to multiple other cases. At least 15 of the 22 crew members of the vessel, which arrived in Singapore from India on Aug 8, have been diagnosed with COVID-19.
The special pass holder, who is a Philippines national, was asymptomatic and tested positive on Aug 26. 
The seaman did not disembark from the vessel and had been placed in quarantine, where he was tested for the coronavirus.
The remaining four cases were placed on 14-day stay-home notices upon arrival in Singapore, and were tested while serving thee notice.
One of them was an 82-year-old Singaporean woman who travelled from India. 
The three other cases were a 35-year-old permanent resident who travelled from India, a 41-year-old dependant's pass holder who travelled from China, and a 34-year-old long-term visit pass holder who travelled from India.

48 MORE CASES AT SUNGEI TENGAH DORMITORY CLUSTER
The remaining 70 cases reported on Thursday were migrant workers living in dormitories. Of the new cases, 66 of them were identified as contacts of earlier cases and were tested while in quarantine. Four cases were detected through surveillance testing, such as the biweekly routine rostered tests and testing of those with acute respiratory infection symptoms.

Serological test results for eight cases have come back positive so far, which indicate "likely past infections", said MOH.

MOH reported that 48 more cases were linked to the cluster at Sungei Tengah Lodge, Singapore's biggest dormitory. A new cluster was identified there on Aug 22 after the dormitory had previously been declared cleared of COVID-19 by the Ministry of Manpower.
On Thursday, MOH also announced the following 41 dormitory clusters have closed.
These dormitories have been cleared by the COVID-19 inter-agency task force, and now house only recovered individuals and those who have recently tested negative for COVID-19 infection, said MOH.

168 MORE RECOVERIES
A total of 168 more COVID-19 patients have been discharged from hospitals or community isolation facilities.
In all, 55,139 have fully recovered from the infection and have been discharged from hospitals or community care facilities.
There are currently 66 confirmed cases who are still in hospital. Of these, most are stable or improving, and no one is in the intensive care unit. 
A total of 1,340 patients are isolated and cared for at community facilities. These are people who have mild symptoms or are clinically well but still test positive for COVID-19.
Twenty-seven people have died from complications due to COVID-19. 
"NO KNOWN" CASE OF COVID-19 REINFECTION IN SINGAPORE
In response to CNA's queries, an MOH spokesperson said on Thursday that there was "no known" case of COVID-19 reinfection in Singapore to date.
The health ministry is "actively investigating" the possibility of reinfection among those who have recovered from the disease, the spokesperson added.
This comes after reports of recovered COVID-19 cases in Hong Kong, Belgium and the Netherlands becoming reinfected with the coronavirus.
"MOH continues to review global and local clinical research and evidence on COVID-19 reinfection, and monitor the situation closely," said the spokesperson.
Download our app or subscribe to our Telegram channel for the latest updates on the coronavirus outbreak: https://cna.asia/telegram