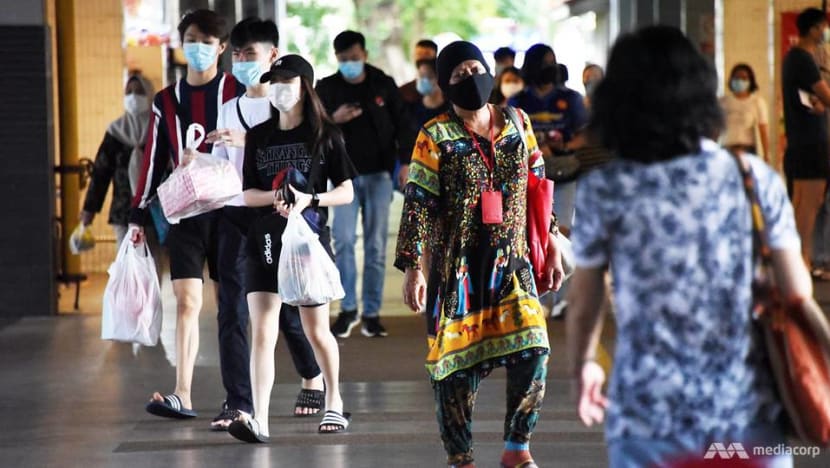 SINGAPORE: Singapore reported 248 new COVID-19 infections as of noon on Thursday (Jul 16), including 11 cases in the community, the Ministry of Health (MOH) announced.
This brings the total number of cases in the country to 47,126.
The community cases involve two Singaporeans or permanent residents, five work pass holders, two work permit holders and two dependant's pass holders. 
The 11 cases in the community comprise two Singaporeans, two Bangladesh nationals and seven Indian nationals. 
Eight of the community infections were picked up as a result of the ministry's "proactive surveillance and screening" and two had already been placed in quarantine earlier, said the ministry. Ten of the cases are asymptomatic.
Five of the community cases are linked to previous cases or clusters. Of these, two had been identified as contacts of previously confirmed cases and had been tested during their quarantine to determine their status. 
A 56-year-old Singaporean man, known as Case 47181, is linked to the cluster at Toh Guan Dormitory, which now was a total of 744 confirmed cases. 
Another two cases were swabbed as part of periodic screening of workers in the construction sector.
The remaining case was identified as the part of the ministry's testing of individuals working in frontline COVID-19 operations.

Six of the community cases are currently unlinked. Of these, five cases are asymptomatic and had been detected as a result of the screening of workers in essential services who are living outside the dormitories.
Epidemiological investigations are ongoing for the remaining case, a 50-year-old Singaporean. The man, known as Case 47204, reported onset of symptoms on Jul 10 and was swabbed under enhanced community testing to test all individuals aged 13 and above who are diagnosed with acute respiratory infection at first presentation to a doctor. 

"Overall, the number of new cases in the community has decreased, from an average of 16 cases per day in the week before, to an average of 12 per day in the past week," said MOH.
"The number of unlinked cases in the community has also decreased, from an average of eight cases per day in the week before, to an average of seven per day in the past week."

IMPORTED CASES TRAVELLED FROM AZERBAIJAN, UNITED STATES
There were also four imported cases who had been placed on stay-home notice upon arrival in Singapore. 
The imported cases include a Singaporean who returned from the United States on Jul 3 and a Singaporean and a permanent resident who returned from Azerbaijan on Jul 4. The fourth imported case is an Indonesian work pass holder who arrived in Singapore from Indonesia on Jul 4.
All four cases are asymptomatic. 
The remaining cases reported on Thursday are work permit holders residing in dormitories. No new clusters were reported.
Of the new cases reported on Thursday, 96 per cent are linked to known clusters while the rest are pending contact tracing. Further details can be found in the ministry's daily situation report. 
268 PATIENTS DISCHARGED
A further 268 cases have been discharged from hospitals or community isolation facilities. In all, 43,256 people have fully recovered from COVID-19.
There are currently 146 confirmed cases who are still in hospital. Of these, most are stable or improving, with no patients in the intensive care unit. 
A total of 3,697 are isolated and cared for at community facilities. These are those who have mild symptoms, or who are clinically well but still test positive for COVID-19.
As previously reported, 27 people have passed away from complications due to COVID-19 infection.

MOH also added several new locations to the list of places visited by COVID-19 cases in the community during their infectious period.
The new locations are:

Singapore is in Phase 2 of its reopening after the "circuit breaker" period. The country has entered a technical recession after two consecutive quarter-on-quarter contractions, with its gross domestic product shrinking 42.1 per cent in the second quarter of 2020, deepening the 3.3 per cent contraction in the preceding three months

Resorts World Sentosa, one of Singapore's biggest private-sector employers, said on Wednesday it was laying off staff as part of cost-cutting measures in the wake of the COVID-19 pandemic.
The Singapore Airlines Group reported a 99.3 per cent year-on-year decline in passenger carriage in June, according to its operating results released on Wednesday.
Download our app or subscribe to our Telegram channel for the latest updates on the coronavirus outbreak: https://cna.asia/telegram