8 more COVID-19 infections linked to TTSH cluster among 10 new community cases in Singapore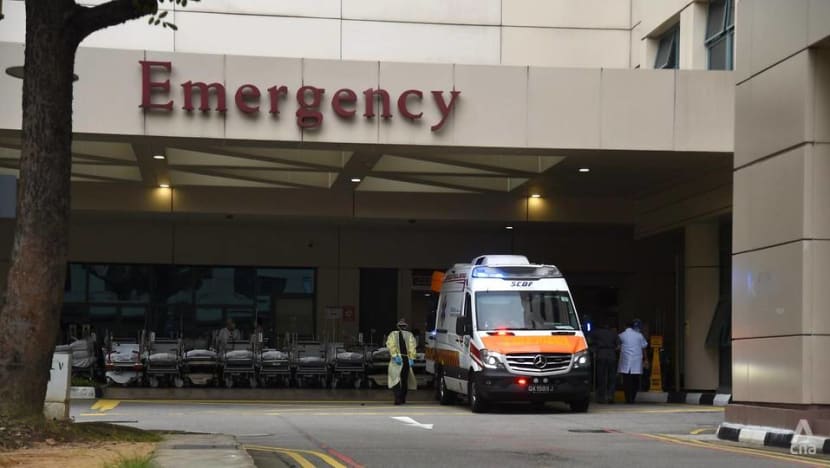 SINGAPORE: Ten community cases were among the 17 new COVID-19 infections reported in Singapore as of noon on Monday (May 3), said the Ministry of Health (MOH).
Five of the community cases are patients at Tan Tock Seng Hospital (TTSH), while another three are staff members there. The cluster has grown to 35 cases in total.
The remaining two community infections are family members of a previous case who had dinner with an infected Immigration and Checkpoints Authority (ICA) officer.

5 PATIENTS AMONG 8 CASES LINKED TO TTSH
Of the eight new cases in the TTSH cluster, five are patients who had been warded in TTSH Ward 9D. All five are Singaporeans, with the oldest patient being a 94-year-old woman. The other cases were an 82-year-old woman, a 79-year-old man, a 70-year-old man, and a 53-year-old woman.
They were transferred to the National Centre for Infectious Diseases (NCID) on Apr 28. All five of the new cases tested positive for COVID-19 on Sunday.

The three other cases linked to the hospital are staff members. They comprise a Malaysian employed by UEMS Solutions who was deployed as a porter at the hospital; a Singaporean who works as a nurse at the hospital's emergency department, and a Vietnamese woman who works as a nurse at Ward 9D. 
The TTSH cluster, Singapore's first hospital COVID-19 cluster, is currently the largest of Singapore's nine active clusters.
2 MORE CASES TRACED TO CLUSTER LINKED TO ICA OFFICER
Two more cases were added to the cluster linked to an ICA officer, also known as Case 62517. A total of 11 COVID-19 infections have so far been linked to the cluster.
Case 62779 is a 37-year-old Philippine national who is a homemaker. She is the wife of Case 62571, a 39-year-old Singaporean who had previously tested positive. The other new case, identified as Case 62780, is their son, a three-year-old Singaporean.
Cases 62571 and 62517 are family members and had interacted over dinner on Apr 25.
The new cases reported on Monday were quarantined on Apr 27 after they were identified as close contacts of the ICA officer. Both were tested during their quarantine on Apr 28 and their results were negative. 
On May 1, they were tested again even though they are asymptomatic and their test results came back positive for COVID-19 infection the next day. 
Case 62779's serology test result is negative and Case 62780's is pending.

MOH said the number of new cases in the community has increased from 10 cases in the week before to 60 cases in the past week. 
The number of unlinked cases in the community has also increased from four cases in the week before to 10 cases in the past week. 
Among the 184 confirmed cases reported from Apr 27 to May 3, 52 cases have tested positive for their serology tests while 105 have tested negative. Another 27 serology test results are pending.

3 PERMANENT RESIDENTS AMONG IMPORTED CASES
There were also seven imported COVID-19 cases reported on Monday, all of whom were placed on stay-home notice upon arrival in Singapore.
They include three permanent residents who returned from India and the Philippines, a dependant's pass holder who arrived from Nepal and two work pass holders who arrived from the Philippines and Russia.
The remaining imported case is a short-term visit pass holder who arrived from India to visit a family member who is a permanent resident in Singapore. CNA has sought further details on this case from MOH.
No new cases were reported in migrant workers' dormitories.

The Health Ministry added one new location to its list of places visited by COVID-19 cases in the community during their infectious period. Hougang Mall was visited by a case linked to the TTSH cluster. 

Twenty more cases have been discharged from hospitals or community isolation facilities, bringing Singapore's total recoveries to 60,806.
There are 131 cases still in hospital. Most of them are stable or improving, and no one is in the intensive care unit. Another 267 are being isolated and cared for at community facilities.

ALL HOSPITALS TO DEFER NON-URGENT SURGERIES, ADMISSIONS
Since Case 62541, a 46-year-old nurse, tested positive, four hospital wards have been locked down and close contacts of those infected, including patients, visitors and staff members who have been in the affected wards have been quarantined.
MOH on Sunday said that the hospital has completed the swabbing of all inpatients in its main wards on Apr 30 and the results were all negative.
All 12,000 staff members will also be tested. About 7,000 employees have been swabbed and priority will be given to swab staff members working in clinical areas over the next few days, said the ministry.

MOH on Monday also announced it has asked all hospitals to defer non-urgent surgeries and admissions to conserve resources in the healthcare sector amid the rise in COVID-19 cases in the community and at TTSH.
"MOH is working closely with all public and private hospitals to ensure that patients requiring care will continue to be attended to. The healthcare community has also worked together to reserve more beds to manage any potential increase in COVID-19 cases," said MOH in a press release.
The ministry has also asked hospitals to defer non-urgent specialist outpatient clinic appointments.
All Singapore Civil Defence Force ambulance cases to TTSH will be diverted to other public and private hospitals.​​​​​​​

As of Monday, Singapore has reported a total of 61,235 COVID-19 cases and 31 fatalities from the disease.
Download our app or subscribe to our Telegram channel for the latest updates on the coronavirus outbreak: https://cna.asia/telegram