SINGAPORE: Singapore reported 130 new locally transmitted COVID-19 infections as of noon on Wednesday (Jul 28), including 27 cases linked to the Jurong Fishery Port/Hong Lim Market & Food Centre cluster and two to the cluster in KTV lounges. 
The Jurong Fishery Port cluster has grown to 932 cases and remains the largest active cluster in the country.
Among the new infections, 61 are linked to previous cases and have already been placed in quarantine. Another 21 linked cases were detected through surveillance testing.
The remaining 48 infections are not currently linked to previous cases, said the Ministry of Health (MOH) in its preliminary daily update.
Three of the cases are seniors above the age of 70 who are unvaccinated or partially vaccinated, and at risk of serious illness, said MOH.
There were also six imported cases. Two were detected upon arrival, while four developed the illness during the stay-home notice or isolation period.
In total, Singapore reported 136 new COVID-19 cases on Wednesday.
5 NEW CLUSTERS
Five new clusters have been identified, taking the total number of active clusters in Singapore to 44. The size of these clusters range between three and 932 infections. 
Among the new clusters is a cluster of six cases at Home's Favourite, a bakery.  
MOH said it is investigating cases of COVID-19 infection among people who worked at the premises at units #04-08 and #04-09 at 15 Jalan Tepong, which is in the vicinity of Jurong Fishery Port. 
As epidemiological investigations have found that there is likely ongoing transmission at the premises, Home's Favourite will be closed from Jul 29 to Aug 12 for deep cleaning. 
All staff members will be placed on quarantine, and will be tested during quarantine, added MOH. 
The other new clusters reported on Wednesday have a total of three or four cases each.
More cases have also been linked to existing clusters. Ten more cases have been linked to Samy's Curry Restaurant, taking the cluster's total to 38, while the Westlite Juniper Dormitory cluster now has at 11 infections.
The cluster linked to a cleaner at Punggol Primary School has grown to seven cases. 
In response to queries by CNA, a spokesperson for the Ministry of Education said on Thursday morning that two contract cleaners, one non-teaching staff member, one teacher and two students from the school have tested positive for COVID-19. 
MOE did not provide further details on the 7th case linked to the cluster.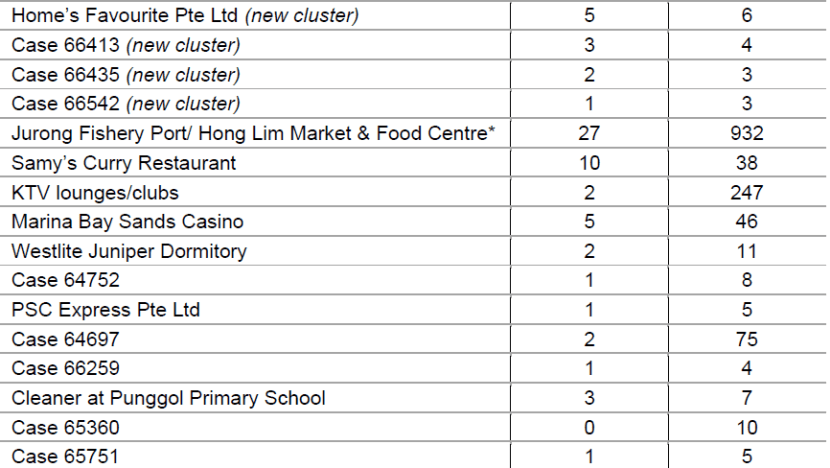 TESTING FOR TAMAN JURONG MARKET & FOOD CENTRE VISITORS
Free COVID-19 testing will be extended to members of the public who visited Taman Jurong Market & Food Centre between Jul 13 and Jul 27.
The community surveillance testing is part of MOH's investigations into cases of COVID-19 infection involving markets and food centres which are likely seeded by fishmongers who visited Jurong Fishery Port.
"All visitors to the affected premises are advised to monitor their health closely, and minimise social interactions as far as possible, for 14 days from their date of visit or interaction," said MOH. 
567 CASES IN HOSPITAL
The overall number of new cases in the community has increased from 765 cases in the week before to 915 cases in the past week.
"We are likely to continue to see high number of cases in the coming days as we step up efforts to detect them to contain their spread in the community," said the Health Ministry.
The number of unlinked cases in the community has also increased from 45 cases in the week before to 217 cases in the past week.
MOH also said that 567 cases are currently warded in hospital, with most well and under observation.
There are 23 cases of serious illness requiring oxygen supplementation, and two in critical condition in the intensive care unit (ICU). 
One among these 25 cases is fully vaccinated, but requires oxygen supplementation as she has underlying medical conditions, added MOH.
Sixteen seniors above 60 years, of whom 15 are completely unvaccinated or partially vaccinated, have fallen very ill.
"There is continuing evidence that vaccination helps to prevent serious disease when one gets infected. Over the last 28 days, 31 local cases required oxygen supplementation, were admitted to ICU or passed away," said MOH.
Sixteen are unvaccinated, 13 are partially vaccinated and two are fully vaccinated, added the Health Ministry.
VACCINATION RATES OF ELDERLY RESIDENTS
Giving an update on vaccination rates of elderly residents, MOH said in a separate media release that about 77 per cent of seniors aged 60 and above have received two doses of the COVID-19 vaccine. 
"We still have about 187,000 seniors who have yet to receive their first dose," it added.
In a Facebook post on Wednesday evening, Health Minister Ong Ye Kung said that one of the reasons for their reluctance is that they, or their family members, are worried that these seniors may suffer serious illnesses - such as heart attacks or strokes - post vaccination. 
"Heart attacks and strokes happen naturally within our population, with or without COVID-19 vaccinations," said Mr Ong. 
To illustrate this, Mr Ong presented data to show that the numbers of those who suffered from these serious illnesses "have remained steady, despite the fact that (the) number of seniors grew over the few years".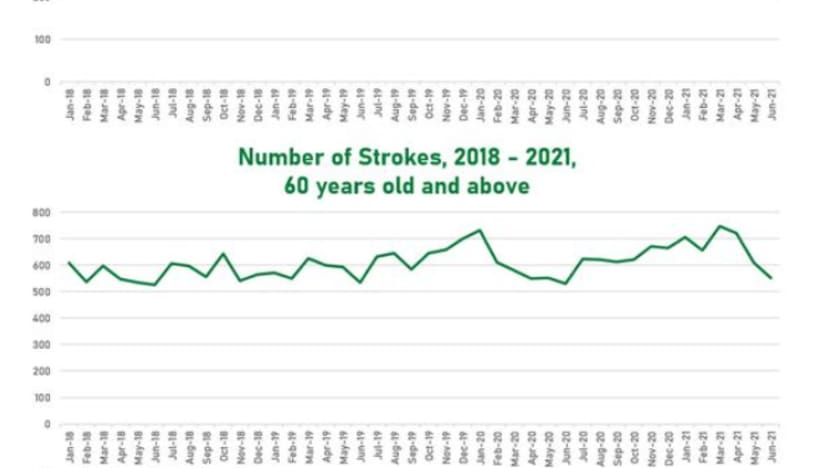 Prime Minister Lee Hsien Loong had said last Saturday that the Government is "trying hard to reach the 200,000 seniors above 60 who are not vaccinated yet".
MOH said on Wednesday that it is working with various stakeholders, including the People's Association and the Silver Generation Office, to encourage more seniors to get their jabs. 
"All primary care providers have also been called on to help persuade seniors who are their regular patients, to go for their COVID-19 vaccination if they have not done so yet," it added.
Ten mobile vaccination teams have also been deployed to the heartlands. A full list of their locations can be found here.
MOH also announced that mandatory COVID-19 testing will be conducted at three Housing Board blocks - 438 Ang Mo Kio Avenue 10, 430 Clementi Avenue 3 and 445A Clementi Avenue 3.
The ministry is investigating "likely COVID-19 transmission" at the blocks after 23 infections were detected across several households. 
As of Wednesday, Singapore has reported a total of 64,589 COVID-19 cases.
Download our app or subscribe to our Telegram channel for the latest updates on the coronavirus outbreak: https://cna.asia/telegram