34 new imported COVID-19 infections in Singapore; 2 more cases test preliminarily positive for B117 strain
SINGAPORE: Singapore reported 34 new COVID-19 infections as of noon on Thursday (Jan 28), said the Ministry of Health (MOH).
All the cases were imported and had been placed on stay-home notice or isolated upon arrival.
There were no new community infections for the sixth consecutive day.

The imported cases include three Singaporeans and five permanent residents who returned from Indonesia, Malaysia, Oman, Sri Lanka, the United Arab Emirates and the United States. 
There were two dependant's pass holders who arrived from Bangladesh and the UAE and a long-term visit pass holder from India. 
Three of the cases are short-term visit pass holders. Two had arrived from Indonesia and the US for work projects in Singapore while one arrived from Indonesia to visit her child who is a Singaporean. 
2 IMPORTED CASES TEST PRELIMINARILY POSITIVE FOR B117 STRAIN
Sixteen are work permit holders who arrived from Bangladesh, India, Indonesia and Malaysia, of whom nine are foreign domestic workers. 
MOH said of the work permit holders - Case 59697 - had not started work since his arrival in Singapore. The 31-year-old man arrived from Bangladesh on Jan 6 and served stay-home notice at a dedicated facility. His swab done on Jan 17 during stay-home notice was negative for COVID-19. 
On Jan 18, he was placed on quarantine and isolation as he had been identified as a flight contact of Case 59423 - a 41-year-old work permit holder from Bangladesh. 
The man was tested again on Jan 26 even though he was asymptomatic, and his result came back positive for COVID-19 infection. His serology test result has come back negative, and he has also tested preliminarily positive for the B117 strain, and is pending further confirmatory tests, said MOH. 

Among the other imported cases reported on Thursday are four work pass holders who arrived from India, Pakistan and Romania. 
Case 59703, a 33-year-old man, works as a software engineer at Pacific International Lines.
He arrived from India on Dec 27 and served stay-home notice at a dedicated facility until Jan 10. His swab done on Jan 7 during stay-home notice was negative for COVID-19. 
He subsequently worked from home from Jan 11 to Jan 21. He then developed nausea on Jan 25 and sought medical treatment at a general practitioner clinic the next day. As he also reported intermittent cough and a sore throat, he was tested for COVID-19 and his test came back positive on Jan 27.
He has also tested preliminarily positive for the B117 strain and his serological test result has come back positive, said the health ministry. 
MOH said Cases 59697 and 59703 were both classified as imported infections given their recent travel history.
COMMUNITY CASES VISITED POPULAR EATERIES IN THE CITY
MOH added several new locations to its list of places visited by COVID-19 cases in the community during their infectious period - China Square Food Centre, Amoy Street Food Centre and Shrimp Prawn Seafood at Boat Quay.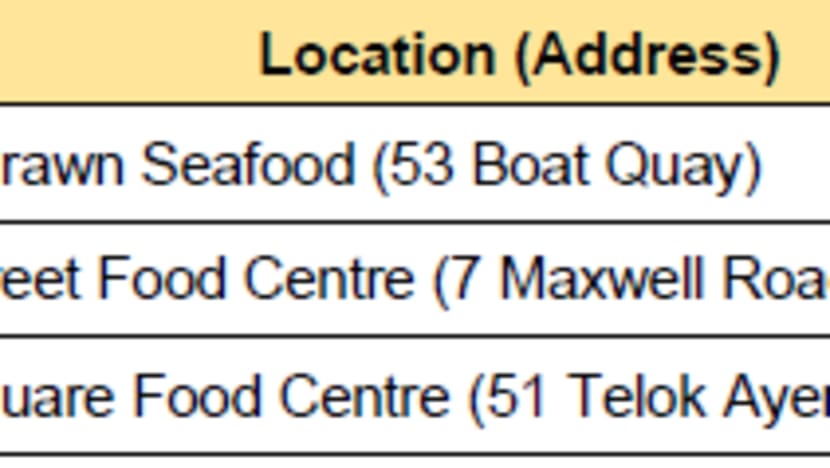 The health ministry said the overall number of new cases in the community has decreased from 21 cases in the week before to one case in the past week. 
The number of unlinked cases in the community has also decreased from six cases in the week before to none in the past week.
Among the 190 confirmed cases reported from Jan 22 to Jan 28, a total of 105 cases have tested positive for their serology tests while 38 have tested negative. A further 47 serology test results are pending.

Forty-four more cases have been discharged from hospitals or community isolation facilities, bringing Singapore's total recoveries to 59,148.
There are 40 cases still in hospital. Most of them are stable or improving, and none is in the intensive care unit. Another 208 are being isolated and cared for at community facilities.
MORE THAN 113,000 RECEIVE FIRST DOSE OF COVID-19 VACCINE
More than 113,000 people have got the first dose of the COVID-19 vaccine, said MOH in an update on Thursday.
About 50 have also received their second dose and completed the full vaccination regimen. 

Among those who were inoculated, there were 432 "adverse event reports" as of Jan 27, said MOH, adding that most were for regular symptoms such as injection site pain and swelling, fever, headache, fatigue, body aches, giddiness and nausea.
There were three cases of anaphylaxis, or rapid onset of severe allergic reactions, that were promptly detected and treated, said the ministry.
The three cases, who are in their 20s and 30s, had a history of allergies, including allergic rhinitis and food allergy, but none had a history of anaphylaxis which would have precluded them from receiving the vaccine. 
MOH said authorities are closely monitoring the safety profile of the Pfizer-BioNTech vaccine as it is being administered to the population. 
Singapore began its COVID-19 vaccination exercise on Dec 30, with healthcare workers at the National Centre for Infectious Diseases the first to get the shots.
The country is prioritising vaccinations for groups that are most at risk, consistent with World Health Organization guidelines.
Aside from the healthcare industry, Singapore has started inoculating frontline workers at border entry points and those involved in the COVID-19 response, such as swabbers and workers in quarantine and community care facilities. It has also started vaccinations for Singapore Armed Forces personnel and land transport workers.
Vaccinations for the elderly began on Wednesday in Tanjong Pagar and Ang Mo Kio. Vaccinations will be progressively rolled out to seniors across Singapore from mid-February.

From Feb 1, all polyclinics and selected Public Health Preparedness Clinics will start to offer the COVID-19 vaccine.
As of Thursday, Singapore has reported a total of 59,425 COVID-19 cases, with 29 fatalities.
Download our app or subscribe to our Telegram channel for the latest updates on the coronavirus outbreak: https://cna.asia/telegram