SINGAPORE: Singapore reported 132 new cases of COVID-19 as of noon on Saturday (Aug 8), including one in the community and six imported infections.
This brings the total number of cases in the country to 54,929.
The Ministry of Health (MOH) said the only community infection was a 60-year-old Singaporean woman. She is a contact of a previously confirmed case and had earlier been placed on quarantine. 

Overall, the number of new cases in the community has decreased, from an average of three cases per day in the week before, to an average of two per day in the past week. 
The ministry said the number of unlinked cases in the community has remained stable at an average of one case per day in the past 14 days.

ALL IMPORTED CASES WERE ASYMPTOMATIC
The imported cases, all six of whom were asymptomatic, had been placed on stay-home notice upon arrival in Singapore, the ministry added. 
One of the imported cases is a work pass holder who had travelled to Singapore from India on Jul 27. On the same day, two work permit holders had travelled from Indonesia on. 
The remaining cases are dependant's pass holders, two arrived from India on Jul 27 and one from the United States on Jul 26. 

The vast majority of the new infections are work permit holders residing in foreign worker dormitories. 
One new cluster at a dormitory was reported. It is located at 35 Kian Teck Way and now has a total of 25 coronavirus infections. 
MOH said the inter-agency task force has completed the clearing of dormitories through "aggressive testing" of workers. 
Several more dormitories have been cleared and now house only recovered individuals and those who have recently tested negative for COVID-19 infection. 
As such, the following clusters have now been closed: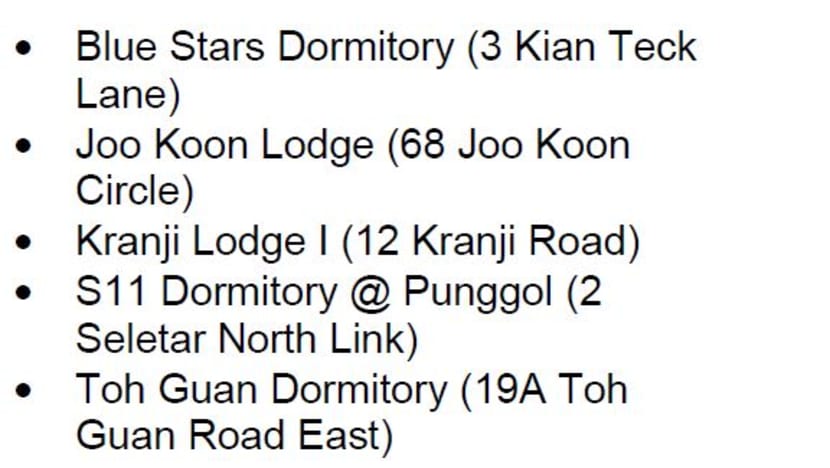 The new closures include the biggest cluster in Singapore, the S11 dormitory @ Punggol.

The S11 dormitory recorded its first case more than four months ago and the last time a new case was linked to the cluster was on Saturday - with two additional cases linked. It took the total case count there to 2,846.

MOH said 271 more COVID-19 patients have been discharged from hospitals or community isolation facilities. In all, 48,583 have fully recovered from the infection.
There are currently 145 cases who are still in hospital. Of these, most are stable or improving, and none is in the intensive care unit, reported MOH. 
A total of 6,174 patients are isolated and cared for at community facilities. These are people who have mild symptoms, or are clinically well but still test positive for COVID-19. 
As previously reported, 27 people have died from complications due to COVID-19.
On Friday, MOH completed testing all migrant workers living in dormitories for COVID-19, except for those in "a few" standalone blocks that serve as quarantine facilities.
The workers in these facilities will be tested when their isolation ends, and the case counts are expected to remain high in the coming days before tapering down after, the ministry said.
With workers who have either been cleared or recovered from COVID-19 back on the job, construction activity will be able to resume by the end of the month as well, said Education Minister Lawrence Wong, co-chair of the COVID-19 multi-ministry task force.
He also urged contractors to put in place the required safe management measures.
Workers will still be tested every two weeks after they return to work, said the minister.
"Just because we have COVID-cleared dormitories doesn't mean that we should assume these are permanently COVID-safe dormitories because we all know that the virus can flare up again."
The Government will also continue working with employers to ensure that construction activities are carried out in a "safer manner" to minimise the chances of large clusters forming, Mr Wong added.

Download our app or subscribe to our Telegram channel for the latest updates on the coronavirus outbreak: https://cna.asia/telegram