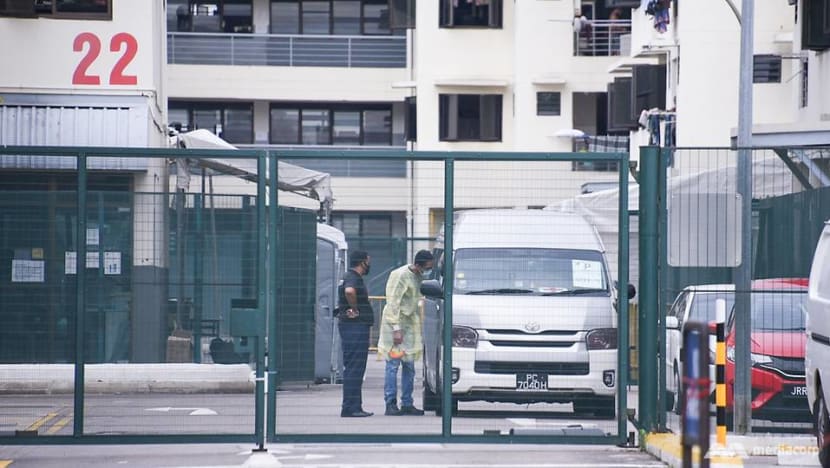 SINGAPORE: Singapore reported 242 new COVID-19 cases as of noon on Friday (Aug 7), including one in the community and six imported infections, said the Ministry of Health (MOH).
This brings the total number of cases in the country to 54,797. 
The only community case was a 67-year-old Singaporean man, who was tested after being diagnosed with acute respiratory infection at first presentation to a doctor. He is unlinked to previous cases.
"This allows us to identify infected individuals early and to quickly contain further spread. Epidemiological investigations of the case are in progress," said MOH.
Four locations were added to the list of public places visited by COVID-19 community cases during their infectious period, including the Golden Village cinema at Jurong Point.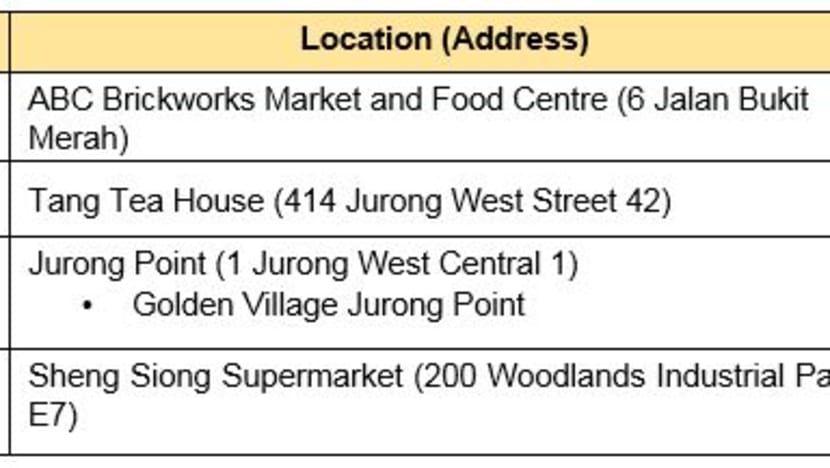 Overall, the average number of daily new cases in the community has decreased to two in the past week from three in the week before.
The number of unlinked cases in the community has remained stable at an average of one case per day in the past 14 days.
"We will continue to closely monitor these numbers, as well as the cases detected through our surveillance programme," said the health ministry.

In a separate press release, MOH said some patients with symptoms of acute respiratory infection continued to their activities despite being given a five-day medical certificate (MC).

"More than 35 per cent of these cases had continued to engage in activities after symptoms onset and before they were isolated," added the health ministry. 
Of these, nearly half went to work and many visited shopping centres, supermarkets and hawker centres, said MOH.
The practice of giving five-day MCs for patients with acute respiratory infection symptoms started on Feb 14. 
IMPORTED CASES

All six imported cases arrived from India between Jul 25 and Jul 27 and were placed on stay-home notices upon arrival in Singapore.
Of the new imported cases, one is a 64-year-old Singaporean man and another is a 43-year-old permanent resident.

Two of the Indian nationals are work pass holders, while the remaining two are a dependant's pass holder and a long-term visit pass holder.

The imported cases were asymptomatic, and were tested while serving their stay-home notices.
A total of 235 of the new cases reported on Friday were work permit holders living in foreign worker dormitories.

MOH also reported a new COVID-19 cluster – a dormitory at 66 Tech Park Crescent, with four cases linked to it.

"The inter-agency task force has completed the testing of all workers in the dormitories, except for a few standalone blocks in the dormitories that serve as quarantine facilities," said MOH. 
"The workers in these quarantine facilities will be tested when their isolation ends, and we expect the case counts to remain high in the coming days, before tapering down thereafter."

281 MORE PATIENTS DISCHARGED
Another 281 more COVID-19 patients have been discharged from hospitals or community isolation facilities. 
In all, 48,312 have fully recovered from the infection and have been discharged from hospitals or community care facilities.
There are currently 124 cases who are still in hospital. Of these, most are stable or improving, and none is in the intensive care unit, reported MOH. 
A total of 6,334 patients are isolated and cared for at community facilities. These are people who have mild symptoms, or are clinically well but still test positive for COVID-19. 
Twenty-seven people have died from complications due to COVID-19.
REGULAR HEALTHCARE FINANCING
From Friday, all Singaporeans, permanent residents and long-term pass holders who travel abroad under permitted travel arrangements with certain countries will be able to tap regular healthcare financing for their medical bills should they have symptoms of COVID-19 within 14 days of their return to Singapore.  
"This means that Singaporeans and PRs will be eligible for government subsidies and MediShield Life integrated shield plan coverage," said Minister for Health Gan Kim Yong on Thursday.  
"Long-term pass holders may tap on their prevailing financing arrangements, such as the foreign worker insurance. But any remaining co-payment will continue to be paid by the patient."
WORKERS MOSTLY CLEARED 
On Thursday, the multi-ministry task force on COVID-19 said most foreign workers would be able to return to work by the end of this month.

With workers who have either been cleared or recovered from COVID-19 back on the job, construction activity will be able to resume by the end of the month as well, said co-chair of the task force, Mr Lawrence Wong.
He also urged contractors to put in place the required safe management measures right now.

Singapore is on track to test all 300,000-odd workers living in dormitories by Friday, except for a final group of workers who are completing their quarantine, said Mr Wong at a news conference.
In the upcoming two weeks, Singapore can expect to see volatile case numbers as the workers are tested at the end of their isolation period, he added.
Download our app or subscribe to our Telegram channel for the latest updates on the coronavirus outbreak: https://cna.asia/telegram