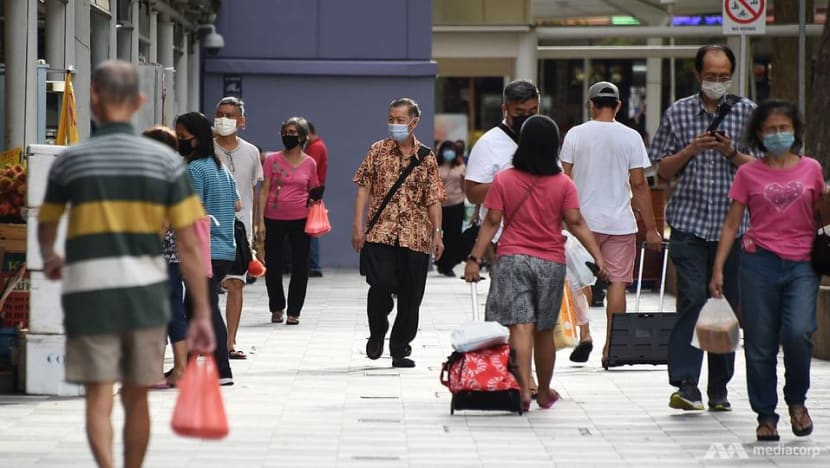 SINGAPORE: Singapore reported one community case among its 13 new COVID-19 infections reported on Saturday (Mar 6), a foreign domestic worker from Indonesia.
The remaining 12 cases were imported and had been placed on stay-home notice upon arrival in Singapore, said the Ministry of Health (MOH) in its preliminary daily update.
No new cases were reported in migrant worker dormitories.
The Indonesian helper, 35, was asymptomatic. She arrived in Singapore on Jan 20 and her pre-departure test in Indonesia on Jan 18 was negative for the virus.
After she arrived in Singapore, she served her stay-home notice at a dedicated facility until Feb 3. A swab test on Feb 2 was negative.
The woman took a pre-departure test on Mar 4 in preparation for her return to Indonesia, and the result returned positive. She was taken by ambulance to the National Centre for Infectious Diseases. 
On Mar 5, another test taken by the National Public Health Laboratory came back negative. Her serological test is positive, indicating a likely past infection.
"She is likely to be shedding minute fragments of the virus RNA, which are no longer transmissible and infective to others," MOH said.
"However, as we are unable to definitively confirm her date of infection, we will take all the necessary public health actions as a precautionary measure, including placing all her identified close contacts on quarantine."
In response to CNA's queries, a Ministry of Manpower (MOM) spokesperson said on Mar 17 that the Indonesian domestic worker was with two separate employers during her stay in Singapore.
"Under her first employer, she faced difficulties with taking care of an elderly charge​​​​​​​," the spokesperson added.
"She was later transferred to a second employer where her main duties were to take care of the household chores. However, she was still unable to cope despite there being no elderly or children in the household. 
"Her employment agency arranged for her repatriation and cancelled her work permit after they assessed that she was not suitable for the role."
IMPORTED CASES
Among the 12 imported cases are a 73-year-old Singaporean man who returned from Indonesia and a 31-year-old female permanent resident who returned from Malaysia.
There are also two dependant's pass holders and a work pass holder, all of whom had arrived from India. 
The work pass holder, a 27-year-old female Indian national, arrived in Singapore on Feb 8 and served her stay-home notice at a dedicated facility until Feb 22.
She tested negative for COVID-19 on Feb 21, but another test taken as part of her pre-employment health screening returned positive on Mar 4.
She is asymptomatic and has not started work yet.
Another test taken by the National Public Health Laboratory on Mar 5 was negative. Her serological test result is positive.
"She had also earlier tested positive for a COVID-19 antigen test in India on 18 November 2020. Given that these indicate likely past infection, we have classified the case as imported," MOH said.
The ministry added that she is also likely to be shedding minute fragments of the virus RNA, which are no longer transmissible.
Seven work permit holders who arrived from India, Indonesia, Malaysia, Myanmar and the Philippines - including three foreign domestic workers - were also among the new cases.
Nine more COVID-19 cases have been discharged from hospitals or community isolation facilities, bringing the total number of recoveries to 59,879.
There are currently 22 patients who are still in hospital, most of whom are stable or improving. One case is in critical condition in the intensive care unit.
Another 90 cases who have mild symptoms or are clinically well but still test positive for the virus are isolated and cared for at community facilities.
As of Thursday, more than 350,000 Singapore residents have received their first dose of the COVID-19 vaccine, including about 80 per cent of healthcare workers, said Health Minister Gan Kim Yong in Parliament on Friday. 
A total of 215,000 Singaporeans have received their second doses.
Mr Gan was speaking during the health ministry's Committee of Supply debate.
He also added that more than 40,000 seniors aged 70 and above have received their first dose of the vaccine as of Thursday. The vaccination programme will be rolled out soon to seniors aged 60 and above, he said.
As of Saturday, Singapore has reported a total of 60,020 COVID-19 cases and 29 fatalities.
Download our app or subscribe to our Telegram channel for the latest updates on the coronavirus outbreak: https://cna.asia/telegram