49 new COVID-19 infections in Singapore; 41 cases removed from total count after they were found to be negative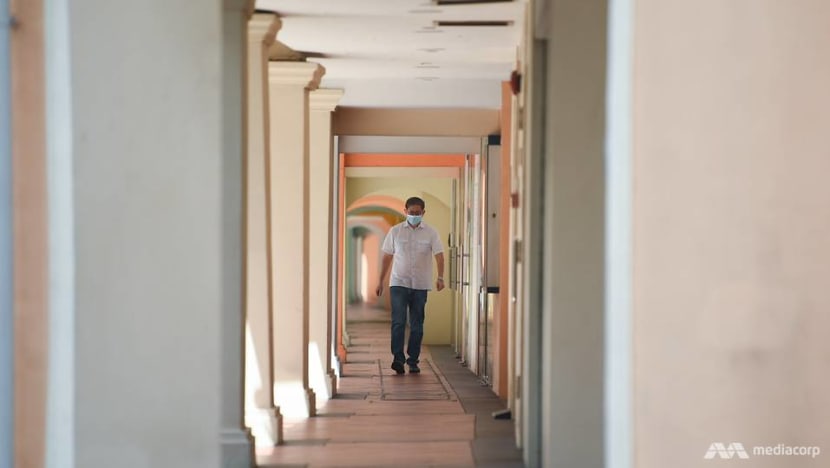 SINGAPORE: Singapore reported 49 new COVID-19 cases on Wednesday (Sep 2), including three in the community and three imported infections, said the Ministry of Health (MOH).
The ministry also announced it removed 41 COVID-19 cases from the total count after further investigations showed they were negative.
This takes Singapore's adjusted tally to 56,860, with fatalities remaining at 27.
New clusters were reported at three previously cleared dormitories, added MOH.
SEAMAN AMONG IMPORTED CASES
A 41-year-old seafarer who arrived from Indonesia was among the three imported cases reported on Wednesday.
He was tested after he arrived from Indonesia on Aug 26, and isolated while waiting for the result. When it came back positive, he was taken to the hospital in an ambulance, said MOH.
The two other imported cases are a 31-year-old male work pass holder who arrived from India, and a 36-year-old female work permit holder who arrived from the Philippines. They had been placed on stay-home notice when they arrived in Singapore.
COMMUNITY CASES CURRENTLY UNLINKED
The three community cases - a Singaporean, a work pass holder and a work permit holder - are currently unlinked.
Two of them, a 34-year-old Indian man and a 21-year-old Bangladeshi man, were detected as a result of the rostered routine testing of workers in the construction, marine and process sectors who are living outside the dormitories, the ministry said.
The remaining case, a 29-year-old Singaporean woman, was detected under the enhanced community testing to test all individuals aged 13 and above who are diagnosed with acute respiratory infection (ARI) at first presentation to a doctor.
"Epidemiological investigations of the cases are in progress," MOH said. 
"In the meantime, all the identified close contacts of the cases have been isolated and placed on quarantine, and will be tested at the start and end of their quarantine period so that we can detect asymptomatic cases. 
"We will also conduct serological tests for their household contacts to determine if they could have been infected by them."
MOH added that overall, the number of new cases in the community has increased, from an average of two cases per day in the week before, to an average of three per day in the past week. 
The number of unlinked cases in the community has remained stable at an average of one case per day in the past two weeks. 
"We will continue to closely monitor these numbers, as well as the cases detected through our surveillance programme," the ministry said.
It added several locations to a list of places visited by COVID-19 community cases during their infectious period.
These included tourist hotspots Skyline Luge Sentosa and Universal Studios.
Several malls such as Lucky Plaza and Cineleisure Orchard, and stores within VivoCity were also on the list.
The new locations are as follows:
CASES WITHIN DORMITORIES, 3 NEW CLUSTERS
There were 43 cases in dormitories reported on Wednesday.
Of those, 14 had been identified earlier as contacts of previous cases, and had already been quarantined to prevent further transmission, MOH said. 
They were then tested during quarantine to determine their status.
The remaining 29 cases were detected through surveillance testing, such as the bi-weekly rostered routine testing of workers living in dormitories and testing of those with ARI symptoms. 
"This allows us to pick up cases early, including asymptomatic ones, so that we are able to ring-fence them quickly to prevent further transmission, by aggressively containing, tracing and isolating the close contacts," MOH explained.
Besides the polymerase chain reaction (PCR) test, MOH said it also conducted serological tests to determine if some of these cases are current or past infections and shared the results.
"The serological test results for 23 cases have come back positive so far, which indicate likely past infections," the authority said.
It also identified new clusters in three previously cleared dormitories: Changi Lodge II at 80 Tanah Merah Coast Road, North Coast Lodge at 51 North Coast Avenue and Toh Guan Dormitory at 19A Toh Guan Road East.
MORE CASES DISCHARGED
In all, another 142 more COVID-19 patients have been discharged from hospitals or community isolation facilities, taking the number of recovered cases to 55,891.
There are 75 patients who are still in hospital. 
"Of these, most are stable or improving, and none is in the intensive care unit," MOH said. 
A total of 867 are isolated and cared for at community facilities. 
"These are those who have mild symptoms, or are clinically well but still test positive for COVID-19," MOH said.
As for the the total number of cases in Singapore, the ministry noted 41 cases have been removed from the count of total confirmed cases as they were verified to be negative for COVID-19 following further investigations.

DONE WELL IN COVID-19 FIGHT, BUT NEED TO LEARN FROM ERRORS: PM LEE
On Wednesday, Prime Minister Lee Hsien Loong spoke in Parliament about Singapore's fight against COVID-19 and the challenges ahead for the country post-pandemic.
In its fight against COVID-19, Mr Lee said Singapore has done well and stabilised the situation, but it must learn from its errors and do better next time.
"Judging by the health outcomes, we have done well, so far," Mr Lee said, noting that Singapore's fatality rate from COVID-19 is one of the lowest in the world, with new infections down to "just a handful" per day and fewer than 100 patients remaining in hospital.
But Mr Lee said Singapore's COVID-19 response "was not without shortcomings", adding that the pandemic has severely tested every government in the world and that no country has been perfect.
"With hindsight, we would certainly have done some things differently," he said.
The Prime Minister wished the Government knew about asymptomatic cases earlier, and would have quarantined all Singaporeans who were returning from overseas, rather than only those from selected countries.
He also said the Government would have recommended everyone to wear face masks sooner than it did.
Mr Lee also noted that greater challenges lay ahead for Singapore in a post COVID-19 world, and that there was a need to keep an open mind in order to build and improve on the system of social safety nets already in place.
The Prime Minister said that such measures "are there to protect the vulnerable in our society, and ensure that everyone has full access to opportunities to improve our lives".
"We must identify pragmatic solutions which will make a real and sustainable difference, and give people justified assurance that when they need help, they will get the help that is relevant to them," he added. "And it must not create new problems in the process, for example by eroding our spirit of self-reliance."
Mr Lee pointed out that one "permanent imperative" would be to keep programmes fiscally sustainable. 
Singapore's social safety nets should be paid for out of current revenues "as a matter of principle", he said.
"We should not draw down on what we have inherited, nor should we mortgage the future of our children."
SINGAPORE, SOUTH KOREA TO LAUNCH ON FAST LANE ARRANGEMENT
Separately on Wednesday, Singapore and South Korea welcomed the conclusion of bilateral negotiations on a fast lane for essential business and official travel between the two countries.
A fast lane for residents of Singapore and South Korea will open on Friday for those who need to make essential business or official trips between both countries, the Ministry of Foreign Affairs (MFA) said in a statement.
Eligible travellers will have to abide by the mutually agreed terms and prevailing public health measures in the respective countries.
This comes after Singapore and Brunei on Tuesday announced a reciprocal green lane that would allow their residents to travel between the two countries for essential business and official purposes.
Download our app or subscribe to our Telegram channel for the latest updates on the coronavirus outbreak: https://cna.asia/telegram