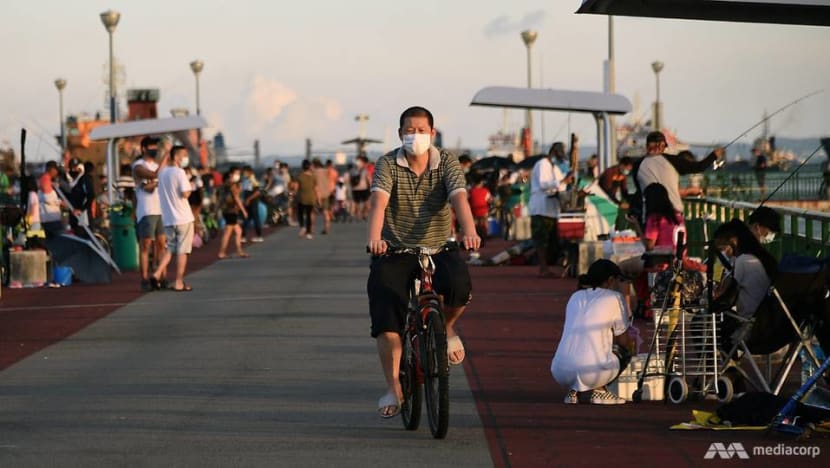 SINGAPORE: Singapore reported 48 new COVID-19 cases as of noon on Thursday (Sep 3), including two in the community and five imported infections, said the Ministry of Health (MOH).
This brings the total number of cases in the country to 56,908.
COMMUNITY CASES

The two community cases are a 56-year-old permanent resident and a 45-year-old male work permit holder who is an Indian national.

Both cases, who were asymptomatic and unlinked to previous cases, were picked up as a result of rostered routine testing of workers in the construction, marine and process sectors who are living outside the dormitories.
The 56-year-old's serology test result came back positive, indicating a "likely past infection", said MOH.
"Epidemiological investigations of the cases are in progress. In the meantime, all the identified close contacts of the cases have been isolated and placed on quarantine, and will be tested at the start and end of their quarantine period so that we can detect asymptomatic cases," the health ministry added.
The ministry said it would also conduct serological tests for the men's household contacts to determine if they could have been infected by them.
Overall, the number of new cases in the community has increased, from an average of two cases per day in the week before, to an average of three per day in the past week.
The number of unlinked cases in the community has also increased, from an average of one case per day in the week before, to an average of two per day in the past week.

IMPORTED CASES

All five imported cases were placed on stay-home notice upon arrival in Singapore.
They include two Singaporeans - a 37-year-old woman who arrived from Bangladesh on Aug 31, and a 47-year-old man who arrived from the United Arab Emirates on Aug 22. 
A 49-year-old permanent resident was also among the imported cases. He arrived from India on Aug 22.
The remaining two imported cases were a 38-year-old work permit holder currently employed in Singapore, who arrived from the Philippines on Aug 22, and a 23-year-old long-term visit pass holder, who arrived from India on Aug 23.
All five cases were tested while serving their stay-home notices at dedicated facilities.

TWO NEW DORMITORY CLUSTERS

There were 41 new cases residing in dormitories reported on Thursday, of whom 22 were identified earlier as contacts of previous cases and were quarantined. The remaining 19 cases were detected through surveillance testing.
On Thursday, two new clusters were identified at migrant worker dormitories that were previously cleared of COVID-19.
A new cluster was reported at Cochrane Lodge II after 14 previous cases were linked. Another new cluster has formed at Westlite Toh Guan dormitory after eight of Thursday's cases were linked to 10 previous cases.

MOH on Thursday added several locations to the list of public places visited by COVID-19 community cases during their infectious period.
The locations are: 
Another 137 COVID-19 patients have been discharged from hospitals or community isolation facilities. In all 56,028 have fully recovered from the infection.
There are currently 52 cases who are still in hospital. Of these, most are stable or improving, and no one is in the intensive care unit. 
A total of 801 patients are isolated and cared for at community facilities. These are people who have mild symptoms, or are clinically well but still test positive for COVID-19. 
Twenty-seven people have died from complications due to COVID-19.
41 CASES REMOVED FROM TOTAL COUNT
On Wednesday, MOH said 41 COVID-19 cases from the total count were removed after further investigations showed they were negative. CNA has approached MOH for more information about the 41 cases.

National Service in-camp training (ICT) and Individual Physical Proficiency Tests (IPPT) will progressively resume from October, said the Ministry of Defence (MINDEF) on Thursday.

Operationally Ready National Servicemen (NSmen) returning for unit-level ICT will be tested for COVID-19, as part of safe management measures and health protocols put in place.

DONE WELL IN COVID-19 FIGHT, BUT LEARN FROM ERRORS: PM LEE
On Wednesday, Prime Minister Lee Hsien Loong spoke in Parliament about Singapore's fight against COVID-19 and the challenges facing the country after the pandemic.
Mr Lee said Singapore has done well and stabilised the situation, but the Government must learn from its errors and do better next time.
"With hindsight, we would certainly have done some things differently," he said.
The Prime Minister also said Singapore must not let its guard down, as COVID-19 remains as infectious and potent as before.
"If we relax these measures now because the numbers have come down, we will have a resurgence."
Download our app or subscribe to our Telegram channel for the latest updates on the coronavirus outbreak: https://cna.asia/telegram