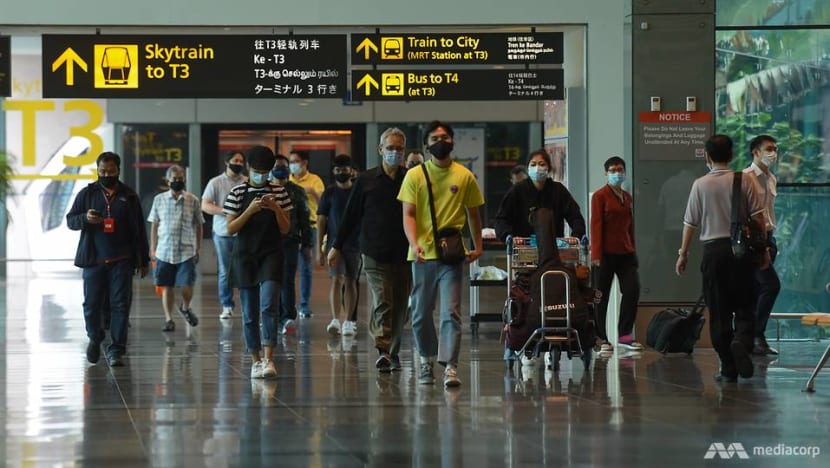 SINGAPORE: Eleven new COVID-19 infections were reported in Singapore as of noon on Tuesday (Mar 16).
All the new cases were imported and were placed on stay-home notice or isolated upon their arrival in Singapore, said the Ministry of Health (MOH) in its preliminary daily update. 

No new locally transmitted COVID-19 cases were reported for the fourth consecutive day.

Five of the 11 cases - including a 10-year-old boy and a 4-year-old girl- are dependant's pass holders who arrived from India and Nepal. 

There is a student's pass holder who arrived from India, and one work pass holder arriving from Turkey.

Three are work permit holders who arrived from Bangladesh, Indonesia and Malaysia, of whom one is a foreign domestic worker.

The final imported case reported on Tuesday is a sea crew member who arrived from the Philippines on a vessel. The 43-year-old woman had remained on board until she was sent to hospital for abdominal pain.
Ten more people have been discharged from hospitals or community isolation facilities, bringing the number of cases who have fully recovered from COVID-19 to 59,984. 
There are 21 cases who are still in hospital. Of these, most are stable or improving, and none is in the intensive care unit, MOH said. 
Ninety-three people are isolated and cared for in community facilities. These are people who have mild symptoms or are clinically well but still test positive for COVID-19. 
MODERNA VACCINE 
The Moderna vaccine will be offered at four new vaccination centres, said MOH.

The four - Hong Kah North, Marsiling, Punggol 21 and Radis Mas community clubs - are among seven to progressively start operations from Wednesday.
Each centre will only stock and administer one type of COVID-19 vaccine, and people must select the same centre for both their first and second doses.

Announcing the move on Tuesday, MOH also said it would allow those who need to travel overseas urgently to appeal for early vaccination.
This includes those who have to travel for study, work or medical treatment under certain circumstances and people who need to visit or care for critically ill immediate family members.

VACCINATION GUIDELINES EASED
MOH has also eased its COVID-19 vaccination recommendations for certain groups of people, including those with multiple allergies that are not anaphylactic in nature.
Previously, those with a history of multiple allergies were advised to defer receiving mRNA-based vaccines. 

New evidence has shown that these individuals can be vaccinated as long as they have no life-threatening signs or symptoms suggestive of anaphylaxis, MOH said in its updated vaccination guidelines.

Both Pfizer-BioNTech and Moderna vaccines - the only two to be approved in Singapore to date - are mRNA-based COVID-19 vaccines.
People who have active cancer were also included in the updated guidelines, as long as they have not received chemotherapy, radiotherapy or immunotherapy in the last three months and do not plan to undergo these treatments in the next two months.

Additionally, people in remission can be vaccinated, as can those on active cancer hormonal therapy.

As of Tuesday, Singapore has reported a total of 60,128 COVID-19 cases.

Download our app or subscribe to our Telegram channel for the latest updates on the coronavirus outbreak: https://cna.asia/telegram