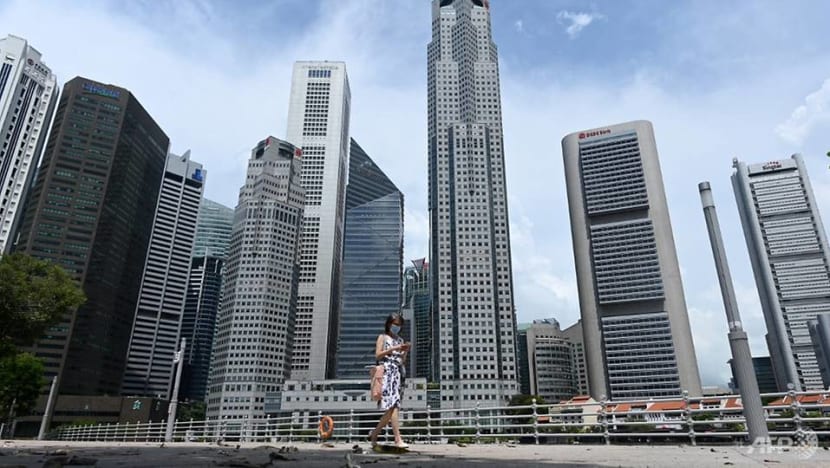 SINGAPORE: Singapore reported 327 new COVID-19 cases as of noon on Friday (Jul 17), with nine infections in the community, said the Ministry of Health (MOH).
This brings the total number of cases in the country to 47,453.
MOH said Case 47229, a 72-year-old Singaporean woman, died on Wednesday. 
"She had been conveyed to the National University Hospital's emergency department on Jul 15 for reasons not related to COVID-19, and had a history of diabetes mellitus," the ministry added.
She was confirmed to have COVID-19 infection on Jul 16 after her death. MOH said the cause of her death was confirmed to be intracerebral haemorrhage.

The woman is currently an unlinked COVID-19 case. MOH said epidemiological investigations are in progress.
"In the meantime, all the identified close contacts of the case have been isolated and placed on quarantine, and will be tested at the start and end of their quarantine period so that we can detect asymptomatic cases. We will also conduct serological tests for the household contacts," the ministry added.

Among the new community cases reported on Friday, there are six Singaporeans, two work pass holders and one work permit holder. Five of the cases are asymptomatic and were detected through testing. 
Of the nine community cases, one was picked up as a result of surveillance and screening. The 35-year-old Singaporean man, known as Case 47502, was asymptomatic. He is linked to the Blue Stars Dormitory which currently has a total of 516 confirmed infections. 

MOH said eight of the community cases are linked to previous cases or clusters. Of these, four cases (Cases 47434, 47445, 47504 and 47521) had been identified as contacts of previously confirmed cases, and had been placed on quarantine earlier. 

They were tested during their quarantine to determine their status, even though three of them are asymptomatic, said the ministry. 

The remaining three cases (Cases 47242, 47508 and 47509) were swabbed under enhanced community testing to test all individuals aged 13 and above who are diagnosed with acute respiratory infection at first presentation to a doctor. 

Case 47242, a 22-year-old Singaporean woman, is linked to the Toh Guan cluster which currently has a total of 793 confirmed cases. The woman's onset date was Jul 10 and she was subsequently confirmed to have COVID-19 on Jul 16.

TWO ONE-YEAR-OLD BABIES AMONG IMPORTED CASES
There were also three imported cases who were placed on stay-home notice upon their arrival in Singapore, MOH said.
The cases are a 52-year-old Singaporean man who returned from the Philippines as well as two one-year-old female infants who were in India. 

"Overall, the number of new cases in the community has decreased, from an average of 16 cases per day in the week before, to an average of 11 per day in the past week. 
"The number of unlinked cases in the community has also decreased, from an average of eight cases per day in the week before, to an average of six per day in the past week," MOH said.

The remaining cases are work permit holders residing in foreign worker dormitories. A new cluster at a construction site at Paya Lebar Quarter Tower 2 was also identified. The cluster currently has a total of three confirmed infections. 

Of the new cases, MOH said 99 per cent are linked to known clusters, while the rest are pending contact tracing. Further details can be found in the ministry's daily situation report. 
A total of 321 more cases of COVID-19 infection have been discharged from hospitals or community isolation facilities. In all, 43,577 have fully recovered from the infection.
There are currently 165 confirmed cases who are still in hospital. Of these, most are stable or improving and no patients are in the intensive care unit.

Another 3,684 are isolated and cared for at community facilities. These are those who have mild symptoms, or are clinically well but still test positive for COVID-19. 

The ministry added ten new locations to the list of places visited by COVID-19 cases during their infectious period. 
The locations include Lot One Shoppers' Mall, Sim Lim Square, Resorts World Sentosa Casino, as well as shopping malls JEM and Westgate. 

Health Minister Gan Kim Yong on Friday said that Singapore must be prepared for a second wave of COVID-19 infections, and must do its best to avoid it.

Speaking at a multi-ministry task force press conference, Mr Gan cited the resurgence of COVID-19 cases in places like South Korea, Japan, Australia and Hong Kong, with large clusters forming at religious events, nightlife establishments, restaurants, and in schools.

He noted that these new clusters arose because individuals went out when they were unwell, did not practice social distancing, or were susceptible to transmission because of workplace safety management lapses.

Co-chair of the task force Lawrence Wong said all foreign workers living in dormitories will be tested by mid-August.
As of Thursday, about 232,000 of the estimated 300,000 foreign workers who live in dormitories in Singapore have either recovered or have been tested to be free from the virus.

Singapore is in Phase 2 of its reopening after a "circuit breaker" period to stem the spread of COVID-19, with businesses gradually resuming operations.
Weak external demand and the COVID-19 circuit breaker measures, which shuttered non-essential businesses for almost two months, have taken a toll on the economy.
Singapore is now in a technical recession after two consecutive quarter-on-quarter contractions. Gross domestic product shrank 41.2 per cent in the April to June quarter, deepening the 3.3 per cent contraction in the first three months.

Download our app or subscribe to our Telegram channel for the latest updates on the coronavirus outbreak: https://cna.asia/telegram