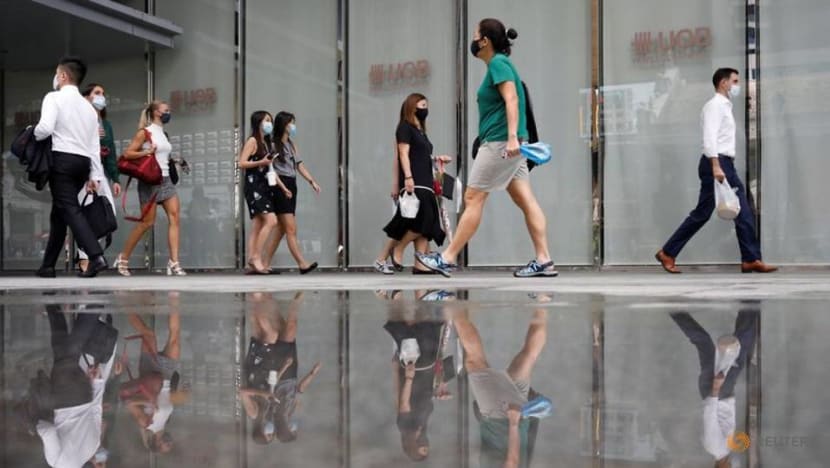 SINGAPORE: Singapore reported 51 new COVID-19 infections on Saturday (Aug 29), including one in the community and three imported cases.
The remaining 47 cases are migrant workers living in dormitories. Ten of them were detected through surveillance testing, while 37 were already under quarantine.
This brings Singapore's tally to 56,717. 
"All new cases today are asymptomatic, and were detected from our proactive screening and surveillance," said the Ministry of Health (MOH).
COMMUNITY INFECTION
The sole community case on Saturday involved a work permit holder - a 29-year-old Bangladeshi man whose infection is currently unlinked.
His case was detected as a result of MOH's bi-weekly rostered routine testing of workers in the construction, marine and process sectors who are living outside the dormitories, said the ministry.
"Epidemiological investigations of the case are in progress," it added.
"In the meantime, all the identified close contacts of the case have been isolated and placed on quarantine, and will be tested at the start and end of their quarantine period so that we can detect asymptomatic cases."
Serological tests will also be conducted for the man's household contacts to determine if he could have been infected by them.
3-YEAR-OLD SINGAPOREAN GIRL AMONG IMPORTED CASES
A three-year-old Singaporean girl is among the three new imported cases. She had returned to Singapore from India on Aug 16 and was a contact of previous cases.
The other two cases - a work pass holder and a student's pass holder - had travelled from Bangladesh.
All three cases had been placed on stay-home notice after arriving in Singapore, and were tested while serving the notice at dedicated facilities.
A total of 110 more COVID-19 patients have been discharged from hospitals or community isolation facilities. In all, 55,447 have fully recovered, said MOH.
Seventy cases are still in hospital. Most of them are stable or improving, and no one is in the intensive care unit.
A total of 1,173 patients are being isolated and cared for at community facilities. These are people who have mild symptoms or are clinically well but still test positive for COVID-19.
Overall, the number of new community cases has remained stable at an average of two cases per day in the past two weeks, said MOH.
The number of unlinked community cases has also remained stable at an average of one per day in the past two weeks.
"We will continue to closely monitor these numbers, as well as the cases detected through our surveillance programme," said MOH. 
Several shopping malls in Orchard Road, including The Heeren, Ngee Ann City and Paragon, were on Saturday added to the list of places visited by COVID-19 community cases during their infectious period.

Other places include a Beauty in The Pot restaurant outlet at Westgate mall and Swensen's at Bugis Junction. Geylang Serai Malay Market and Food Centre is listed three times.

TESTING OFFERED TO TAXI DRIVERS, FOOD DELIVERY WORKERS
In a separate media release on Saturday, MOH said it plans to offer COVID-19 testing to community groups such as taxi drivers, food delivery workers, as well as stallholders at hawker centres, markets and coffee shops.
This is part of the efforts to expand the COVID-19 testing regime, said the ministry. 
MOH said authorities will progressively reach out to the identified community groups to offer the testing on a one-time basis, adding that the cost of the tests will be fully borne by the Government.
"We strongly encourage individuals in the identified community groups to come forward and utilise the tests offered," it added.
MOH also made clear that face coverings such as neck gaiters, bandanas, scarves and handkerchiefs should not be used in place of masks.
SHIP THAT CARRIED INFECTED SEAFARERS TO LEAVE SINGAPORE
Earlier on Saturday, the Maritime and Port Authority of Singapore (MPA) said that the ship that carried crew members who later tested positive for COVID-19 is expected to leave Singapore once relief crew members are on board.
The vessel arrived in Singapore from India for repairs and refuelling on Aug 8. Four days later, a seafarer from the ship tested positive for COVID-19. Since then, at least 15 crew members have been diagnosed with the coronavirus. 
According to an MPA spokesperson, repair works on the ship have been completed and the ship agent is making arrangements for relief crew members.
"This ship will be disinfected thoroughly before the relief crew members board the ship. The ship is expected to leave Singapore once the relief crew members are on board," said MPA.
Download our app or subscribe to our Telegram channel for the latest updates on the coronavirus outbreak: https://cna.asia/telegram