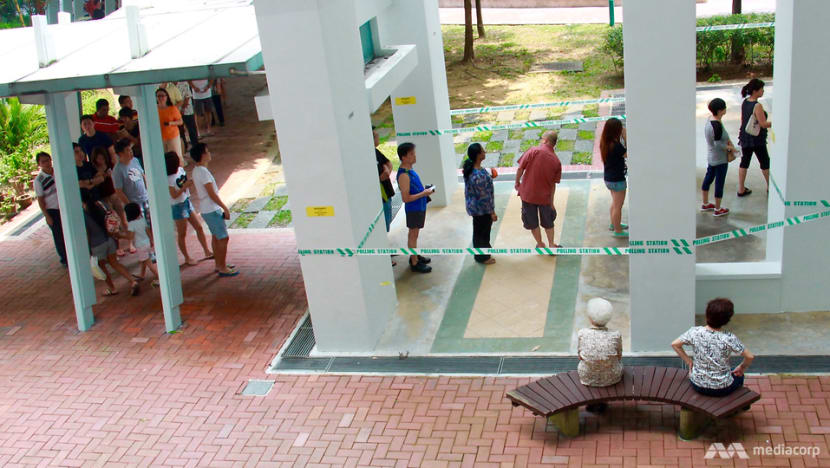 SINGAPORE: Provisions will be made for Singaporeans who are on stay-home notices for acute respiratory infections to vote in the upcoming General Election, following the passing of a Bill on Monday (May 4) to facilitate voting during the COVID-19 pandemic.
The Parliamentary Elections (COVID-19 Special Arrangements) Bill will allow voters who are under COVID-19 stay orders at designated facilities to vote outside of their electoral divisions.
An aspiring candidate who is on a COVID-19 quarantine order or stay-home notice, hospitalised or ill may also authorise a representative to file his nomination paper on his behalf. Currently, the Parliamentary Elections Act requires potential candidates to file nomination papers in person.
On the second reading of the Bill in Parliament on Monday, Minister for Trade and Industry Chan Chun Sing explained that the Bill will allow Singaporeans serving stay-home notices at designated facilities, which are typically hotels, to vote outside their electoral divisions. This can be at the facilities they are staying at or at special polling stations.
"The COVID-19 situation is most likely to last many more months, including the possibility of recurring waves of infection across the world. We must therefore make contingency plans to safely conduct our next General Election under COVID-19 situation," said Mr Chan, who spoke on behalf of Prime Minister Lee Hsien Loong for the Bill.
"This is the responsible thing to do: To robustly plan ahead. To keep our citizens safe while upholding our democracy."
Singapore's next General Election has to be called by Apr 14, 2021.
ARRANGEMENTS SIMILAR TO OVERSEAS VOTING
Arrangements for Singaporeans on stay-home notices will be similar to that for overseas voting, said the Elections Department (ELD). At each special polling station, voters will mark their ballot papers in secret and place them in a single ballot box. 
At the close of polls, the ballot box will be sealed and transported under police escort to a designated counting centre. Ballot papers from the various special polling stations will be mixed together, then sorted for counting. This will preserve voting secrecy, said ELD.
Candidates can be present at these special polling stations, regardless of electoral division, to observe the proceedings. A political party or independent candidates can also send one polling agent each to observe the proceedings.
The provisions in the Bill do not cover voters on quarantine orders or on medical leave due to acute respiratory illnesses, but they will not be penalised for not voting.
"These voters will thus be entitled to have their names restored on the relevant register of electors without paying the S$50 penalty," said Mr Chan. 
Auto-restoration will apply to those on quarantine and serving their stay-home notices at home, while those on medical leave can apply to restore their names to the register after the election.
For aspiring candidates, their representative must be a Singapore citizen who is entitled to vote. The representative must also have a Power of Attorney authorising him or her to represent and act on behalf of the potential candidate at nomination proceedings, including the ability to submit nomination papers and raise objections to the nomination papers of other candidates.
There is no authorisation to substitute subscribers, as subscribers can be any person whose name is in the relevant register of electors, said ELD. Aspiring candidates should find a replacement if any of their subscribers are on stay orders or ill, it added.
The amendments also empower the Prime Minister to make regulations for additional modifications to the Parliamentary Elections Act, so as to minimise exposure of the general public or election officials to COVID-19.
The Bill does not cover other precautionary measures that ELD is planning for, such as those on campaigning. ELD said it will share the guidelines for campaigning in due course.
The Bill's arrangements are also in addition to Sections 56A to 56F of the Parliamentary Elections Act, which already contain powers to deal with some disruptive events, said Mr Chan.
Those sections lay out the conditions under which nomination, polling and other election activities can be changed or cancelled due to disruptive events such as a riot or open violence, a natural disaster, a health hazard or other contingencies that can endanger the people involved.
VOTERS IN QUARANTINE
In response to concerns from MPs that quarantined voters and those on medical leave will not be able to vote, Mr Chan said that, conversely, the arrangements under the Bill will allow more voters to go to the polls.
Nominated MP Anthea Ong pointed out that the Bill exempts those who are serving quarantine orders from having to vote, and makes it clear that quarantined electors cannot use voting as a valid defence for violating a quarantine order.
A clause under the Bill also allows the returning officer or director of medical services to advise electors against voting if they are acutely sick or otherwise exposed to COVID-19, said NMP Walter Theseira.
"So there are many cases where electors could have difficulty exercising their right to vote in person while protecting public health," he said.
Aljunied GRC MP Sylvia Lim said that if there were to be a cluster of infections in a certain area, there could be a large number of voters for a particular constituency that cannot vote: "A significant percentage of absent voters may affect the outcome of the poll especially in a close contest."
"I would like the minister to clarify what commitment the Elections Department is making to voters under quarantine or stay-home orders," she added.
But Mr Chan said that these objections were based on "a misconception".
"The Bill does not take away anyone's right to vote. Rather, the special arrangements in the Bill will in fact allow more voters to vote," he said.
By allowing special arrangements for those under stay-home notices to vote while minimising contact with others, it should allay concerns among the wider voting population who might otherwise be dissuaded from voting because they do not want to come into contact with people under stay orders, he said.
Fewer than 1,000 Singaporeans of voting age were in quarantine as of Sunday, said Mr Chan.
"To Ms Lim's questions, the Elections Department will consult MOH (Ministry of Health) and MHA (Ministry of Home Affairs) nearer the election date to assess if the public health and security risk of allowing these categories of voters to leave their homes, and making special arrangements for them to vote in person at polling stations can be managed," he said.
ONLINE VOTING
Both Assoc Prof Theseira and Marsiling-Yew Tee GRC MP Ong Teng Koon suggested that online voting could be an alternative to reduce crowding at polling stations and allow individuals under quarantine to cast their votes, but Mr Chan said concerns around secrecy and security have yet to be resolved.
"We have not implemented online voting as it is difficult to prevent impersonation and ensure voting secrecy. Even with SingPass, we do not know for sure if the vote is cast by the person himself or by another person who is assisting him," said Mr Chan.
A fundamental issue that has yet to be resolved is how the identity of the voter can be verified while preserving the secrecy of his vote at the same time. There are also security risks such as vulnerability to hacking and cyberattacks, he added.
Several MPs also raised concerns on how to make polling safer for voters, with Mr Ong suggesting staggered voting times and more polling stations to make physical voting safer.
Mr Chan said that ELD will put in place measures to protect candidates, voters and election officials so that elections are held safely.
It will heed the advisories issued by MOH and MHA, as well as study the experiences of countries that have held elections during the pandemic, such as South Korea.
SOUTH KOREA ELECTIONS
South Korea, which held its elections last month, implemented measures such as screening temperatures, ensuring safe distancing and requiring voters to wear masks and plastic gloves. South Korea saw a record voter turnout rate, and yet recently concluded there were no local transmissions, he noted. 
"Their experience shows that it is possible to run a safe and smooth election under COVID-19," Mr Chan said.
Mr Chan said the elections department will consider Mr Ong's suggestions of increasing the number of polling stations and evening the flow of voters across polling hours.
These suggestions, he said, were measures the elections department was already studying. It will publish its recommendations "soon" before the elections to give every party time for preparations. 
However, Ms Ong had earlier said that there are still uncertainties whether the South Korean elections will lead to a relapse in infections, given the 14-day incubation period, noting that at least 180 recovered patients in South Korea have been reinfected by the virus. 
Addressing Ms Lim's question as to why the government requires at least two voters from the same constituency to be staying at the same boarding premise before a special polling station is set up, Mr Chan said that this was to "address concerns on the secrecy of the vote". 
Under the Bill, a lone voter on stay-home notice would be transported to a larger "special" polling station.
Responding to Assoc Prof Theseira's questions as to why rules on campaign processes were not in the Bill, Mr Chan said issues such as campaigning are conducted in "a less structured environment" that are subject to the "evolving health and security considerations".
Assoc Prof Theseira had argued that campaigning must be regulated because it exposes candidates and voters to public health risks.
"We should therefore define rules for specific campaign activities which may be allowed as essential, depending on the severity of the COVID-19 outbreak at the time," he said. 
"Not all (policies) may need to be written down because then that will circumscribe the actions that may be possible in due course," Mr Chan responded. 
OVERSEAS VOTING, DELAY ELECTIONS DEADLINE 
Ms Ong and Nee Soon GRC MP Louis Ng asked how the department plans to help overseas voters, given that other countries are in various stages of lockdown. 
Mr Chan said officials might forgo overseas voting in locations where physical voting poses too much of a health risk to the Singaporeans and election officers abroad.
Given the uncertainties surrounding the pandemic, Ms Ong asked about the possibility of delaying elections past its Apr 14, 2021 deadline, and even amending the constitution to extend its due date. 
"Some may contend that passing a constitutional amendment with regards to elections would be unprecedented, but … what we have witnessed in this chamber in the last months have been anything but 'business as usual'," she said.
Mr Chan responded by saying that delaying the election beyond its deadline and for the President to appoint a caretaker government is "unconstitutional" - a point raised previously by Senior Minister Teo Chee Hean in March. 
"Let me reiterate that this Bill allows the elections department to make contingency plans for the next General Election," Mr Chan said. "It is not related to the timing of the General Election."
"It will be for the Prime Minister to consider what is in the best interests of Singapore and Singaporeans and make the decision on when to call the next general election."
Download our app or subscribe to our Telegram channel for the latest updates on the coronavirus outbreak: https://cna.asia/telegram
Editor's note: An earlier version of the story said that voters under quarantine orders or on medical leave due to acute respiratory infections can vote under the Bill's provisions. This is wrong, the Bill only provides for voters under COVID-19 stay-home notices at designated facilities. We are sorry for the error.​​​​​​​