SINGAPORE: Singapore reported one new locally transmitted COVID-19 infection as of noon on Sunday (Jul 4). 
The case is unlinked, said the Ministry of Health (MOH). 
This is the lowest figure for locally transmitted infections since May 5, when one community case was reported. 
MOH did not provide details on the unlinked case in its nightly update. 

Two clusters have been closed after no more cases were linked to them for the past 28 days, said MOH. 
One is the Case 63931 cluster linked to an 82-year-old Singaporean retiree who was confirmed to have COVID-19 on Jun 1. The other is the Tektronix cluster, with its first infection reported on May 26. 
There are currently 24 active clusters in Singapore, with between three and 93 infections.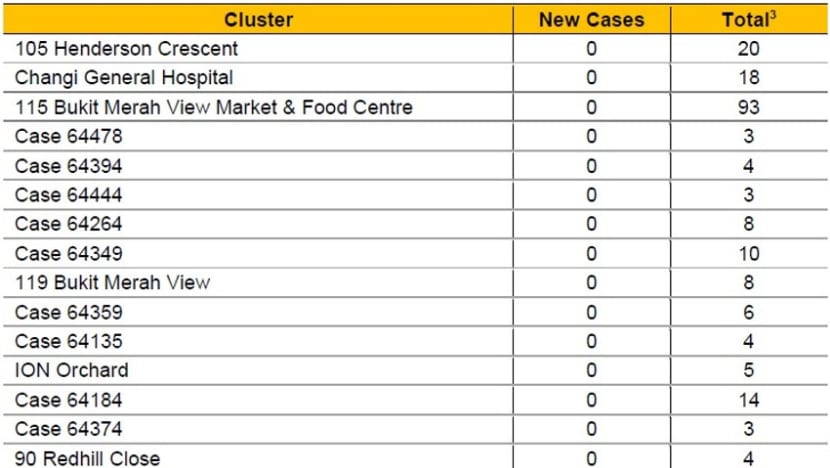 There were also 10 imported cases, all of which had been placed on stay-home notice or isolated upon arrival. 
Nine were detected upon arrival in Singapore, while one developed the illness during stay-home notice or isolation. 
No new infections were reported in migrant worker dormitories. 
In all, Singapore reported 11 new COVID-19 cases on Sunday. 
UNLINKED CASES DOWN 
The number of new cases in the community has decreased from 95 cases in the week before to 26 cases in the past week, MOH said. 
The number of unlinked cases in the community has also decreased from 17 cases in the week before to 2 cases in the past week.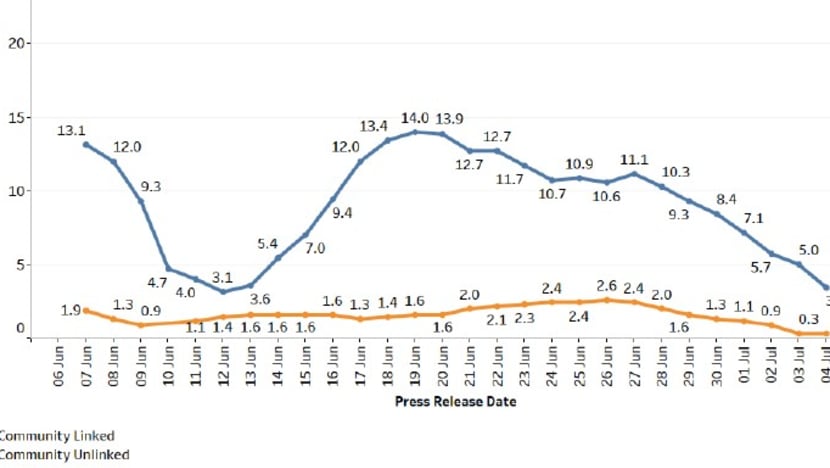 Of the 103 cases still in hospital, 10 are seriously ill and require oxygen supplementation, MOH said. 
Two cases are in critical condition in the intensive care unit.
Over the past 28 days, there were 22 local cases that required oxygen supplementation, were admitted to ICU or died. None were fully vaccinated. 
Nineteen were unvaccinated while three were partially vaccinated, MOH said. 
Singapore has administered more than 5.7 million doses of COVID-19 vaccine under the national vaccination programme as of Saturday. More than 2.1 million people are fully vaccinated.

Singapore moved into the first stage of Phase 3 (Heightened Alert) on Jun 14 after a fall in the number of COVID-19 community cases. More restrictions were eased in the second stage of the phase on Jun 21, however, work-from-home remains the default arrangement.
The Government has said it may further relax measures in mid-July.
Finance Minister Lawrence Wong will deliver a ministerial statement during the next sitting of Parliament on Monday to outline the Government's support measures amid the heightened COVID-19 restrictions.
The ministerial statement will be delivered at 3pm.
As of Sunday, Singapore has reported a total of 62,617 cases and 36 deaths from COVID-19.
Download our app or subscribe to our Telegram channel for the latest updates on the coronavirus outbreak: https://cna.asia/telegram