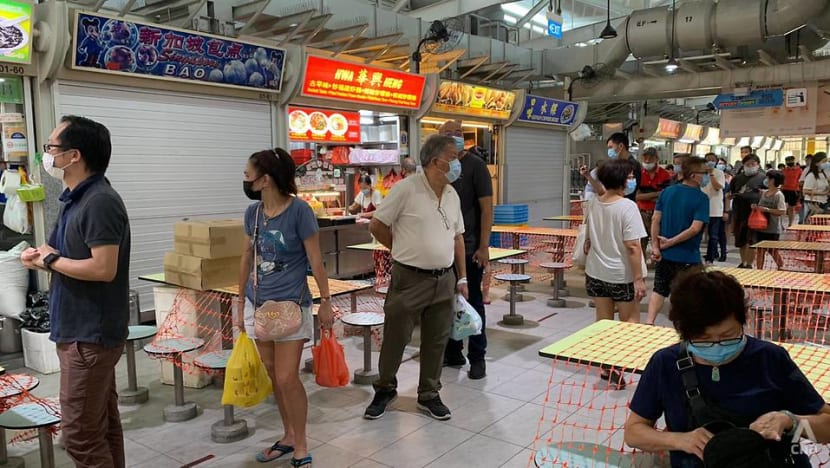 SINGAPORE: Stricter COVID-19 safe management measures are working for now, and there is no need for a "further tightening of posture" at this point, said Finance Minister Lawrence Wong on Friday (May 28).
Mr Wong, who co-chairs the COVID-19 multi-ministry task force, said this as he announced more support measures for businesses affected by current restrictions during Phase 2 (Heightened Alert), which are to last through Jun 13.
"It's been nearly two weeks since we last announced the current round of measures to deal with the outbreak of cases in Singapore. 
"Our assessment is that the measures are working, and they are having an effect in controlling the spread of the virus," he said. "We are continuing to monitor the situation very closely."

He added that the Government will give a detailed update on Monday at the next multi-ministry task force press conference.
"For now, we believe that the measures are working, they are having an effect in helping us curb the spread of the virus; and therefore, we do not think there is a need for further tightening in our overall posture," he said later in response to a reporter's question. 
He said that without the restrictions, the number of COVID-19 cases could have increased exponentially, but that has not happened so far.
"If the virus were to be left on its own basically, easily by now, you will have an exponential rise, a doubling of cases - we have not experienced that," Mr Wong said. 
"I think cases have stabilised, even declined slightly, and that's all because of the tightening and because everyone in Singapore is cooperating and doing their part."
He also thanked Singapore residents for cooperating with the restrictions, but warned against complacency. 
"We are not making any further tightening moves at this stage, but we cannot be complacent at the same time, we still have to be vigilant."
When asked if the latest COVID-19 relief support package of S$800 million "could have been saved" if border restrictions were tightened earlier, Mr Wong said that it has always been the Government's "overall posture" to have "as tight a control system as possible" on the country's borders, as well as within the community.
"That's always been the first priority, making sure that we do not have outbreaks within Singapore and having safeguards, precautions to curb any outbreak," he said. 
He added that even countries with the strictest controls, such as China and Australia, have had to deal with resurgences of the virus.  
"We just have to understand that no matter how hard we try, no matter what we do, the occasional outbreak can happen," he said.
"We have to be mentally prepared that despite the best precautions and safeguards, one case will leak through and any case can easily cause an outbreak, particularly with the new strains that are much more infectious, and that's what we are facing now." 
When asked when COVID-19 may become endemic and how people will then go about their daily lives, Mr Wong said this is a scenario that the Government is planning for, while highlighting that the situation is still very uncertain. 
"I think many experts are already highlighting that this is potentially a way the pandemic may unfold ... that it's not going to go away and we just have to adapt and learn to live with COVID-19 in the long term. So we are indeed starting to plan for this," he said.

This might mean that beyond this year's vaccination, people will get booster jabs from time to time, he said. There may also be better treatments for those with the virus, and people may still have to take some precautions to avoid getting infected.
"COVID-19 is likely to be around for some time and we will all have a role to play to develop more resilient strategies to adapt to this new environment," said Mr Wong. 
"So working together, I'm confident that we can overcome this current setback and emerge stronger, more resilient and more united than before."

Download our app or subscribe to our Telegram channel for the latest updates on the coronavirus outbreak: https://cna.asia/telegram