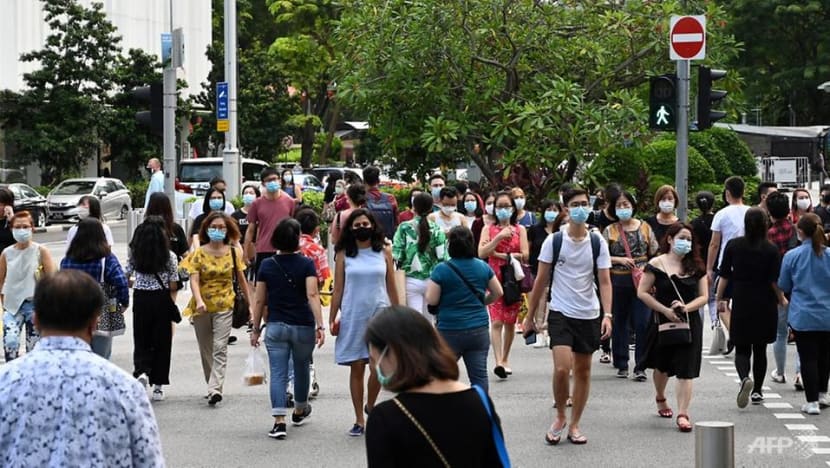 SINGAPORE: One community case was among the 18 new COVID-19 infections reported in Singapore on Wednesday (Feb 3), said the Ministry of Health (MOH).  
The community case is a 35-year-old Indian national who tested positive two weeks after her stay-home notice ended.
The long-term visit pass holder had travelled to India on Nov 30 and returned to Singapore on Jan 6. The pre-departure test she took in India on Jan 4 was negative for COVID-19, said MOH.
Upon her return, she served her stay-home notice at a dedicated facility until Jan 20. 
MOH said her swab test done on Jan 17 during her stay-home notice was negative for COVID-19. 
The woman is asymptomatic and her infection was detected when she took a pre-departure COVID-19 test on Tuesday in preparation for another trip to India. 
She was taken to KK Women's and Children's Hospital after her test came back positive. 
MOH said it has classified this case as locally transmitted while her serology test result is pending. 
"Should her serology test come back positive, and epidemiological investigations assess that this is a past infection, we will reclassify this as an imported case," said the Health Ministry. 
In the meantime, all the identified close contacts of the woman, including her family members, were all isolated and placed on quarantine. 
They will also be tested at the start and end of their quarantine period.
"We will also conduct serological tests for the close contacts to determine if the case could have been infected by them," MOH said.
ONE PERMANENT RESIDENT AMONG IMPORTED CASES
The remaining 17 cases were imported infections and were placed on stay-home notice or isolated upon arrival in Singapore. 
They include a Singapore permanent resident and a work pass holder who returned from India.

A total of 14 work permit holders arrived from Bangladesh, Indonesia and Malaysia, of whom nine are foreign domestic workers. 
The remaining case is a sea crew who arrived from Indonesia to board a vessel docked here. 
He was swabbed onboard the vessel and taken to a hospital when his test result came back positive for COVID-19, said MOH. 

No new infections were reported in foreign worker dormitories.
NINETEEN MORE CASES DISCHARGED, CLUSTER CLOSED
Nineteen more cases have been discharged from hospital or community isolation facilities, taking the total recoveries to 59,320.
There are 39 cases who are still in hospital. Most of them are stable or improving, and no one is in the intensive care unit.
Another 214 patients are isolated or cared for at community facilities. These are people who have mild symptoms or are clinically well but still test positive for COVID-19.
MOH also announced that the NewOcean 6 cluster, which had 13 cases, has now been closed as there have been no more infections linked to the cluster for the past two weeks.
NewOcean 6, a bunker tanker operated by Palmstone Tankers & Trdg, ceased all operations until further notice, the Maritime and Port Authority of Singapore (MPA) said on Jan 6 after nine COVID-19 cases were linked to it.

The first case linked to the cluster was an Indonesian crew member who tested positive for COVID-19 infection on Dec 30, 2020 after arriving in Singapore on Dec 17, 2020.
The number of new community cases fell from five in the week before to four in the past week, said the ministry. 
The number of unlinked cases in the community has increased from one in the week before to three cases in the past week.
"We will continue to closely monitor these numbers, as well as the cases detected through our surveillance programme," the ministry added.
Of the 211 confirmed COVID-19 cases reported from Jan 28 to Feb 3, 119 cases have tested positive for their serology tests, said MOH. 
Forty-one have tested negative and 51 serology tests results are pending.
SINGAPORE AUTHORISES SECOND COVID-19 VACCINE
The Health Sciences Authority (HSA) has granted interim authorisation for Moderna's COVID-19 vaccine to be used in Singapore for people aged 18 years and above.
"HSA's review of the available clinical data found that the benefits of the Moderna COVID-19 vaccine outweigh the known risks," the authority said on Wednesday.
"The vaccine demonstrated a high vaccine efficacy of 94 per cent."
The first shipment is expected to arrive around March, said MOH.
Moderna's vaccine is the second COVID-19 vaccine to be authorised for use in Singapore, after the Pfizer-BioNTech vaccine.
EXTRA COVID-19 TESTING FOR NEWLY ARRIVED FOREIGN WORKERS
The post-stay-home notice testing regime will be extended to all newly arrived work permit and S Pass workers who, upon arrival, will have to stay at a designated facility for 21 days.
These workers include foreign domestic workers, confinement nannies, and those in the Construction, Marine and Process (CMP) sectors.
Previously, only those workers headed to dormitories needed to be subject to the additional 7-days testing.
The new requirement applies to workers who have yet to complete their 14-day stay-home notice on Feb 5, and all new arrivals to Singapore from this date.
In addition, foreign domestic workers and confinement nannies arriving in Singapore from this Friday will have to take a serology test for COVID-19, MOM said on Wednesday.

As of Wednesday, Singapore has reported a total of 59,602 COVID-19 cases.
Download our app or subscribe to our Telegram channel for the latest updates on the coronavirus outbreak: https://cna.asia/telegram