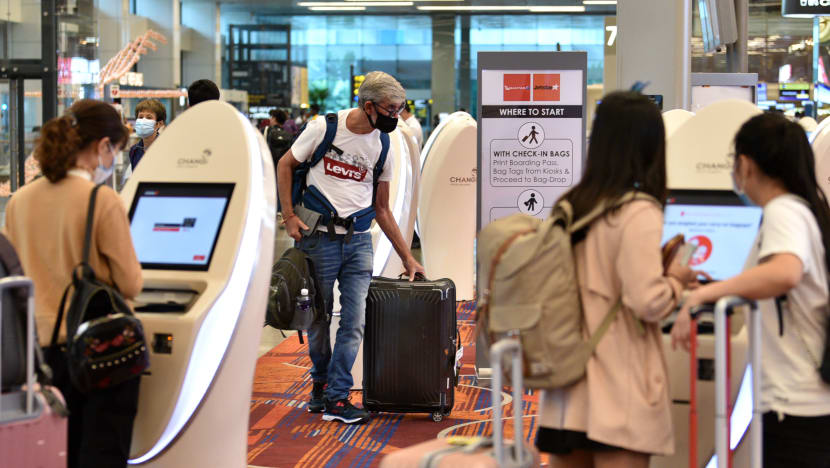 SINGAPORE: Singapore reported 48 new COVID-19 cases as of noon on Sunday (Jan 24), said the Ministry of Health (MOH).

This is the highest number of imported infections in Singapore since Mar 23, when 48 imported cases were also reported.

No locally transmitted cases were reported in the community or in foreign workers' dormitories.
All the imported cases had already been placed on stay-home notice or isolated upon arrival in Singapore. 
Among them are four Singapore permanent residents who returned from India, Indonesia and Malaysia. 
There were also four dependant's pass holders who arrived from France, India and the United Arab Emirates as well as a long-term visit pass holder who travelled from India. 
Two others are student's pass holders who arrived from Egypt and India. Case 59569, who arrived from Egypt, first experienced symptoms on Jan 9. The 29-year-old man was subsequently confirmed to have COVID-19 on Jan 23. 

Eleven of the imported cases are work pass holders who arrived from Bangladesh, Colombia, France, India, Nigeria and the UAE.
Twenty-two are work permit holders who arrived from Bangladesh, India, Indonesia, Malaysia, Myanmar and the Philippines, of whom 10 are foreign domestic workers.
Three are short-term visit pass holders. Two of them arrived from India to visit their children who are Singapore permanent residents while one travelled from the US for a work project in Singapore.
The remaining case is a sea crew member holding a special pass who arrived on board a vessel from Malaysia, and had not disembarked. He was conveyed to the hospital when he developed symptoms, and subsequently tested positive for COVID-19, said MOH. 
OVERALL INCREASE IN COMMUNITY CASES
MOH said the overall number of new cases in the community has increased from eight cases in the week before to 15 cases in the past week. 
The number of unlinked cases in the community has decreased from four cases in the week before to three cases in the past week. 
Among the 195 confirmed cases reported from Jan 18 to Jan 24, a total of 101 cases have tested positive for their serology tests while 36 have tested negative. The remaining 58 serology test results are pending.

One location was added to MOH's list of places visited by COVID-19 cases in the community during their infectious period. Li Li Cheng Supermarket at 273C Punggol Place was visited on Jan 17 from 9.35pm to 10.15pm.
The health ministry added that 26 more cases have been discharged from hospitals or community isolation facilities, bringing Singapore's total recoveries to 59,041.
There are 50 cases still in hospital. Most of them are stable or improving, and none is in the intensive care unit. Another 188 are being isolated and cared for at community facilities.

As of Sunday, Singapore has reported a total of 59,308 COVID-19 cases.​​​​​​​

Prime Minister Lee Hsien Loong said that recent community cases are a reminder that the war against COVID-19 is "far from over" in a Facebook post on Saturday.
Stricter safe management measures that start on Jan 26 "will surely disappoint all of us looking forward to celebrate" Chinese New Year, he wrote.
"But we must psychologically prepare ourselves to celebrate (Chinese New Year) differently this year," he wrote. "Just look at the countries near and far experiencing repeated surges in cases, and you will see why we need to stay vigilant."

Mr Lee also noted that Saturday marked the one-year mark since Singapore's first confirmed COVID-19 case.
"The year has gone by at breakneck pace, as we all struggled to cope with the unprecedented chaos and disruption to our lives. Through immense effort and sacrifice, we've got ourselves to a stable situation," he wrote.
"Let us continue to protect ourselves and our loved ones by adhering to all the measures," he added.

Download our app or subscribe to our Telegram channel for the latest updates on the coronavirus outbreak: https://cna.asia/telegram