SINGAPORE: Singapore reported 34 new COVID-19 cases as of noon on Saturday (Sep 5), including three in the community, said the Ministry of Health (MOH).
This brings the total number of cases in the country to 56,982.
The community infections comprise one Singaporean and two work permit holders.
All three cases are unlinked and are asymptomatic, MOH said.
Two cases, a 27-year-old man from India and a 44-year-old man from Thailand, were detected as a result of the rostered routine testing of workers in the construction, marine and process sectors who are living outside the dormitories.
The remaining case, a 39-year-old Singaporean man, had tested positive while he was serving his stay-home notice, the ministry said.
The Singaporean had travelled to Malaysia, but was denied entry at the airport due to administrative reasons. 
He had been tested negative while in Malaysia and was placed on stay-home notice at a dedicated facility upon his arrival in Singapore the next day.

"Overall, the number of new cases in the community has increased, from an average of two cases per day in the week before, to an average of three per day in the past week," MOH said. 
"The number of unlinked cases in the community has remained stable at an average of one case per day in the past two weeks."

Two new places were also added to the list of public places visited by COVID-19 cases in the community during their infectious period. 
These locations are: The Seletar Mall at 33 Sengkang West Avenue and Waterway Point at 83 Punggol Central.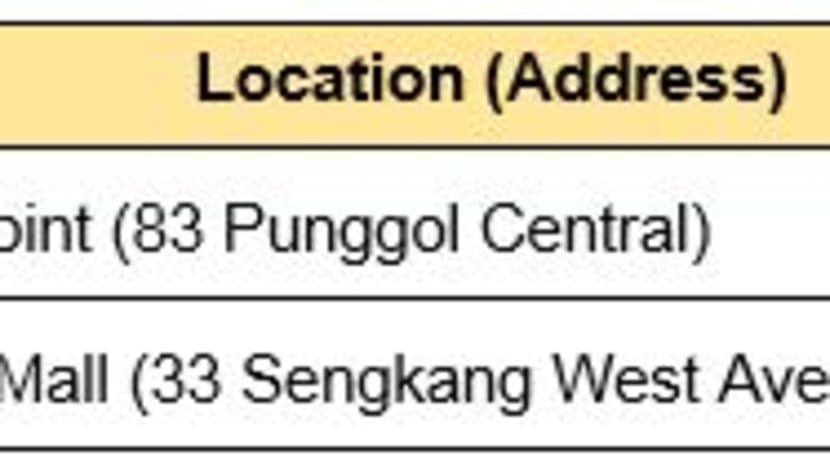 IMPORTED CASES
The two imported cases are Singaporeans who were placed on stay-home notice when they arrived in Singapore.

They include a 30-year-old man who travelled from India on Aug 24 and a 59-year-old man who had returned from Australia on Aug 25.
They were both tested while serving their stay-home notice, MOH said.
THREE NEW CLUSTERS IDENTIFIED

The remaining 29 cases are those staying in dormitories and 14 of them had been identified earlier as contacts of previous cases, MOH said.
They had already been quarantined to prevent further transmission and were tested during quarantine to determine their status, the ministry added.
The remaining 15 cases were detected through surveillance testing, such as the bi-weekly rostered routine testing of workers living in dormitories. 
"This allows us to pick up cases early, including asymptomatic ones, so that we are able to ring-fence them quickly to prevent further transmission, by aggressively containing, tracing and isolating the close contacts," MOH said.
"Besides the polymerase chain reaction (PCR) test, we have also conducted serological tests to determine if some of these cases are current or past infections.
"The serological test results for eight cases have come back positive so far, which indicate likely past infections," the ministry explained.

MOH also reported three new clusters at dormitories previously cleared of the disease: Cochrane Lodge I at 51 Admiralty Road West, Mandai Lodge I at 460 Mandai Road and Tuas South Dormitory at 1 Tuas South Street 12.

Nine of the earlier confirmed cases are now linked to form a new cluster at Cochrane Lodge I.
At Mandai Lodge I, 17 of the previously confirmed cases have now been linked to form a new cluster.

A total of 11 of the earlier confirmed cases are now linked to form a new cluster at Tuas South Dormitory.

Singapore has seen several new COVID-19 clusters in dormitories that were previously cleared of the disease in recent weeks.
MOH on Friday identified a new cluster at Blue Stars Dormitory at 3 Kian Teck Lane, with 33 earlier confirmed cases linked. The dormitory was declared cleared of COVID-19 on Aug 8.
MORE PEOPLE DISCHARGED
A total of 93 more cases of COVID-19 infection have been discharged from hospitals or community isolation facilities, MOH said. 
In all, 56,267 cases have fully recovered from the infection and have been discharged from hospitals or community care facilities.

There are currently 50 confirmed cases who are still in hospital, the ministry said, noting that of these, most are stable or improving, and none are in the intensive care unit. 
A total of 638 are isolated and cared for at community facilities.

"These are those who have mild symptoms, or are clinically well but still test positive for COVID-19," MOH said. 
The number of fatalities in Singapore from complications due to COVID-19 infection remains at 27.
REASON WHY 41 CASES WERE REMOVED FROM THE TOTAL COUNT
Earlier in the week, MOH announced it had removed 41 COVID-19 cases from the total count after further investigations showed they were negative.

On Saturday, the ministry said that most of these had been added to the tally over the past few months due to "administrative errors"​​​​​​​.
These were wrongly recorded or duplicated entries, or those that were reclassified following laboratory investigations and clinicians' assessment, added MOH.
HEALTH MINISTER ON COVID-19 VACCINES
Speaking in Parliament on Friday, Health Minister Gan Kim Yong said that once COVID-19 vaccines become available, Singapore's approach will be to protect those at higher risk or people who may be more likely to be exposed to infection.
The Government is "closely monitoring" the global progress in developing COVID-19 vaccines, said Mr Gan, adding the authorities are taking "active steps" to ensure that Singapore has "timely access" to an effective and safe vaccine.

Download our app or subscribe to our Telegram channel for the latest updates on the coronavirus outbreak: https://cna.asia/telegram