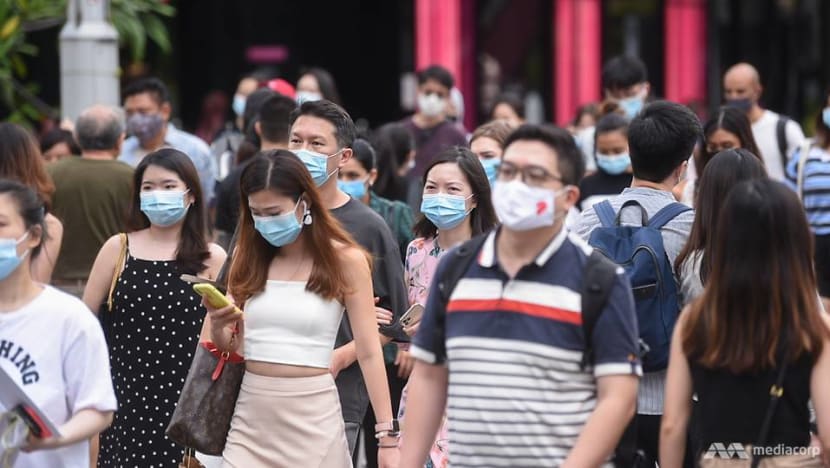 SINGAPORE: A new COVID-19 cluster involving four confirmed cases has been identified in Singapore, the Ministry of Health (MOH) said on Wednesday (Apr 14) in its daily update.
MOH reported 27 new COVID-19 infections on Wednesday, including one community case, who is part of the new cluster. 

The sole community case, identified as Case 61917, is linked to three previously reported infections - Cases 61461, 61470 and 61360. 
The 44-year-old man is a Papua New Guinea national who arrived from Australia on Mar 25 for a work project in Singapore. 
The short-term visit pass holder had tested negative for COVID-19 in a pre-departure test taken in Australia on Mar 23, and in an on-arrival test in Singapore.
He was in isolation until another COVID-19 test on Mar 27 came back negative.
"Subsequently he was on a controlled itinerary, which was largely limited to his place of work and accommodation," said MOH.

After being identified as a close contact of two previously confirmed cases - Cases 61461 and 61470 - the man was placed on quarantine in a dedicated facility on Apr 1.
He tested negative while under quarantine on Apr 2, but another test taken on Apr 12 came back positive.
The case has been classified as locally transmitted as the man repeatedly tested negative for COVID-19 before Apr 12, said MOH.
The ministry added that he was likely to have been infected through his exposure to the two previously confirmed cases in the course of their work.
Cases 61461 and 61470, who are also short-term visit pass holders, arrived from Papua New Guinea on Mar 27 and were identified as close contacts of Case 61360 during their flight to Singapore. They tested positive for COVID-19 on Apr 1. 
SEA CREW MEMBER AMONG IMPORTED CASES

The remaining cases were imported and were placed on stay-home notice or isolated upon arrival in Singapore, the ministry added.
A sea crew member who arrived from the Philippines to board a vessel in Singapore is among the imported cases.

The 60-year-old, who is a short-term visit pass holder, remained on board the vessel until he developed symptoms on Apr 12, said MOH. He was then taken to a hospital.
The imported cases also include one Singaporean and four permanent residents who returned from India and the Philippines.

Another case is a dependant's pass holder who arrived from Sri Lanka.
Two work pass holders who arrived from India and Nepal also tested positive for COVID-19.
The remaining cases are 17 work permit holders who arrived from Bangladesh, India and Indonesia, including four domestic foreign workers.

No new infections were reported in migrant workers' dormitories.

TWO IN CRITICAL CONDITION

Eighteen more cases have been discharged, bringing the total number of fully recovered cases to 60,392.
There are 61 cases who remain in hospital, with two in critical condition in the intensive care unit.
A total of 236 cases are isolated and cared for at community facilities.

Overall, the number of new cases in the community has remained stable at two cases per week in the past two weeks, said MOH.
The ministry added that the number of unlinked cases in the community has decreased from two cases in the week before to one case in the past week.
Among the 165 confirmed cases reported from Apr 8 to Apr 14, 63 cases have tested positive for their serology tests, 72 have tested negative and 30 serology test results are pending.

Singapore has reported a total of 60,719 cases as of Wednesday, with 30 fatalities.

MORE THAN 18,200 PEOPLE VISITED SINGAPORE THROUGH UNILATERAL BORDER OPENINGS
As of Apr 8, more than 18,200 visitors have entered Singapore on an Air Travel Pass from places the country has unilaterally opened its borders to, the Civil Aviation Authority of Singapore (CAAS) said on Tuesday.
The figure includes about 2,400 travellers from Australia, 800 from Brunei, as well as 12,800 from mainland China, which made up about 70 per cent of the total number.
There were also 300 Air Travel Pass visitors from New Zealand, 800 from Taiwan and 1,100 from Vietnam, CAAS said.
The Air Travel Pass allows short-term, leisure travellers to enter Singapore without any restriction on their itineraries. This is different from the reciprocal green lanes between countries, which are for essential or business travel.
Visitors travelling under the pass must take a COVID-19 polymerase chain reaction (PCR) test upon arrival, get private transport to their accommodation and self-isolate there while waiting for their results.
It is currently open to Australia, Brunei, China, New Zealand and Taiwan. Applications from Vietnam were suspended from Feb 9 after a rise in cases there.

Download our app or subscribe to our Telegram channel for the latest updates on the coronavirus outbreak: https://cna.asia/telegram