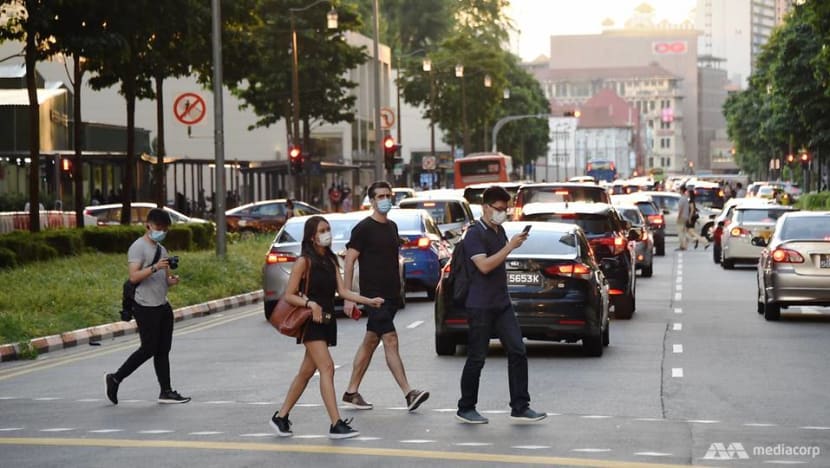 SINGAPORE: Singapore reported 100 new COVID-19 cases as of noon on Tuesday (Aug 18), including one in the community.  
This takes the total number of cases in the country to 55,938, with fatalities remaining at 27. 
The sole community case reported on Tuesday was a Singaporean man who is currently unlinked to previous cases, said the Ministry of Health (MOH). 
The 39-year-old man works at a bus depot in a "non-public facing" role that does not entail interaction with commuters and bus captains, the ministry said.
"He was detected as part of our screening of all staff in the public bus industry who work at depots and interchanges," MOH added.
"This is a precautionary measure after MOH detected some cases at Bukit Panjang Integrated Transport Hub."
More than 14,800 staff members and close contacts of the cases were tested between Jul 23 and Aug 15.
Of these, 10 people have tested positive using the polymerase chain reaction (PCR) test, including the three initial cases detected at the Bukit Panjang Integrated Transport Hub.
"Testing has since completed, and five results are pending," said the health ministry.
To determine if the 10 confirmed cases were current or past infections, MOH conducted serological tests for them. Seven of them, including the 39-year-old man reported on Tuesday, have come back positive, which indicate "likely past infection", says MOH.
Overall, the number of new cases in the community has remained stable at an average of two cases per day in the past two weeks.
"The number of unlinked cases in the community has also remained stable at an average of one case per day in the past two weeks. We will continue to closely monitor these numbers," said MOH.
Several places were added to a list of public places visited by community cases during their infectious period, including a McDonald's outlet in Bukit Batok and Kallang Wave Mall.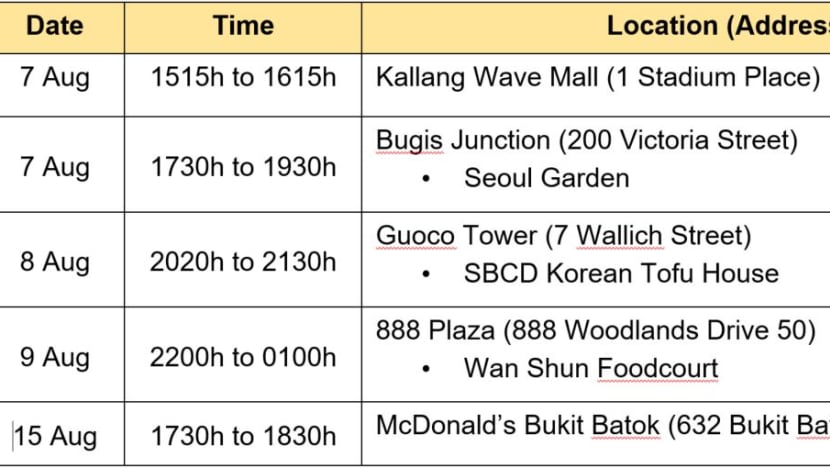 2 IMPORTED CASES
There were also two imported infections, both of whom were placed on stay-home notices upon arrival in Singapore. 
One of them is a 32-year-old permanent resident who returned to Singapore from India on Aug 6. The other case is 30-year-old dependant's pass holder who arrived from India on Aug 10.
Both women were tested while they were serving their stay-home notices at dedicated facilities, MOH said.
The remaining 97 cases reported on Tuesday were work permit holders living in dormitories. 
MOH said the inter-agency task force has completed the testing of all workers in the dormitories. 
"There are currently about 17,900 workers who are still serving out their quarantine period," said the health ministry. 
"These workers will be tested when their quarantine ends, and we expect the case counts to remain high in the coming days, before tapering down thereafter."
Another 183 more COVID-19 patients have been discharged from hospitals or community isolation facilities. In all, 52,533 people have fully recovered from the infection and have been discharged from hospitals or community care facilities.
There are currently 88 confirmed cases who are still in hospital. Of these, most are stable or improving, and none is in the intensive care unit. 
A total of 3,290 patients are isolated and cared for at community facilities. These are people who have mild symptoms, or are clinically well but still test positive for COVID-19. 
Twenty seven people have died from complications due to COVID-19.
In response to CNA's queries, MOH and the Ministry of Manpower (MOM) on Tuesday said that about 100 new COVID-19 cases have been detected in migrant worker dormitories previously given the all-clear from the virus.
Some of them had resumed working, and the cases were picked up through routine testing.
As a result of the new cases, about 7,000 migrant workers were quarantined and less than 2 per cent of them were found to have contracted the coronavirus, said MOM and MOH. 
"We have taken timely actions to contain and isolate the COVID-19 positive cases. We have also taken aggressive actions to contain, trace and isolate the close contacts," said the ministries.
"To date, (more than) 60 per cent of cases have been closed. The measures taken have resulted in effective containment with only small numbers of additional cases detected."
Singapore on Monday announced S$8 billion worth of measures to continue supporting workers and businesses hurt by the COVID-19 pandemic.
These measures include a seven-month extension of wage subsidies under the Jobs Support Scheme (JSS) and a new initiative to bolster hiring in still-growing sectors.
Deputy Prime Minister Heng Swee Keat said in a ministerial statement that he noted anxieties from workers about job security and loss of income, while businesses and union leaders have spoken about their efforts to retain and retrain workers.
Singapore will have to continue adapting to a rapidly changing situation, said Mr Heng, who is also Finance Minister.