54 new COVID-19 cases in Singapore, including 5 people linked to family gatherings and new cluster at camera store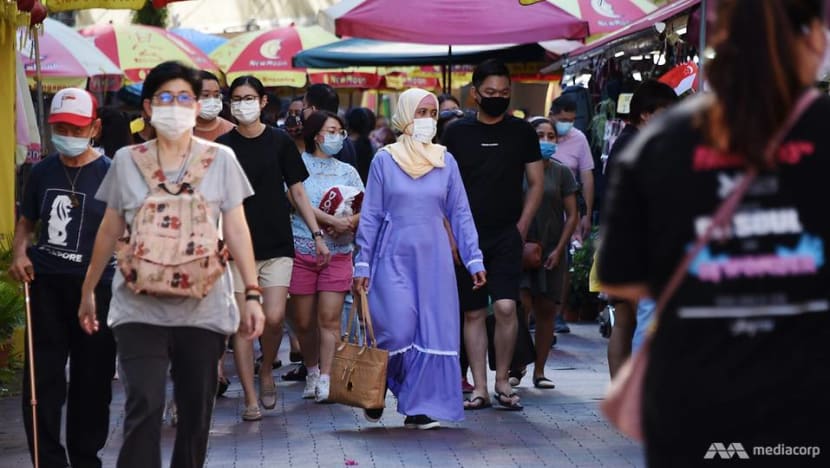 SINGAPORE: Singapore reported 54 new COVID-19 infections as of noon on Sunday (Aug 30), including eight cases in the community.
There are also seven imported cases, all of whom had been placed on stay-home notice upon their arrival in Singapore. 
This brings the country's total to 56,771.
NEW CLUSTER AT CAMERA STORE, 5 CASES LINKED TO FAMILY GATHERING
One of the eight community cases reported on Saturday is a 57-year-old Singaporean man who works at SLR Revolution at Excelsior Shopping Centre.
The camera shop is linked to three other infections, forming a new cluster, MOH reported on Sunday.
The man, who is asymptomatic, was confirmed as a case on Aug 29.
He had earlier been placed on quarantine after his colleague, a 61-year-old Singaporean man, tested positive on Aug 20 .
The 61-year-old man - who went to work during his infectious period - has so far also been linked to a 65-year-old Singaporean woman who tested positive for the disease on Aug 23.
MOH on Thursday also reported that a 31-year-old Singaporean woman tested positive after visiting the camera shop on Aug 17, and "may have had contact" with the 61-year-old employee.
MOH said that it has so far identified and contacted 240 people who visited SLR Revolution between Aug 15 and Aug 20 and facilitated COVID-19 testing for all of them "even though the risk of infection for visitors is assessed to be low".
Of the 240 people, 224 have been swabbed so far. Their results are pending. MOH said it is facilitating testing for the remaining individuals.
Five of the community cases are part of a "family cluster involving individuals across two households", said MOH.
They include two men aged 20 and 21, a 12-year-old boy, and two girls aged 14 and 17. All are Singaporeans who were confirmed as cases on Saturday, and presented onset of symptoms between Aug 25 and Aug 29. Only the 12-year-old boy is asymptomatic.
In addition, the 21-year-old man had visited Bedok Camp II after his onset of symptoms on Aug 27.
All five cases in the family cluster are linked to Case 56627 - a 13-year-old boy who was confirmed as a case on Aug 26. They had been identified as contacts and placed on quarantine earlier, and were tested during quarantine.
"These individuals had participated in family gatherings, and investigations are ongoing to see if there were any breaches of safe distancing rules," said MOH.
"We take a serious view of such breaches and will not hesitate to take enforcement actions against any offenders."
Another community case is a 26-year-old Singaporean man who is a contact of a previous case. He presented onset of symptoms on Aug 25.
This man - Case 56828 - had gone to see a general practitioner under the Swab and Send Home (SASH) programme on Aug 27. He was diagnosed with acute respiratory infection and given a swab test.
"Before the test result was ready, Case 56828 was separately identified as a close contact of Case 56740 and was placed on quarantine on Aug 28. The test result from the clinic subsequently confirmed that this was a positive case," said MOH.
The remaining community case is a 37-year-old Indian national who is unlinked to other cases. The man is asymptomatic and was confirmed as a case on Saturday.
This case was detected through rostered routine testing of workers in the construction, marine and process sectors who are living outside the dormitories, said MOH.
Epidemiological investigations of this case are in progress. In the meantime, all identified close contacts of the case have been isolated and placed on quarantine, and will be tested at the start and end of their quarantine period.
Overall, the number of new cases in the community has increased, from an average of two cases per day in the week before, to an average of three per day in the past week, said MOH.
The number of unlinked cases in the community has remained stable at an average of one case per day in the past two weeks, the ministry added.
Old Airport Road Food Centre and Shopping Mall and the Bank of China branch at Westgate shopping mall were on Sunday added to MOH's list of public places visited by COVID-19 cases during their infectious period.
Bank of China at Westgate was patronised by COVID-19 cases between 2.30pm and 3.30pm on Aug 22.
COVID-19 cases visited Old Airport Road Food Centre and Shopping Mall between 10.15am and 11am on Aug 23.
IMPORTED CASES AND DORMITORY CASES
The seven imported cases reported on Sunday had all been placed on 14-day stay home notice upon arrival in Singapore, and were tested while serving their notice at dedicated facilities.
One of them is a four-year-old girl who travelled from the United Arab Emirates. The Singaporean citizen, who is asymptomatic, is a contact of a previous case.
Four of the imported cases are permanent residents. They are a 43-year-old man and 53-year-old man who travelled from India, a 32-year-old woman who travelled from the Philippines, and a 42-year-old man who travelled from Bangladesh.
Another case is a 26-year-old female dependant's pass holder who travelled from Pakistan.
The remaining case is a 34-year-old female work permit holder who travelled from the Philippines.
In addition, 39 cases reported on Sunday resided in migrant worker dormitories. Twenty-two of them had been identified as contacts of earlier cases and were tested while in quarantine.
The remaining 17 cases in dormitories were detected through surveillance testing.
Another 139 COVID-19 patients have been discharged, bringing the total number of discharged cases to 55,586.
There are currently 74 cases in hospital, none of whom is in the intensive care unit.
A total of 1,084 are isolated and cared for at community facilities. The number of people who have passed away from COVID-19 complications remains at 27.
Global coronavirus cases surged past 25 million on Sunday. The official number of global coronavirus cases is now at least five times the number of severe influenza illnesses recorded annually, according to World Health Organization data.
Around the world, there have been more than 840,000 deaths linked to COVID-19.
On Saturday, MOH said it would offer COVID-19 testing to groups such as taxi drivers, food delivery workers and stallholders as part of efforts to expand the COVID-19 testing regime. 
While there has been "no local evidence" that these groups are at a higher risk of being infected, they will be offered tests "given the nature of their working environment, such as the high frequency of interactions with members of public", the ministry said.
The costs of the tests will be fully borne by the Government, MOH said, adding that authorities will reach out to the groups progressively.
Download our app or subscribe to our Telegram channel for the latest updates on the coronavirus outbreak: https://cna.asia/telegram
Editor's note: An earlier version of this story said the 21-year-old who tested positive for COVID-19 and was part of the family cluster had experienced the onset of symptoms on Saturday. This has been changed to Thursday following a correction from MOH.