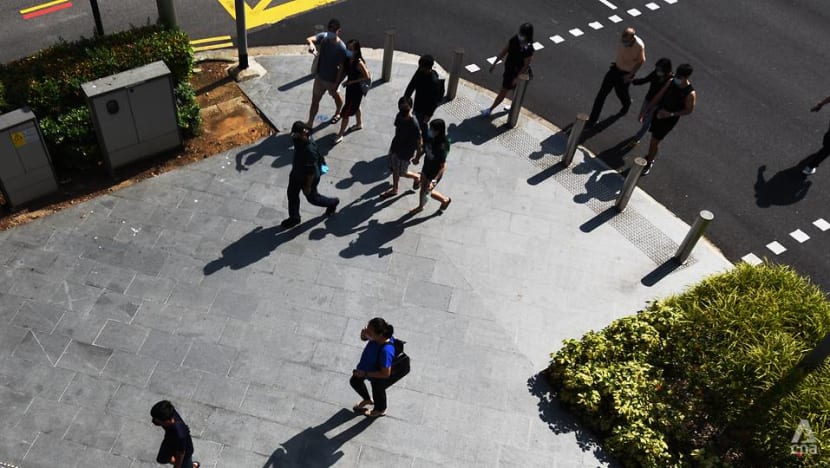 SINGAPORE: Singapore reported 22 new community COVID-19 cases as of noon on Saturday (May 22), including seven unlinked infections.
The other 15 community infections are linked to previous cases, with 12 already placed on quarantine earlier, said the Ministry of Health (MOH).
There were also seven imported cases who had already been placed on stay-home notice or isolated upon arrival in Singapore, said the ministry. No new cases were reported in migrant workers' dormitories. 
In all, Singapore reported 29 new COVID-19 cases on Saturday.
CLOSURE OF JEM AND WESTGATE
Among the unlinked cases, two had visited Westgate mall recently. Their infection was detected through testing that was offered to those who had been at the mall. 
MOH said there is "likely ongoing transmission" among those who had visited Westgate and Jem, so the two malls will be closed for two weeks to "break any potential chain of transmission".
Ten recent COVID-19 cases have been linked to the malls, with four detected from MOH's special testing operations.
NEW CLUSTERS INCLUDE MCDONALD'S RIDERS
Four new COVID-19 clusters have been identified, including one involving McDonald's delivery riders. 
A 24-year-old Malaysian who works as a delivery rider for IVIC Logistic and McDonald's at Pasir Ris Elias Community Club tested positive.
He is a household contact of two other cases. Both are Malaysians who also work for IVIC Logistic and separate McDonald's outlets - at Bedok Reservoir and Pasir Ris Elias Community Club.
The 24-year-old man felt fatigued on May 17 and developed flu-like symptoms on May 19 but did not seek medical treatment. 
He was placed on leave of absence by his employer on May 21 and went for a COVID-19 test. His Antigen Rapid Test (ART) and PCR tests were positive on May 21. His serology test result is pending.
Two children have been linked to Case 63414, forming a new cluster. 
Case 63414 is a 40-year-old Singaporean man who works as a vending machine loader at Warburg, and a food delivery rider for Deliveroo and Grab. He was confirmed to have COVID-19 on May 18.
His family members, a nine-year-old girl and a five-year-old girl, are the latest cases linked to this cluster.
The nine-year-old is a student at Springdale Primary School and was last in school on May 17. She was placed on quarantine on May 17 and tested positive for COVID-19 on May 21.
The five-year-old girl is a student at MY World Preschool (Anchorvale Parkview). She developed a fever, runny nose and abdominal pain on May 11 and sought treatment at a general practitioner clinic on May 13 but was not tested for COVID-19.
She was then quarantined on May 17 and tested positive on May 21.
A one-year-old boy is also among the new infections. He has been linked to Case 63516, forming a new cluster of three cases.
Case 63516 is a 28-year-old homemaker who was confirmed to have COVID-19 infection on May 20. The other case in the cluster is a 29-year-old man who works at Slide and Hide System who confirmed to have COVID-19 on May 20.
LINKED CASES
Of the 15 linked community infections, one has been traced to the Changi Airport Terminal 3 cluster.
One has been linked to the Pacific Law Corporation cluster.
Four more cases, all close contacts or family members, have been linked to the Case 63357 cluster. Case 63357 is a 32-year-old Singaporean who works as an IT engineer at AbbVie Operations Singapore. He was confirmed to have COVID-19 on May 16.
The new cases linked to him include a two-year-old Singaporean who is a student at My First Skool at 51 Fernvale Link, as well as a 30-year-old Singaporean woman who is employed by Singapore General Hospital as a nurse deployed at the Tiong Bahru Community Nurse Post.
2 STUDENTS FROM SINGAPORE POLY TEST POSITIVE
Two more students from Singapore Polytechnic have tested positive for COVID-19. 
One of them, a 19-year-old Malaysian, developed a cough and sore throat on May 16, and a fever the next day. She sought treatment at a clinic on May 19, where she underwent both an ART and PCR test. 
"She was immediately isolated when her ART came back positive on the same day," said MOH, adding that she had not gone to school since May 15.
She is a close contact of Case 63487, forming a new cluster. Case 63487 is a 19-year-old Malaysian student at Singapore Polytechnic. She was confirmed to have COVID-19 on May 19.
The other Singapore Polytechnic student who tested positive is linked to the Sms Infocomm cluster. He is a 19-year-old who works as a part-time food processor at SATS Food Services.
He was last in school on May 14.
Among the seven unlinked cases reported on Saturday, four had developed symptoms but did not seek medical treatment immediately. 
Further details of the new cases can be found in the Health Ministry's daily update.
IMPORTED CASES
Of the seven imported cases, there are two Singaporeans and a permanent resident who returned from India and the Philippines.
One is a dependant's pass holder who arrived from Angola.
The remaining three imported cases are work permit holders who arrived from the Philippines.
FIVE IN CRITICAL CONDITION
Thirty-five more cases have been discharged from hospitals or community isolation facilities, taking Singapore's total recoveries to 61,277.
There are 255 cases still in hospital. Most of them are stable or improving, and five are in critical condition in the intensive care unit. 
Another 235 are being isolated and cared for at community facilities.
MOH said the number of new cases in the community has increased from 103 cases in the week before to 199 cases in the past week. 
The number of unlinked cases in the community has also increased from 14 cases in the week before to 61 cases in the past week. 
As of Saturday, Singapore has reported a total of 61,799 COVID-19 cases. The country reported its 32nd COVID-19 death on Thursday, a 70-year-old man linked to the cluster at Tan Tock Seng Hospital.
Download our app or subscribe to our Telegram channel for the latest updates on the coronavirus outbreak: https://cna.asia/telegram