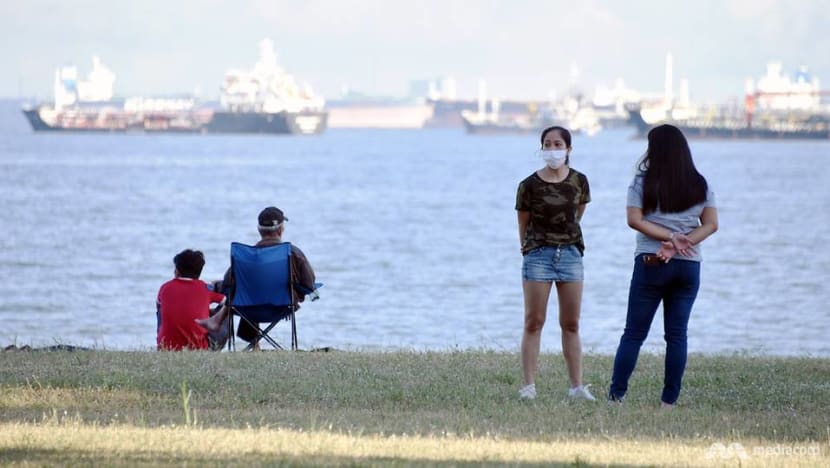 SINGAPORE: Singapore reported 313 new COVID-19 cases as of noon on Sunday (Aug 2), including one community infection and five imported cases, said the Ministry of Health (MOH). 

This brings the total number of cases in the country to 52,825.
The sole community case is a 33-year-old woman who is linked to a previous case.
The woman - a permanent resident - is a family member of Case 52049, a 13-year-old boy who had travelled from India, said MOH.
The boy, who is also a permanent resident, had returned to Singapore from India on Jul 19 and was placed on stay-home notice upon arrival.

The woman had asked to be isolated at the dedicated stay-home notice facility with him, said MOH.
"She became symptomatic during isolation, and was tested to determine her status," said the ministry.
Meanwhile the five imported cases arrived in Singapore from India, Japan and Indonesia.
Among them are two work pass holders, a 36-year-old man and a 31-year-old man both employed in Singapore, who arrived from India on Jul 19 and Jul 21 respectively.

Another two are dependent's pass holders, a 48-year-old woman and a 27-year-old woman who arrived from Japan and India respectively on Jul 21.
The remaining imported case is a 23-year-old female student's pass holder who arrived from Indonesia on Jul 19. 
All five cases were placed on 14-day stay-home notices upon arrival in Singapore and served their notices at dedicated facilities, during which they were tested for COVID-19.
The remaining cases are work permit holders residing in foreign worker dormitories. 
"We continue to pick up cases among work permit holders residing in dormitories, including in factory-converted dormitories, because of extensive testing in these premises as part of our process to verify and test the status of all workers," said MOH. 

No new clusters were reported on Sunday.
There were also no new additions to the list of places visited by COVID-19 cases in the community during their infectious period.
Another 186 more COVID-19 cases have been discharged from hospitals or community isolation facilities, said MOH. 
"In all, 46,926 have fully recovered from the infection and have been discharged from hospitals or community care facilities," the ministry said. 
Currently, 109 COVID-19 cases are still in hospital. Most are stable or improving, and none is in the intensive care unit. 
Meanwhile, 5,763 are isolated and cared for at community facilities. These are those who have mild symptoms or are clinically well but still test positive for the virus. 
Twenty-seven have passed away from complications due to COVID-19 infection. 
On Saturday, it was announced that Malaysia citizens and permanent residents with Singapore work passes who are eligible to enter Singapore under the Periodic Commuting Arrangement (PCA) must serve a stay-home notice of at least seven days and take a COVID-19 swab test.

The stay-home notice under PCA must be served in hotels, serviced apartments or single-occupancy residences, said the Immigration and Checkpoints Authority. 

Singapore and Malaysia earlier agreed to open applications for cross-border travel on Aug 10. 

The PCA will allow Singapore and Malaysia residents who hold long-term immigration passes for business and work purposes in the other country to enter that country for work.

They have to remain in the destination country for at least 90 days before returning for home leave. 

Travellers under this arrangement can only enter or exit via the two land checkpoints - at Woodlands or Tuas.
The other cross-border travel scheme - the Reciprocal Green Lane (RGL) - is for shorter-term travel of up to 14 days, for essential business and official travel.
Download our app or subscribe to our Telegram channel for the latest updates on the coronavirus outbreak: https://cna.asia/telegram