5 new COVID-19 cases reported in Singapore, including woman who served stay-home notice at Mandarin Orchard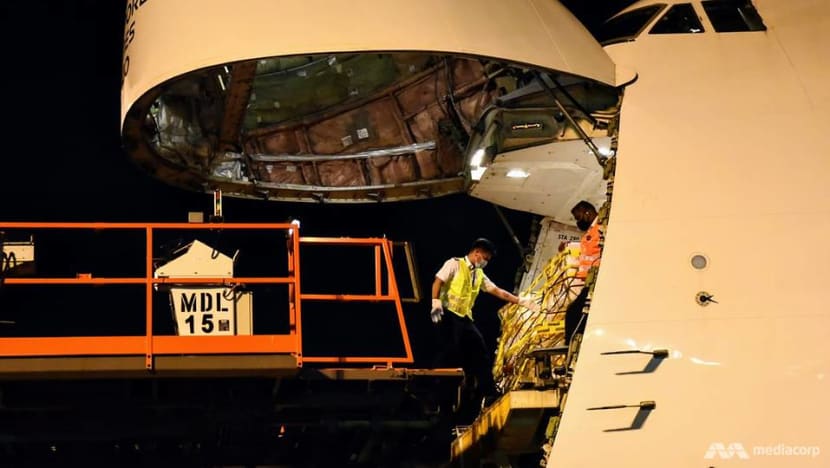 SINGAPORE: Five new COVID-19 cases were reported in Singapore as of noon on Sunday (Dec 27), including a woman who served her stay-home notice at Mandarin Orchard hotel.
This is the third case linked to the hotel since the Ministry of Health (MOH) announced last week that it was investigating 13 cases who had served their stay-home notice at the hotel, all of whom "high genetic similarity" despite coming from different countries.
This suggests that the cases were "likely infected from a similar source" and that the transmission may have happened during their stay at the hotel, said MOH.

The case reported on Sunday is a 23-year-old work permit holder from Malaysia.
She served her stay-home notice at Mandarin Orchard before she was transferred to another dedicated facility on Dec 20, when MOH started investigating the 13 positive cases.

Two swab tests taken on Dec 19 and Dec 21 came back negative for COVID-19 infection.
The test at the end of her stay-home notice on Dec 24 came back positive. She was taken to hospital the next day. She also tested positive in a confirmatory test by the National Public Health Laboratory (NPHL), said MOH.
A second sample taken by NPHL on Dec 26 came back negative, said MOH. Her serological test result also came back negative, indicating that it was not a past infection.

Investigations are ongoing to assess if the woman is linked to the 13 cases, said the ministry.

The earlier two cases being investigated for possible links to Mandarin Orchard were reported on Friday and Saturday. One is a Singapore permanent resident who arrived from the Philippines and the other is a Lebanese man who arrived from Qatar.
They both served part of their stay-home notice at the hotel and were moved to another facility after the 13 cases were discovered.

No new cases were found in the community and in foreign workers' dormitories on Sunday. 

The four remaining imported cases were all placed on stay-home notice upon their arrival in Singapore, said the ministry.

One is a 33-year-old permanent resident who returned from Ukraine. Three are foreign domestic workers from Indonesia and the Philippines.
This is Singapore's lowest daily increase in COVID-19 cases in two weeks. Five cases, all imported, were previously reported on Dec 14. 

CAFE, HOTPOT RESTAURANT VISITED BY COMMUNITY CASES

Two locations were on Sunday added to MOH's list of public places visited by community cases during their infectious period.
Cuppafield cafe at Bukit Batok West Avenue 8 and Haidilao Hot Pot at IMM were both visited by COVID-19 cases on Dec 24.
The full list of places is as follows: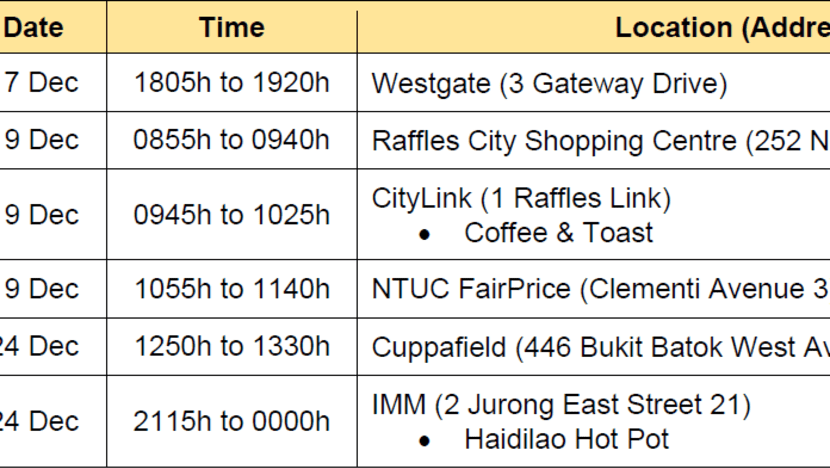 Those identified as close contacts of confirmed cases would already have been notified by MOH.
As a precautionary measure, people who were at these locations during the specified timings should monitor their health closely for 14 days from their date of visit.
"They should see a doctor promptly if they develop symptoms of acute respiratory infection (such as cough, sore throat and runny nose), as well as fever and loss of taste or smell, and inform the doctor of their exposure history," said MOH.

Eight more COVID-19 cases have been discharged from hospitals or community isolation facilities, bringing the total to 58,370.
There are 31 cases in hospital, with none in intensive care. A total of 94 cases have been isolated and are being cared for at community facilities.  
As of Sunday, Singapore has reported a total of 58,524 COVID-19 cases, with 29 fatalities from the disease.

HEALTHCARE WORKERS TO BE VACCINATED FIRST
The Government has accepted in full the recommendations of the Expert Committee on COVID-19 Vaccination on the overall vaccination strategy of Singapore, MOH said on Sunday.

Healthcare workers will be vaccinated first starting on Dec 30, beginning with those at the National Centre for Infectious Diseases (NCID). Vaccinations will subsequently roll out to more healthcare institutions in the coming weeks.

The health ministry added that it aims to begin vaccinating the elderly, starting with those aged 70 years and above, from February next year. 
"Thereafter we will vaccinate other Singaporeans and long-term residents who are medically eligible for vaccination. More details will be shared in due course," said MOH.

SINGAPORE TO ENTER PHASE 3 OF REOPENING
Singapore will enter Phase 3 of its reopening on Monday, with social gatherings of up to eight people allowed in public, up from the current five. Similarly, households can receive up to eight visitors. 

Capacity limits will also be eased in public places such as malls, attractions and places of worship.

Up to 250 people – an increase from the current limit of 100 – will be allowed at worship services.
Religious and supporting workers are not included in the limit, although they "should be kept to a minimum", said the Ministry of Culture, Community and Youth (MCCY) in an advisory on Saturday.
Live performance elements will also be permitted during worship services, with safe management measures in place.