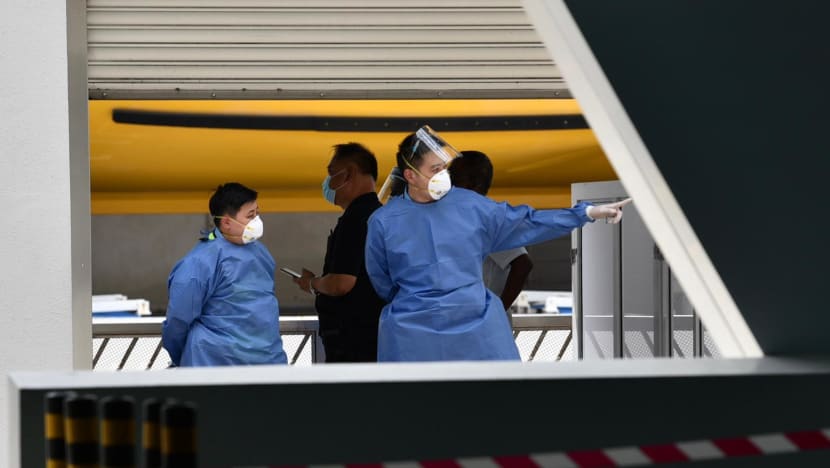 SINGAPORE: Six new COVID-19 cases were reported in Singapore as of noon on Wednesday (Dec 9), all imported infections.

The latest count does not include an 83-year-old man who tested positive for COVID-19 on board a Royal Caribbean cruise ship.

The man's original test sample was re-tested at the National Public Health Laboratory (NPHL) and came back negative for COVID-19 infection, said the Ministry of Health (MOH). 

"A second fresh sample tested by NPHL has also come back negative. NPHL will conduct another test tomorrow to confirm his COVID-19 status," the ministry added.
All his identified close contacts have been isolated as a precautionary measure, said MOH.
NO LOCALLY TRANSMITTED CASES
There were no new cases in the community and in foreign workers' dormitories. This is the fourth consecutive day with no locally transmitted infections.
All the imported cases were placed on stay-home notice upon their arrival in Singapore.

They include a 64-year-old Singaporean man and three work permit holders who arrived from Indonesia.
The other two cases are Singapore permanent residents who arrived from India. One of them is an eight-year-old girl who is a contact of a previous case.

"Overall, the number of new cases in the community has remained low, with a total of one case in the past week, who is linked to a previous case," said MOH.
"We will continue to closely monitor these numbers, as well as the cases detected through our surveillance programme."
SIX MORE CASES DISCHARGED

Six more cases have been discharged from hospitals or community isolation facilities, bringing the total recoveries to 58,182, said MOH.

There are 20 cases still in hospital. Most are stable or improving, and no one is in the intensive care unit.
There are 60 cases being isolated and cared for at community facilities. These are those who have mild symptoms, or are clinically well but still test positive for COVID-19.

Singapore has reported a total of 58,291 coronavirus cases as of Wednesday, with 29 fatalities.

CRUISE PASSENGER TESTS POSITIVE

Passengers on board the Royal Caribbean's Quantum of the Seas cruise, where the elderly man tested positive for COVID-19, were allowed to disembark from the ship about 12 hours after docking on Wednesday morning.

The ship docked at Marina Bay Cruise Centre Singapore at 8am, a day ahead of schedule.

The Health Ministry has issued an advisory to passengers of the Royal Caribbean cruise, telling them to monitor their health for 14 days from the date of disembarkation as a precautionary measure. 
All passengers will be required to undergo a swab test at the end of the monitoring period. During this period, they may continue with their usual activities including going to work or school. 
In an earlier update, the Singapore Tourism Board (STB) said that the man who tested positive was taken to hospital, while the remaining passengers and crew members would remain on the ship until contact tracing was completed, as part of existing infection control protocols.

STB also said they would have to remain on the ship until another vessel - Genting Cruise Line's World Dream cruise - completed embarking all passengers for its next sailing. This was to prevent any intermingling between passengers and crew members from both ships.
World Dream arrived at Marina Bay Cruise Centre on Wednesday morning and left at about 6.20pm.