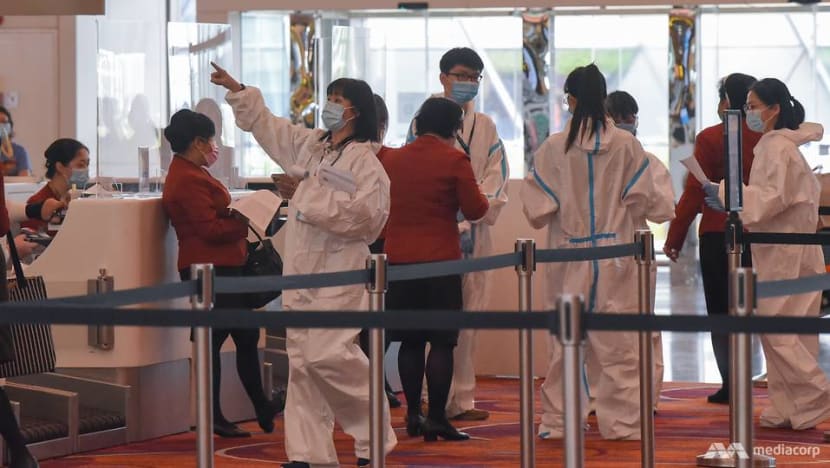 SINGAPORE: Singapore reported 14 new COVID-19 cases on Friday (Feb 19), all of which were imported and had been placed on stay-home notice or isolated upon arrival, said the Ministry of Health (MOH).
The new cases include a permanent resident who returned from Indonesia as well as three dependant's pass holders who arrived from India and Indonesia. 
Another four cases are work pass holders from India, Nepal and the UAE. 
The new cases also include three work permit holders who arrived from Indonesia and Malaysia, including a foreign domestic worker. 
The remaining three cases are special pass holders who are sea crew, and arrived from Malaysia and the UAE. They did not disembark from their vessels and were tested on board. 
WORK PASS HOLDER TESTED NEGATIVE TWICE DURING QUARANTINE
Friday's imported cases include a work pass holder, identified Case 60316, who tested negative twice for COVID-19 while on quarantine after being identified as a close contact of another case.
The man arrived from India on Dec 30 last year and was placed on stay-home notice at a dedicated facility until Jan 3 this year, when he was identified as a close contact of Case 58994. 
The 48-year-old man was subsequently placed on quarantine from Jan 3 to Jan 13. 
His swabs done on Jan 4 and Jan 10 during quarantine were negative for COVID-19.
"He is asymptomatic, and was detected when he took a COVID-19 pre-departure test on Feb 17 in preparation for his return to India," said MOH. 
The man's test result came back positive for COVID-19 on Feb 18 although the Ct value was very high, which is indicative of a low viral load. Another sample was taken on Feb 18, which tested negative for COVID-19. 
The man's serological test result is positive. 
"Given that these indicate likely past infection, we have classified the case as imported," said the health ministry. "He is likely to be shedding minute fragments of the virus RNA, which are no longer transmissible and infective to others."
No locally transmitted cases were reported in the community or in foreign worker dormitories.
From Feb 5, newly arrived work permit and S Pass holders in the construction, marine and process sectors, as well as foreign domestic workers and confinement nannies who have recent travel history to higher-risk places, are required to take on-arrival serology tests. This is in addition to polymerase chain reaction tests.
Of the new cases, 13 were not required to undergo mandatory on-arrival serology tests upon arrival, said MOH.
"The remaining case tested positive for her on-arrival serology test, but as we are unable to definitively conclude that she was no longer infectious when she arrived in Singapore, we will take all the necessary public health actions as a precautionary measure," said MOH.
EIGHTEEN MORE CASES DISCHARGED
The ministry also said that 18 more COVID-19 cases have been discharged from hospitals or community isolation facilities, taking Singapore's total number of recoveries to 59,697.
There are 20 COVID-19 patients still in hospital, most of whom are stable or improving. One person is in a critical condition in the intensive care unit.
Another 100 cases are isolated and cared for at community facilities. These are people who have mild symptoms or are clinically well but still test positive for COVID-19.
The Health Ministry on Friday released more details of its COVID-19 vaccination programme for the elderly, saying that those aged 70 and above will receive their vaccination letters over the next three weeks.
Next in line for vaccination will be seniors aged 60 to 69, who will receive their invitation letters around the middle of March. Their vaccination will start from around the end of March.
Singapore began its COVID-19 vaccination exercise on Dec 30, with healthcare workers at the National Centre for Infectious Diseases the first to get the shots.
As of Thursday, about 250,000 people in Singapore have received the first dose of the COVID-19 vaccine, said MOH. Of those, 110,000 have received the second dose and completed the full vaccination regimen, it said.
By early April, Singapore expects to distribute the first dose of vaccines to another 1 million people, said co-chair of the COVID-19 ministerial task force Lawrence Wong during a visit to a vaccination centre at Jalan Besar Community Centre on Friday.
This will take the total number of people in Singapore vaccinated against COVID-19 to about 1.25 million people.
The general public will then be able to get the vaccination "probably sometime after April", said Health Minister Gan Kim Yong who was also at the vaccination centre.
Mr Wong also said that stricter COVID-19 measures that were introduced before Chinese New Year will remain in place for a few weeks after festivities are over.
The measures, which include a cap of eight visitors per household per day, have been in place since Jan 26 after a rise back then in the number of community cases.
"So we will monitor one, two, a few weeks after the New Year celebrations and festivities are over," Mr Woing said. "And if the situation remains stable, under control, then we will review and we will consider the measures again and see whether or not there is scope for us to adjust."
As of Friday, Singapore has reported a total of 59,846 COVID-19 cases. 
Download our app or subscribe to our Telegram channel for the latest updates on the coronavirus outbreak: https://cna.asia/telegram