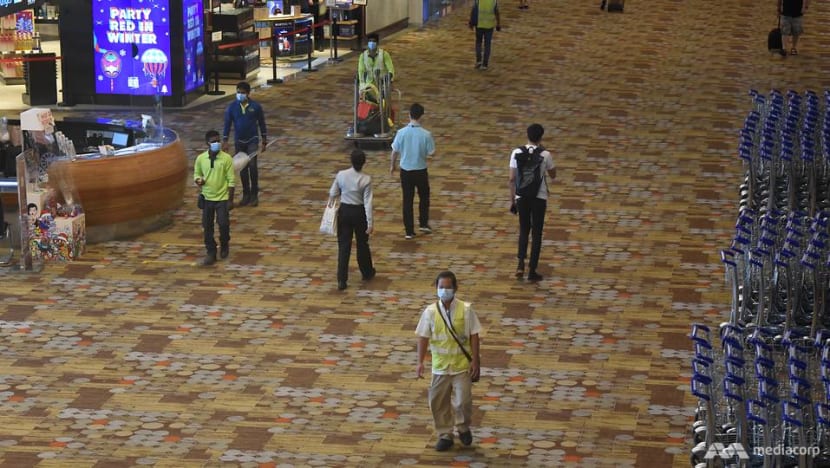 SINGAPORE: Singapore reported 12 new COVID-19 cases as of noon on Saturday (Feb 20), all imported infections.
It is the third consecutive day with no locally transmitted cases in the community or in foreign worker dormitories.
The imported cases include two Singaporeans who returned from India and the United Kingdom, said the Ministry of Health (MOH).
There are also two dependant's pass holders and three student's pass holders who arrived from India.
Two of the cases are work pass holders who arrived from the United Arab Emirates and the United States.
Another case involved a work permit holder who is a foreign domestic worker from Indonesia.
The remaining two cases are short-term visit pass holders who arrived from India. One came to visit a family member who is a Singaporean, while another travelled here for her studies.

CLUSTER OF EIGHT COMMUNITY CASES CLOSED
MOH also announced that a COVID-19 cluster linked to a sales employee at BS Industrial & Construction Supply, known as Case 59429, has been closed.
The 39-year-old permanent resident was confirmed to have COVID-19 on Jan 18. He had been linked to seven other cases.

"As there have been no more cases linked to the Case 59429 cluster for the past two incubation periods (i.e. 28 days), the cluster has now been closed," said MOH.
Overall, the number of new cases in the community has fallen from eight cases in the week before to one case in the past week.
The number of unlinked cases in the community has also decreased from five cases in the week before to one case in the past week.

Among the 72 confirmed COVID-19 cases reported from Feb 14 to 20, 47 cases have tested positive for their serology tests, 11 tested negative and 14 serology test results are pending, said MOH.

Twenty-two more cases of COVID-19 infection have been discharged, taking the total recoveries to 59,719.
There are 20 cases who are still in hospital, with one in critical condition in the intensive care unit.
A total of 90 cases are isolated and cared for at community facilities. These are those who have mild symptoms or are clinically well but still test positive for COVID-19.

As of Saturday, Singapore has reported a total of 59,858 COVID-19 cases, with 29 fatalities.

Over the next three weeks, seniors 70 years old and above will receive COVID-19 vaccination letters, while inoculation for those aged between 60 and 69 will start around end-March, said MOH on Friday.

"Beyond the 60 to 69 (age group), then we will probably open up to more groups, and the general public will then be able to get the vaccination, probably sometime after April," said Health Minister Gan Kim Yong.

As of Thursday, about 250,000 people in Singapore have received the first dose of the COVID-19 vaccine.

Stricter COVID-19 measures that were introduced before Chinese New Year - including a cap of eight visitors per household per day - will remain in place for a few weeks after festivities are over, said Education Minister Lawrence Wong on Friday.
"So we will monitor one, two, a few weeks after the New Year celebrations and festivities are over," said Mr Wong. 
"And if the situation remains stable, under control, then we will review and we will consider the measures again and see whether or not there is scope for us to adjust."

Download our app or subscribe to our Telegram channel for the latest updates on the coronavirus outbreak: https://cna.asia/telegram