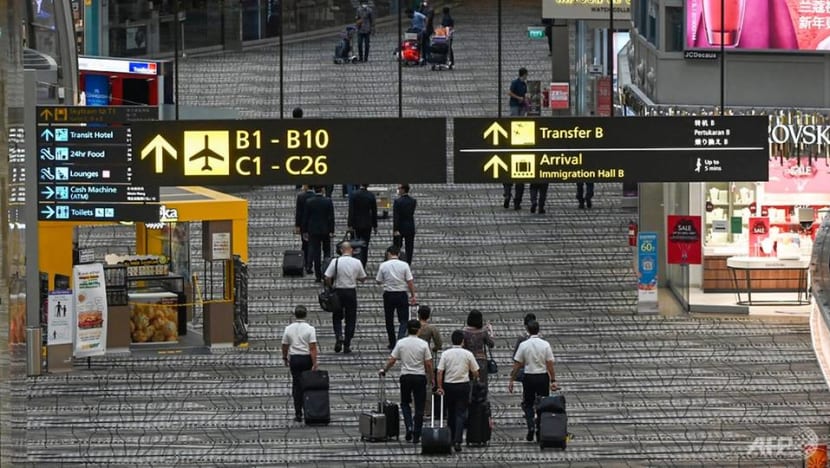 SINGAPORE: Singapore reported 10 new COVID-19 cases as of noon on Saturday (Jan 23), the Ministry of Health announced (MOH) in its preliminary update.
All of them were imported cases and had been placed on stay-home notice or isolated upon arrival in Singapore.

All 10 cases were asymptomatic and were detected through proactive screening and surveillance, the ministry said.
Among them were two Singaporeans - a 36-year-old woman and an eight-year-old boy - who had returned from India. Both were contacts of previously reported cases 59113, 59184, 59185 and 59541.
The cases also include a 42-year-old male work pass holder from India, a 45-year-old male short-term pass holder who arrived from the US to visit his Singaporean fiancee and a 32-year-old male short-term pass holder who arrived from Ecuador for a work project in Singapore.

The remaining five cases involve foreign domestic workers who hold work permits - three women from Indonesia aged 41, 34 and 35, as well as two from Myanmar, aged 28 and 20.​​​​​​​

The ministry also added two new locations to a list of places visited by COVID-19 cases while they were infectious. Upper Boon Keng Market & Food Centre was visited on Jan 15, while ESR BizPark @Chai Chee was visited on Jan 17.
As of Saturday, 32 more COVID-19 cases have also been discharged from hospitals or community isolation facilities, bringing the total number of recoveries to 59,015.
There are currently 38 confirmed cases still in hospital, most of whom are stable or improving, and there are none in the intensive care unit.

In total, there are 178 cases experiencing mild symptoms or who are clinically well but still testing positive for the virus. These cases are being isolated and cared for at community facilities.
It has been exactly one year since Singapore reported its first COVID-19 case on Jan 23, 2020. The country's total COVID-19 tally as of Saturday was 59,260 with 29 fatalities. 
CAP OF 8 VISITORS PER DAY IN EACH HOUSEHOLD FROM JAN 26
On Friday, the ministry announced tighter COVID-19 measures, given the recent rise in community cases and the possible risk of transmission during the Chinese New Year period.
From Jan 26, households will only be able to receive a maximum of eight visitors per day.
People should also limit themselves to visiting no more than two households per day as much as possible, Minister for Education Lawrence Wong announced on Friday. 
Currently, up to eight visitors are allowed in each household at any one time, with no limit on the number of homes they can visit.
Among other safeguards for the festive season, those who choose to dine out must avoid talking loudly during their meal. 
The Chinese New Year tradition of "lohei" should be conducted without any verbalisation of the usual auspicious phrases, said Mr Wong during a COVID-19 multi-ministry task force press conference. 
Face masks must also be worn during the tossing of yusheng, in line with the current rules on wearing a mask when diners are not eating or drinking, and there should also not be any intermingling across tables.
In a Facebook post, Prime Minister Lee Hsien Loong said that the stricter measures "will surely disappoint all of us looking forward to celebrate" Chinese New Year.

"But we must psychologically prepare ourselves to celebrate (Chinese New Year) differently this year," he wrote. "Just look at the countries near and far experiencing repeated surges in cases, and you will see why we need to stay vigilant."
Mr Lee also noted that Singapore has "struggled to cope with the unprecedented chaos and disruption to our lives" in the year since the nation's first COVID-19 case was reported.
"Through immense effort and sacrifice, we've got ourselves to a stable situation. Our vaccination programme is underway, with seniors starting to get their shots next week.
"Let us continue to protect ourselves and our loved ones by adhering to all the measures," he said.
Download our app or subscribe to our Telegram channel for the latest updates on the coronavirus outbreak: https://cna.asia/telegram