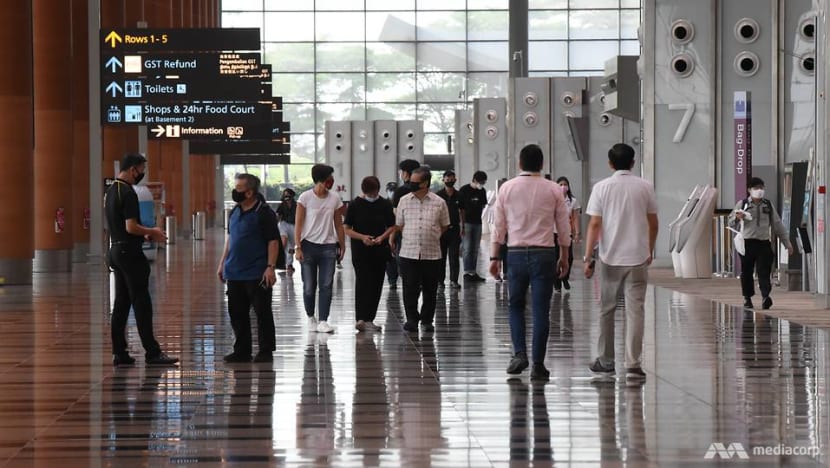 SINGAPORE: Singapore reported 29 new COVID-19 cases as of noon on Sunday (Jan 31), said the Ministry of Health (MOH).
All the new infections are imported and were placed on stay-home notice upon arrival in Singapore. No locally transmitted cases were reported in the community or in foreign worker dormitories.

IMPORTED CASES
A Singaporean and three permanent residents who returned from India and the UK were among the imported cases reported on Sunday.
One of the permanent residents, Case 59825, is a 36-year-old man who returned on Dec 19, 2020 from a trip to India and served his stay-home notice at a dedicated facility until Jan 2.

He tested negative for COVID-19 on Dec 31, 2020, during the stay-home notice period.
The man has no symptoms and his infection was detected when he took a COVID-19 pre-departure test on Jan 29 in preparation for another trip to India.
His test came back positive the next day, and he was taken to the National Centre for Infectious Diseases.
"His Ct value was very high, which is indicative of a low viral load, and his serology test result has also come back positive," said MOH.
"Given that these indicate likely past infection, we have classified the case as imported based on his travel history. He is likely to be shedding minute fragments of the virus RNA, which are no longer transmissible and infective to others."

The other imported cases include a dependant's pass holder and a long-term visit pass holder who arrived from Nigeria. Another imported case is a student's pass holder who travelled from India.
Four other cases are work pass holders who arrived from India, Myanmar, Pakistan and the United Arab Emirates.

Thirteen of the imported cases are work permit holders who arrived from Bangladesh, India, Indonesia and Myanmar, of whom six are foreign domestic workers.

The remaining five cases are short-term visit pass holders: One arriving from India to study in Singapore; three from India, Myanmar and Indonesia to visit their family members who are Singaporeans or permanent residents; and a Filipino woman who came from her home country for her upcoming marriage to her Singaporean fiance.
Two food courts at Changi Airport were added to the list of public places visited by COVID-19 community cases during their infectious period.
Orchis Food Court in Terminal 1 and Kopitiam in Terminal 3 have been added to the list.
32 MORE DISCHARGED
Thirty-two more cases have been discharged from hospitals or community isolation facilities, bringing Singapore's total recoveries to 59,228.
There are 44 cases still in hospital. Most of them are stable or improving, and no one is in the intensive care unit, said MOH. Another 235 are isolated and cared for at community facilities. These are patients who have mild symptoms, or are clinically well but still test positive for COVID-19.

SUSPENSION OF SOME GREEN LANE ARRANGEMENTS

Singapore announced on Saturday that it would suspend reciprocal green lane (RGL) arrangements with Germany, Malaysia and South Korea for three months starting Monday, due to the "resurgence of COVID-19 cases worldwide".

Meanwhile, travellers who have already been approved to enter Singapore under the RGL can continue to do so, said the Ministry of Foreign Affairs. 
The RGL arrangements will be reviewed after the suspension period.

Singapore still has ongoing RGL schemes with Brunei and selected cities in mainland China - Chongqing, Guangdong, Jiangsu, Shanghai, Tianjin and Zhejiang. 

The RGL arrangement allows residents of countries in the scheme to conduct short-term travel for essential business and official purposes in Singapore for up to 14 days.
Travellers must test negative for COVID-19 before they travel and undergo another test on arrival. They must remain isolated until test results are released and are required to follow a controlled itinerary for the duration of their stay.
As of Sunday, Singapore has reported a total of 59,536 COVID-19 cases, with the death toll standing at 29.

Download our app or subscribe to our Telegram channel for the latest updates on the coronavirus outbreak: https://cna.asia/telegram